Alumnus Stuart Portman takes an unconventional path to work at the U.S. Senate
Always showing a passion for health and politics, alumna Stuart Portman combined his interests to become an advisor at the U.S. Senate.
Portman's Journey
After graduating high school in 2009, Portman attended the University of Denver where he double-majored in Biology and Political Science on a pre-med track, aspiring to become a pediatrician. However, his path did not lead him in that direction.
"I did not expect to get [a position] like this. I knew that once I got the degree, I wanted to do something that was not in the hospital administration side, but something that had an even bigger impact," Portman said. "I get to work on legislation, and I help write laws that cover millions of people. It's an incredible honor, and I don't think I foresaw this being the path, but I'm very happy with it."
Although Portman still wanted to be a pediatrician, he was rejected from all the medical schools he applied to and was accepted to all of the Master of Public Health (MPH) programs he applied to.
"I think [being rejected from medical school] accelerated it. I think that the interest was always there, but I think that choice became a lot easier once I went to Washington D.C. It became very clear to what the pattern [was] going to be for me," Portman said. "I think that I still would have explored other options, but I started going to get [my] MPH. I saw a role for me that would have a broad impact and could do some good for the public. I saw that being a good use of my skill set."
Portman chose The George Washington University for his MPH program, which required him to participate in an internship called a 'practicum' where he was immersed in the world of politics.
"I really focused my work in the world of Medicaid policy and low-income policy making all within the world of healthcare. I wanted to do something that was very unique to Washington D.C.," Portman said. "Everyone votes but is not super engaged in the world of politics, and I figured that it was time to do something very political in Washington D.C., so I did my internship on the Senate Finance Committee. The professor that I was working with [at The George Washington University] had a friend, and I ended up working for her. It was pretty incredible."
The internship was meant to last three months, but Portman worked there for nine months on additional projects. After graduation, Portman began working for the Finance Committee Office of Senator Orrin Hatch of Utah on his health team where he utilized his skillset of health policy and public speaking.
"I came in on the lower level position on healthcare issues and disability policies for Senator Hatch. I moved up a year later to be the more senior member of his health team. I did that for a couple of years and then moved back to the Senate Finance Committee where I am now," Portman said. "My role is specifically to be the [advisor of] Medicaid, children's health insurance programs, the Affordable Care Act and health tax issues, and I am the lead on all of these issues."
Since Senator Hatch's retirement, Portman now works under Senator Chuck Grassley continuing the same role. Portman never expected to end up in this role, but he feels that he is a vital part of the process in a unique way.
"It's a really cool role because there's only one of me, so I really focus my coursework and my studies on Medicaid and low-income insurance programs so that I could continue learning. It just so happened to have been to this path," Portman said. "I've been in the Senate for about five years, and I've been in this role for two and a half."
High School Experience
Although Portman planned on becoming a doctor, he was still involved with extracurricular activities that would expand his knowledge in the medical field and further develop his love for policy-making. But the one activity that stuck out to Portman the most was Speech and Debate, though he did not enjoy every aspect of it, such as extemporaneous speaking.
"I was the worst at extemporaneous speaking. If you were to give me a topic and stand up after 30 minutes of preparation and speak for eight minutes, I [wouldn't be able to], and I was terrible at it," Portman said.
It was a struggle for Portman in high school, but it now helps him do his job every day.
"My entire job [now] is basically extemporaneous speaking. I give speeches at least once a week to large groups between 20 people to 700 people, and I don't have to think in my head what I was going to say, I don't have to write notes and I don't have to write a script," Portman said. "I can just speak for 30 minutes or an hour, and it happens to be part of my job. I learned the confidence of that from Speech and Debate. I learned how to think of a reasoned argument and how to actually ask the right questions because you have to understand an argument from all sides if you're going to be good at debate. It really helped in my professional life when I was confronted with really complex policies, and everyone around you just wants the easy way out and to make a simple answer when the reality is a lot more complex."
Expanding his Network and Developing Interests
Although his journey was unexpected, Portman advises others to expand their network with other professionals in order to identify a common theme that may help in their journey. Portman believes finding one's interest are crucial beginning steps.
"Everyone's situation is going to be different. It's deeply personal. [For me,] there's a lot of data but also a lot of anecdotes, and you're trying to balance all these personal stories. I thought that sounded like a really big puzzle, and I wanted to solve it," Portman said. "Not everyone's like that. Whatever the issue is, if you're interested in being involved in the political space, finding something you're passionate about is incredibly useful because once you specialize, you develop a level of expertise you can't get when you only have a broad base of understanding."
Narrowing down his interests and speaking with other professionals allowed Portman to determine where he wanted to go moving forward.
"You ask people for informational interviews, [and] you ask people for coffee just to talk for 30 minutes to ask how they got there," Portman said. "It's not that you're looking to replicate someone else's life, but you want to get a sense of how people got where they are. You start to look for the common theme, and that's how you can build up your own path. You develop a network that's really strong, and the hardest part about it is getting up the nerve to ask people to talk to you; no one has ever said 'no' to me. It's not that there aren't people that will say 'no,' but usually, people in the policy realm want to help others, especially younger people, so it's been a really positive experience for me."
View Comments (1)
Your donation will support the student journalists of Parkway West High School. Your contribution will allow us to purchase equipment and cover our annual website hosting costs.
About the Contributor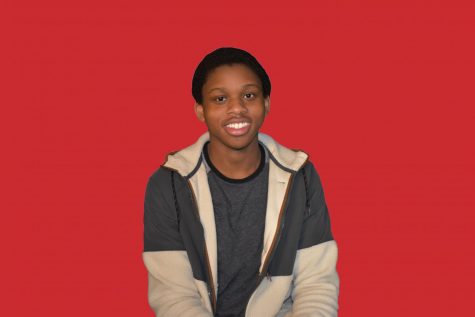 Ridwan Oyebamiji, Features Section Editor
Grade: 12

Years on Staff: 3

What's your coffee order? Decaf Cappuccino

What song describes you best? I didn't feel like answering this.

What...