ATHLETES OF WEST: EPISODE 5
In this episode, meet senior Grant Meert, who was accepted into Johns Hopkins University to play D3 baseball. Listen to learn the secrets behind his success.
TRANSCRIPT
Junior Raj Jaladi: Welcome to another episode of Athletes of West. We are joined today by Grant Meert, who is committed to Johns Hopkins baseball. How did you feel when you got accepted to Johns Hopkins to play for the Blue Jays? 
Senior Grant Meert: I don't know. I was pretty ecstatic. It was a huge weight off my shoulders. It was awesome because I'd been looking at colleges for a long time, trying to get in somewhere to play baseball for a long time. So it was like, "Wow, that's all finally paid off." 
Jaladi: Why did you choose Johns Hopkins? 
Meert: I've been looking at that school for a while, I'd say, going back to early high school because I knew I wanted to go into pre-med, be a doctor someday and thought I possibly had the grades to get in there. And that seemed like a pretty nice environment and all that good stuff you want at colleges. 
Jaladi: And what do you plan to major in there at Johns Hopkins? 
Meert: I haven't fully decided yet. But the plan is cellular and molecular biology, just the generic pre-med stuff. 
Jaladi: Was Johns Hopkins your No. 1 going into the admissions process? 
Meert: I don't know if I can say definitively that it was my No. 1.
Jaladi: Okay.
Meert: I'll give it the top one, two or three. At least. 
Jaladi: Can you tell us more about the sports college selection process? Did you have the scouts "Cub Scout" you out and stuff?
Meert: Most of the scouting was done on my end, trying to get myself recruited. I had to go to a lot of camps and stuff. I started emailing coaches a couple of years ago, I don't know exactly when. Then, I got invited to some prospect camps and stuff like that, where I had to go talk to the coaches. That's how I got in touch with Coach Adam Schlenoff and all those people. 
Jaladi: What are some of the hardships that you faced? And how did you overcome that? 
Meert: With anything, I love baseball, but you're gonna have your ups and downs. At some points, I think that I'm terrible or whatever. But just fighting through that love of the game. It's a tough process, really, because it seems like there's a lot of unnecessary steps and hoops you have to jump through to get these coaches to see you pushing through on that recruiting process because it's a very long and arduous journey. 
Jaladi: What is your advice to other West High students that are pursuing baseball? 
Meert: Keep reaching out to those coaches, and keep talking to those people. If you keep being  that bug on the windowsill, they're gonna have to acknowledge you eventually. I know that sounds terrible, but with baseball, there are a lot of guys, so you got to stand out somehow. 
Jaladi: And it's worth it. 
Meert: Yeah.
Jaladi: Tell me about your baseball journey and how you got started, and how long you've been playing. 
Meert: I started playing baseball when I was five, [my] parents put me in a little tee ball League in Manchester, Mo. I was on the Gators. From then, I played, I started… I don't know how I joined the team, but there was this other Little League team that one of my friend's dad was the coach of. He's actually the coach of the Missouri Baptist College team. So, I was on his Little League team for a while. Then, I switched over to another one and then started. Once we got to high school, we had to actually join a club because if you stay independent, you're not going to really get anywhere; it's not as competitive as baseball. So, we joined the red birds, and the rest is history. That's about it. And then, in high school, the high school team, I played on that. 
Jaladi: Also, how do you feel when you win a game and then when you lose a game?
Meert: I think the agony of defeat is a lot more lasting than the thrill of victory. I hate to lose more than I like to win. But it's still like winning; yeah, it's pretty awesome. Is that what you're looking for?
Jaladi: How did you feel when you're the one that the team is relying on? 
Meert: I've been playing the game for a long time and have been put in those spots for a while. You just got to use it. Sometimes it's really stressful, of course. You know, you can't always live up to those expectations there. You can't always get a home run in the bottom of the ninth. Now just think of it as an at-bat, normal situation. That's what I try and do when I'm put in there. 
Jaladi: What's your goal in terms of baseball?
Meert: I'll play in college, get my degree and probably get a normal job. And then I'll play some slow-pitch softball, some when I get older, but in terms of [a] competitive career, I think college is getting towards the end of the road there. 
Jaladi: So, what else do you do outside of baseball and academics? 
Meert: I got to get a job this summer. Just hanging out with friends and stuff.
Jaladi: That sounds so unique, Grant.
Meert: I've always said I do nothing. Besides… 
Jaladi: You gotta have a nice vacation plan this summer. 
Meert: Yeah, we're going to Rome for 10 days, and I've taken six years of Latin, so I should be alright. 
Jaladi: Yeah. I saw you at the honors ceremony. You're up there for Latin. So, how did you manage both sports and academics? I know you have to have pretty nice grades to get into Johns Hopkins.
Meert: Putting the academics first, really, just focusing on that, I don't know. My parents instilled the values in me to put academics first and always try that and all that stuff. So, I feel like I haven't thought about it too much. But working on my schoolwork and then doing baseball as a fun activity or whatever when I get the chance.
Jaladi: Yeah. What's your go-to activity [when] you've had a stressful day and you're going to relax? 
Meert: What I have been doing for the past couple of months is we like to watch Jeopardy with my mom, specifically, so that's what I like to do relax. 
Jaladi: Anything other than watching Jeopardy with your mom? 
Meert: Oh, no. Just sitting around doing random stuff. [I] play video games occasionally and read occasionally. I like mixing things up. 
Jaladi: Do you have a console?
Meert: Yeah, I have a PS4, and I'm not on it too much. You're probably a big gamer. 
Jaladi: No, I'm not, I just play. Who is your role model, and why?
Meert: My parents. That's really cliche. That's just somebody I look up to or people that I looked up to give me good ways on how to act, good lessons on how to live life and all that stuff. 
Jaladi: What kind of lessons, Grant? 
Meert: Be a good person. I don't know. Hold the door open for people.
Jaladi: Fair enough. Okay, so what was it like for you to represent West throughout your baseball journey? 
Grant Meert: It brings out that school spirit. You're competing for your school, and it's cool to be the guy [that people like] and being part of a team, too; you don't always have to be that guy. But I like being a part of that team camaraderie, and seeing everybody else's school spirit gets you hyped and all that.
Jaladi: Yeah. How did West help with your success with baseball? 
Meert: The coaches were always pretty nice to me, helped me avoid injury, and just keeping me on that path toward the next level. I don't know. Yeah, I know they were really good about pushing me to get better and never stay complacent. 
Jaladi: You want to give a shout-out to anyone other than Raj Jaladi for your baseball journey?
Meert: I'd say my coaches, Brad Windler and Lyle Rakers, have been there. They were my coaches throughout middle school and high school. I don't know. They just re-instilled the love of the game in me. I'd say I was faltering there for a little bit, and just having them make the game fun again made me really realize that baseball was something I wanted to do at the next level. 
Jaladi: You lost interest in the middle?
Meert: I wouldn't say I completely lost interest, but it wasn't becoming as fun.
Jaladi: Yeah, that's all I had, Grant. So, thanks so much for joining. 
Meert: Thanks for having me on, man. It was a real pleasure. 
Jaladi: Yeah, of course. 
Jaladi: Thank you for tuning in to this episode of Athletes of West. We will be back with more next school year.
Leave a Comment
Your donation will support the student journalists of Parkway West High School. Your contribution will allow us to purchase equipment and cover our annual website hosting costs.
About the Contributor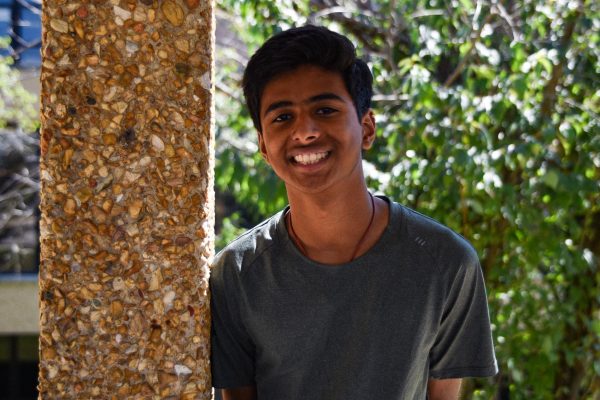 Raj Jaladi, Newsletter Editor/Data Analyst
Pronouns: he/him

Grade: 12

Years on staff: 4

What is your favorite piece of literature? "Harry Potter and the Chamber of Secrets."

Who is...