Journey to Oxford: Alumnus Abdullah Kuziez receives the Marshall Scholarship
Alumnus Abdullah Kuziez, class of 2018, was one of the 41 students to be named a 2022 Marshall Scholar. Awarded by the British Government, the Marshall Scholarship offers exceptional American students the opportunity to pursue two years of advanced study in any field at any university in the U.K.
Barring any COVID-19 issues, Kuziez will be pursuing a master's in Biomedical Engineering at Oxford University this October. He is a premedical-doctorate student, and the track involves two years of medical school, followed by four years of research and another two years of medical school.
"I picked that [Oxford] because I'm interested in research with one of the faculty at Oxford, Dr. Ruozheng Wang. The goal of the project is essentially to engineer bacteria to treat cancers. So you attack these bacteria, they aggregate up the tumor, and then they produce chemotherapy agents, which I think is a very interesting and very unique approach to cancer therapy and something that's only really done [at Oxford]," Kuziez said.
Kuziez is currently a senior at Washington University in St. Louis, majoring in Biophysics and Biochemistry and minoring in computer science. His passion for Physics and Chemistry started while he was in high school.
"My high school teachers were the people who shaped my interests the most. I had [former physics teacher Ellen Wilke] and [former chemistry teacher Jan Keller] who were both phenomenal teachers. They gave me the faith and the freedom to pursue my interests. Coming out, I felt strongly towards physics and chemistry," Kuziez said. 
Kuzeiz says he started to see the intersection between various subjects while in high school, which became more apparent at the nanoscale level when he started doing research. As a senior in high school, he was selected for the Students and Teachers as Research Scientists (STARS) program. One of his first research projects involved nanoparticles. 
"They [Nanoparticles] have these chemical properties based on which you attach to the surfaces, but because they're macromolecular objects, they also have physical properties that impact the way they operate. So I started seeing a unique blend of physics and chemistry, which meant a deeper understanding of things and a potential for innovation," Kuziez said. "It was the springboard for everything. I worked in the lab, and it was really valuable for me. But everyone has to start somewhere and just get your feet wet. Back then I thought it was really fun. It also gave me a connection within the research community." 
"
I am honored, and I feel incredible for getting the opportunity.  It's like a shot in the wind. You don't expect it to come back. Then when it does, it is a great feeling and at the same time a bit stressful, but that's a good type of stress."
— Abdulla Kuziez
According to Kuziez, this experience led him to choose the biophysics-biochemistry track when he joined Washington University.
"I ended up taking a really interesting biophysics class called physics of living systems. It was really intriguing. One of the examples that stood out to me was E. Coli chemotaxis," Kuziez explained. "E. Coli can find food. How do they do that? If you talk to a biologist, they'll tell you they have this receptor that recognizes food. But that's not how they do it. That's just one part of that mechanism that you realize when you look at the same process from different disciplines. For me, that was just exciting."
Kuzeiz looked for opportunities to advance his learning and research. However, the pandemic posed several hardships. He planned on completing summer research abroad during his sophomore year and studying abroad during his junior year, both of which were canceled because of COVID-19. The Marshall Scholarship was another opportunity for in-person learning overseas for Kuzeiz. With an acceptance rate of under 4%, the Marshal Scholarship is one of the most competitive graduate-level scholarships awarded to 50 U.S. students every year. The criteria for Marshall selection is based on three categories: academic merit, leadership potential, and ambassador potential. One must be nominated by their university to be considered for the scholarship. The selection process involves submitting an application, a personal statement, and a set of essays on one's program of study, why one is pursuing it, and why it is unique. If the university nominates the student, the application is submitted to the Marshall Scholarship's national committee, which reviews the application and decides to select candidates for an interview. The interview is the final step in the process.
"I wrote the essays over three weeks, which was shorter than WashU's suggested time of 10 weeks. Although it was tedious and I was relieved to be finished, the process helped me reflect deeper into my future goals," Kuzeiz said.
The Parliament of the United Kingdom created the Marshall Scholarship in 1953 as a living gift to the United States in recognition of the generosity of Secretary of State George C. Marshall and the Marshall Plan, which was an economic recovery plan for Western Europe in the wake of World War II. The goal of the scholarship was to strengthen the special relationship between the two countries for "the good of mankind in this turbulent world."
"I am honored, and I feel incredible for getting the opportunity.  It's like a shot in the wind. You don't expect it to come back. Then when it does, it is a great feeling and at the same time a bit stressful, but that's a good type of stress," Kuziez said.
Washington University in St. Louis refers to Kuzeiz as a polymath, someone who becomes competent in at least three diverse domains and integrates them into a top 1-percent skill set. In the future, Kuzeiz plans to pursue the Doctorate of Medicine and of Philosophy (MD-PhD), which is a dual doctoral degree for physician-scientists. Marshall scholarship is the first step, he says.
"Although it is a long path, I am looking forward to the experience at Oxford and combining the training in medicine and research to find newer and transformative treatments for cancer," Kuzeiz said.
Leave a Comment
Your donation will support the student journalists of Parkway West High School. Your contribution will allow us to purchase equipment and cover our annual website hosting costs.
About the Contributor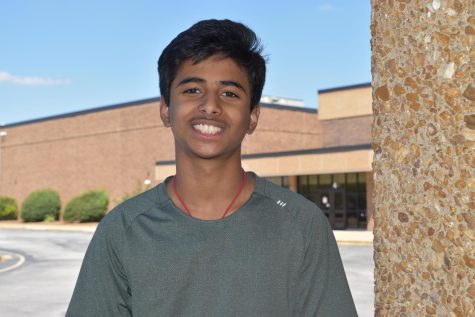 Raj Jaladi, Newsletter Editor
Pronouns: he/him

Grade: 11

Years on staff: 3

What was your favorite childhood TV show? Phineas and Ferb

What is your favorite book? The...