Fashion Forward: Alumna Charlize Chiu grows a social media following as a fashion student in New York
Packing up to move to New York during the summer after senior year, alumna Charlize Chiu, class of 2020, prepared for the different lifestyle of a New York fashion and business student. Although going from the Midwest suburbs to bustling city life was a change of pace for Chiu, she decided it was necessary to further her fashion and business career.
Throughout the pandemic, Chiu decided to start the social media journey she had been interested in since childhood. Chiu eventually amassed over 800,000 followers on her TikTok, charxstyle, and over 150,000 on Instagram. Additionally, Chiu films videos to post on YouTube.
"I was bored at first during quarantine because I was not doing anything the entire time. When I was younger, I would always watch YouTubers and try to film YouTube videos myself, but obviously, I didn't have the time to put into all that and editing, so it was always just one video every year or something. Then, during quarantine and the pandemic, when I had the time, I decided to put effort into this because it was something I've always wanted to try," Chiu said. "My family [have been my biggest supporters] because I wouldn't have been able to film. They see this is something that is bigger; their support has just grown even more because of that."
Chiu began her college career at the Fashion Institute of Technology, continuing to film fashion advice videos in her free time.
"I know there's a lot of opportunities in New York, and I'm just lucky enough to be able to move there and have my family support me," Chiu said. "When I was in New York, I felt really inspired. I just had so much creativity because everyone there was also in that mindset. The environment and the people around you have such a big impact. I realized coming back to Missouri, from New York, that your environment and who you surround yourself with is so important for who you are as a person."
Chiu liked fashion at a young age, but taking fashion classes and doing research in high school made her realize that she wanted to go into fashion and business as a career.
"Ever since I was little, my mom would always dress me up, and I just liked the feeling. I do remember in elementary school, every time I would get invited to a party or something, my mom would dress me up all out," Chiu said. "I had to adjust to being in a city environment and then adjust to being in college and then adjust to balancing that with social media. The big thing is not being too harsh on myself."
Self-confidence plays a significant role in Chiu's social media presence. However, as her account grew and was more open to the public eye, Chiu had to adapt to the reality of social media and hate comments.
"Being on social media in general, you need to go in with self-confidence. You're putting yourself out there for people to watch you, and there will be times when you get comments here and there. Once a video blows up and reaches a wider audience, there are always people who, for some reason, don't like what I'm wearing. A lot of the time, I ignore it. If a video does well, I won't spend time looking at the comments because I know there will be something negative in there," Chiu said. "Going into fashion school helped build [my confidence] up even more because I feel like everyone there is very free and open, and people don't care what other people think; they wear whatever they want. I remember this one guy in my school who came wearing this full-on tutu and six-inch heels. It really makes you feel free and really confident in yourself too."
Fashion school opened up more opportunities for Chiu, such as interning in social media content and product development with an app called Teleport. Chiu also interviewed celebrity stylist Adair Curtis, who is on the Netflix show "Styling Hollywood."
"[Curtis] was telling me that he believes [his work is] morals over everything, morals above money. He doesn't take jobs if he doesn't feel inspired by them; he will only take jobs he is 100% passionate about. It was very influential to hear that, so it was really nice to be able to talk to him," Chiu said. "[Interviewing celebrity stylists] was so eye-opening because they started from nothing, and now they're this huge [celebrity]. So it's eye-opening to hear about their journey and their morals and values."
Celebrities such as Ariana Grande, "Full House" characters, and BTS members have all been key fashion inspirations for Chiu throughout her life. Chiu also takes inspiration from people she has met from around the world.
"I've been able to work with so many people around the world. Being able to connect with all these people has been such a cool experience," Chiu said. "Around the world, everyone has a different beauty standard, or in some places you're supposed to dress more modest and other places, it's freeing. It's really cool to see how in different areas of the world, people have their own style but there's always a twist to it with the culture that they're in and the way they dress."
In the future, Chiu plans on going into electronic commerce, the buying and selling of goods over an electronic network, specifically selling apparel. Chiu hopes to create a clothing line that carries various sizes and styles.
"Having a store that fits what a lot of people like is easy, so rather than having to choose different stores, you can choose one and find what you need in one. I would hope to inspire Generation Z's younger generation because they have the biggest impact on culture today. They are the future generation. I would hope that they would be inspired, and I would send out a good message for them to do something as well and be inspired to do something when they are also older," Chiu said. "I feel like there is still a lot more growth that can be done, and I'm always open to improving more. But I am also pleased with how much more comfortable I've become with content creating and putting myself online for a bunch of people to see."
Leave a Comment
Your donation will support the student journalists of Parkway West High School. Your contribution will allow us to purchase equipment and cover our annual website hosting costs.
About the Writer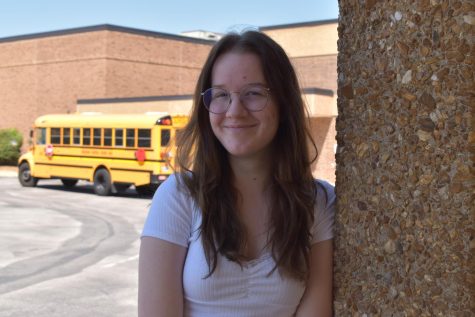 Addie Gleason, Managing Editor-in-Chief
Pronouns: she/her

Grade: 12

Years on staff: 4

What was your favorite childhood TV show? Hannah Montana

What is your favorite book? "They...