Ballwin Days leads to alumni marriage
Flashback to the summer of 2011, two groups of friends met up at Ballwin Days to enjoy the last moments of summer together. That night, 15-year-old Mackenzie Ware met 16-year-old Brandt Capps, and their friendship continued to blossom through hallway interactions at school. Almost a decade later, the couple remains in love. 
Throughout their high school careers, they shared many traditional student milestones.
"Going to prom was very special because he got to end his high school career with me. It was very nice to have him there and watch those big life moments," Mackenzie said.
After Brandt and Mackenzie graduated high school, Mackenzie enrolled at the University of Missouri-Columbia, and Brandt attended Meramec Community College for one semester. He later started Local 513 training for operating engineers and soon began their long-distance love journey.
"I think, especially later in our relationship, FaceTime became a lot more of a norm technology-wise. It was very helpful, just talking throughout the day and making sure it felt like we were there with each other. Always knowing the next time that we were going to see each other, so we had that to look forward to, and I counted down to it," Mackenzie said. 
When the couple visited each other, it was what they waited for. It meant Mackenzie and Brandt were one step closer to the finishing line of graduating college. 
"It was just a moment that you think about all day, every day. We're working towards this future goal and sacrificing time not to see each other, but it was very rewarding and everything fell into place," Mackenzie said.
Moving in together was always a part of their future, so when Brandt got a job, and Mackenzie graduated from college, she started looking for a place of work.
"I wanted to come home and not immediately move in together as we looked for places, but nothing felt right. So we decided to give ourselves some time to adjust to having a career. Then, we [would] start looking again, probably around the fall. Finally, [we] found a place we liked. It was just the timing of finding the right place more than anything," Brandt said. 
Both Brandt and Mackenzie had a love for traveling, but due to complications, they decided to remain in the states and take a trip to Watercolor, Fla. 
"We went to Watercolor as a kind of makeup vacation because when we went to the Dominican Republic, we got extremely sick. So we felt like we lost our yearly vacation," Mackenzie said. 
Brandt's aunt and uncle have a house in Watercolor that they had always offered to share.
"They were gracious enough to let us go for a week, and going there was hard to describe—the feeling of being there was life-changing. It was just something that I can't even put into words; it's just the perfect place in the world," Mackenzie said. 
While the duo had been together for seven years and went ring shopping every so often, Mackenzie had no idea what was in store for her during her next Watercolor vacation. Brandt set up a secret photoshoot because he knew that Mackenzie loved taking photos, then he proposed. 
"I almost blacked out. There were probably a million times I thought that he was going to propose just because we've been together for so long," Mackenzie said.
After the engagement, Mackenzie and Brandt wanted to stop renting and invest in their future. So they drove through neighborhoods looking for the ugliest homes.
"We wanted to make this place our own, while we went into the home buying process with the mindset that any house we buy would be one we remodel," Brandt said.
The two always wanted an Australian Shepard. So they looked for a little while until they found a breeder for Aussies and adopted Luna on Mackenzie's birthday.
[I was] super excited. We went to [the breeder], and she was the first dog to come up to us. She didn't leave us, and if any other dog came up to us, it would let us pet it but then walk away. And it was just like okay, this is it, you make a connection with them," Mackenzie said.
Having to plan a wedding during the pandemic meant Mackenzie and Brandt had to be flexible. A 2020 wedding was in the works until the COVID-19 pandemic led them to push back the date to September of 2021.
"We wanted [the wedding] to be very small. So the majority of what we had planned pre-COVID stayed the same minus a few chairs and florals and stuff. Our plans were always small, like family, very close friends, and family friends just because that's just who we are," Mackenzie said.
When the wedding day arrived, Mackenzie was nervous about the little details, but her fears faded when she saw Brandt for pictures.
"He's my comfort. So I think it hit me like, 'oh my god.' I liked walking down the aisle in front of all these people and saying my vows out loud. We wrote our own, and they were very, very personal vows. They meant a lot, and just speaking those words like you're being very vulnerable, it was just the perfect day," Mackenzie said.
What started at Ballwin Days in the summer of 2011 transpired into a marriage for these two alumni.
"I never expected that I would have met my person, the love of my life, at a fair. It all just came together, and that was what made everything so special about our story," Brandt said.
Leave a Comment
Your donation will support the student journalists of Parkway West High School. Your contribution will allow us to purchase equipment and cover our annual website hosting costs.
About the Contributor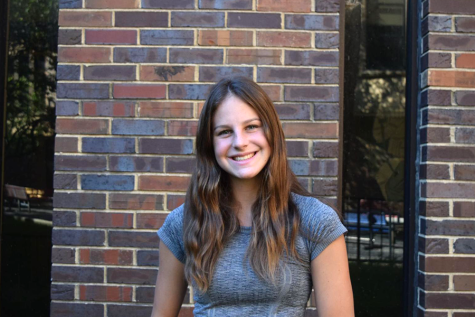 Zoey Ware, CJ1 Writer
Pronouns: she/her

I am a freshman and this is my first year on staff. I like to hang out with my friends and family because they truly are there for...