Earth conscious canvases
Design Arts teacher Kristi Ponder uses thrifted materials in her artwork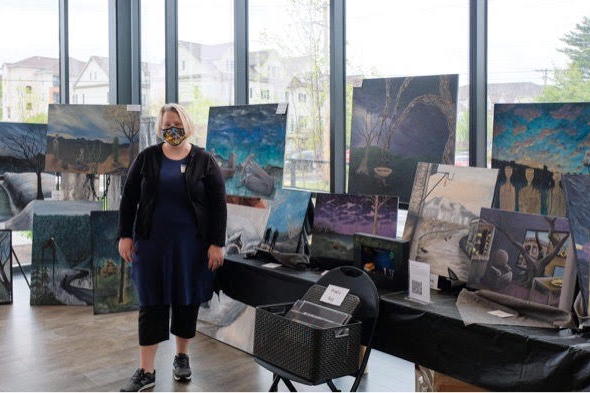 Rather than using expensive and brand new canvases from craft stores like Michaels or Hobby Lobby, Design Arts and Digital Design teacher Kristi Ponder uses a more sustainable option: thrifted canvases. Ponder has used this method for three years, and they have become her preference when looking for an environmental and economical option. 
Not only does thrifting canvases save her money and help with conservation, but it also saves space in her house for artwork and materials because she can reuse canvases. When Ponder runs out of canvases, she generally finds thrifted ones at Goodwill. She prefers Goodwill because it focuses on helping those in need.
"I just look for the [canvas] size that I need. Goodwill gets the money, which is a really good organization. They have an adult high school that they run free of charge for people with things that prevented them from graduating high school," Ponder said.
Ponder also incorporates sustainability into her teaching, providing her students with reused materials like wood scraps, old wire coat hangers, magazines and old books. She uses these recycled materials in different projects, such as sculptures made from recycled items.
"With my virtual students — because I'm [teaching] half-day virtual — we have a whole project about using natural materials to create art. They have a week to go outside and explore, and I introduce them to a couple of different artists that do that, like Andy Goldsworthy. They are temporary sculptures that eventually will go away, but they haven't hurt the environment by using those materials," Ponder said.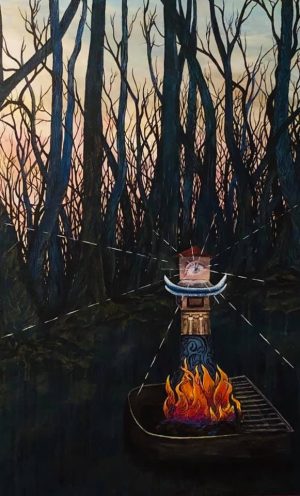 For her projects, Ponder finds inspiration in her everyday life, often focusing on relationships.
"The current [project] I'm working on is about a couple of close relationships I have and how they lock themselves inside, don't exercise and don't explore the world. They're just stuck with their phones, TVs and social media," Ponder said. "I get inspiration [from] everything I see, everything I do and people in my life."
To explore different uses of materials in her art, Ponder plans to attend a summer class at The Cleveland Institute of Art, a college in Ohio focused on art, design and entertainment, for a few weeks.
"The next [class] I'm taking is in Cleveland with ceramics. Because clay is all over the Earth, I'm trying to think about how I can use the clay. Buying from factories, the shipping and packaging pollute the environment, so [maybe] I could go out and get my clay.  Then, what can I use on top of the clay?" Ponder said. "I'm still learning."
Ponder, who has bought fabric to make her canvases, is now looking to create materials from scratch.
"I've experimented with different things, like making my yarn because I also crochet. Could I grow cotton, weave my yarn, crochet it into a canvas and then paint? It's been in my head for a while, and I have all these ideas, but I don't know if any of them will work," Ponder said.
Although she has only implemented this new conservation method recently, environmental alternatives have connected Ponder more with her artwork.
"[Reusing materials] goes along with my beliefs about not being so wasteful and realizing that I'm not the center of the universe; I exist here with everybody else," Ponder said. "We all have to work together and take care of our environment. Otherwise, our future generations are going to have more and more issues."
Leave a Comment
Your donation will support the student journalists of Parkway West High School. Your contribution will allow us to purchase equipment and cover our annual website hosting costs.