What school did you go to?
I went to a school outside of Richmond, Va. [called] Scott Dinwiddie High School. It was named after a general in the Civil War.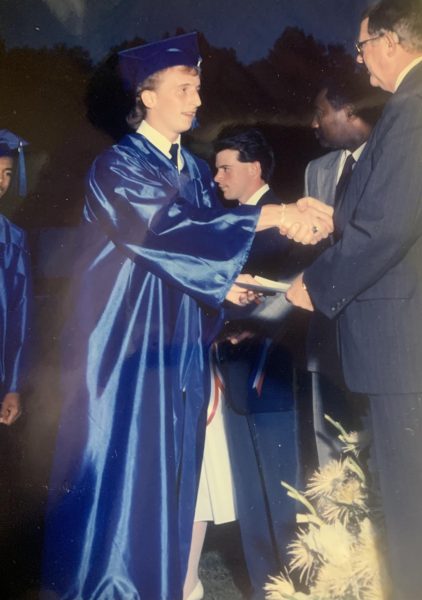 How was your childhood home life?
We lived in a rural area between a couple [of] farms. Both my parents were working in a factory. At that time, we were struggling, but my dad worked really hard to get promotions [in his] company so that worked out really well. [After that], my mom [was able to] step away and go to nursing school. That started happening in middle school, so things turned out better on the back end — but early on, we were struggling to put food on the table, so my parents worked really hard to make sure that didn't stay that way. 
I was never told [they were working hard], but I saw it. I could feel it because everything was a routine in our house for me and my brother [when] my parents needed to get out the door and go to work. I was probably in the third or fourth grade and needed to make sure me and my brother got out to the school bus. We were given responsibility at a very young age because of [my parents] having to work hard, but they also instilled that work ethic in us, making sure we always had chores to do around the house as we grew up. It was ingrained into us. We got to see what hard work looked like through that lens. 
What has changed, and what hasn't?
Technology has driven a majority of the changes. I would hate to see what kind of trouble kids would have gotten into [when I was a kid] because when you're young you just tell everybody your business. That hasn't changed; we did that when I was young [because] it's hard to keep secrets [when you're a kid]. You'd tell your friends what was going on, but it didn't get blown out of proportion.
What hasn't changed [is that] kids are just kids. As you grow up, there's times when you're goofy, times when you're sad, times when you're upset about things, times when you don't want to do your schoolwork and times when you fall in love with the subject and want to do all the schoolwork. A lot of that really hasn't changed.
It's how we go about our day to day, especially with the technology side, that has created some changes for us, [giving us] a sense of instant gratification because everything's right in our hands all the time. We always want quick answers. Growing up, you didn't have time to get things quickly. You had to have patience.
Tell me a childhood story that makes you sad. 
Growing up, you get to a point in your life when you might ask, 'How did I get my name?' I remember probably third or fourth grade, trying to connect those dots. My first and middle name are from both of my grandfathers, but they both died before I was born. My grandfather on my mom's side passed away about two and a half years before I was born, right after she got married. My dad's dad passed away when he was four, working in the coal mines in Kentucky. Not knowing them but to carry on their names, I still remember sitting at our little kitchen table and [my parents] explaining to me how I got my name, and me being inquisitive enough to want to ask why it's my name.
What things make you nostalgic when you see them/hear them/smell them/ feel them?
I walked into the grocery store yesterday and they were starting to get stuff out for the holidays. They had these scented pine cones [and] just walking by, it reminded me of the smells of the fireplace in my home growing up as a kid. We also lived by tons of pine trees, so we would get fresh pine cones and use them as part of our Christmas and holiday displays around our mantel. Seeing them and smelling them reminds me of that.