Design arts teacher Kristi Ponder expands her art appreciation through outdoor adventures
Design Arts and Digital Design teacher Kristi Ponder discovered her love for art by thinking outside her box. While in high school, Ponder found she struggled with abstract art assignments. 
"I didn't like the [art projects]. They seemed very open-ended, and I was a math person. I liked knowing there was a right answer, so I didn't like anything that didn't have just one right answer when I was in high school," Ponder said. 
Ponder was a musician and played the piano competitively. As far as the visual arts, she drew and sketched for fun but hated art class. 
"It wasn't until my freshman year in college when I took a drawing class that I fell in love with art," Ponder said. "It was a combination of the analytical [and] the mathematical side of my brain and the creative side working together. I've never had a class where I had to use both sides of my brain. So that was super fascinating."
From there, Ponder decided to major in Fine Arts. During her senior year of college, she studied abroad at Studio Art Center International in Florence, Italy. Upon graduation, she waited tables and realized she wanted to return to school to pursue a master's degree in education and educational leadership.
"I did good in school, but I didn't feel like I belonged. It was really important to me to become a teacher because I wanted to make high school better for kids and to give all kids a place where they could belong and feel good about themselves and their abilities," Ponder said. 
Although she was trying to pursue her art and teaching passions, Ponder's decision to return to school became challenging with a child at home.
"Time was the hardest. I was 25, and I had a family, a full-time job and student teaching. I had to balance all of these things while going to school full-time. I didn't sleep much for two years, it was rough," Ponder said. 
As Ponder delved deeper into the art world, she learned to see the beauty in everything.
"I think that's what connected my love of nature and wanting to go make those trails and explore the world. When I was little, we did not travel much [due to finances], but any chance I could take to get out of Florissant or St. Charles, Mo., I took. It's always been interesting to me to see new things and meet new people," Ponder said. "[But], when I go out in nature, I see the beauty that is not disturbed by humans that humans didn't create, but [the] beautiful things that are around us that we take for granted."
During the summer, Ponder traveled to Oregon, where she hiked on the Pacific Crest Trail, as well as backpacked in the Redwood Forest in Northern California.
"[On the Pacific Crest Trail], we were doing switchbacks down a mountain since it was steep. [Going across] this little trail, there was a landslide with four giant trees overlapping the path. I had to climb over trees on this crazy drop to my right. My husband had to help me across. It was so terrifying. [In the Redwood Forest], we spent a day hiking up a creek, camped and hiked back down the creek," Ponder said. 
Ponder will drive to southern Oklahoma this December and backpack in the mountains. Then, drive down to Big Bend National park in Texas, where she'll spend a day hiking. Afterward, she'll spend three days canoeing down the Rio Grande River. Lastly, spending her last day at Six Flags.
"It's something I've never done before. I get to see a part of the world that I've never been to. It's pretty remote, you have to get into a canoe for a couple of days to go to some of the places we're going to. We're big kids," Ponder said. 
By exploring, Ponder's view of the world gradually changed as she experienced different things throughout her adventures. Now, she tries to incorporate what she has learned into her teaching. 
"Growing up with just my little bubble and my family's background, once I started traveling, I started seeing different cultures, ways of thinking, music, food, art, everything different than what I was used to. I wished that I had been exposed to different ways of thinking when I was younger, and that's something I try to bring to my students. [I want them] to understand that just because you think 'this,' that's not the only truth. There are 10 different versions of the same idea but just seen from different perspectives based on what people have experienced in their lives," Ponder said. 
Despite the curvy path to teaching, Ponder's ambition to explore the world has positively influenced her to hope for a better future. 
"[Traveling the world] made me think about what's important. Sometimes we get so caught up with bad situations that are happening, whether it's something personal or at school, and that helps me appreciate what's important and appreciate what I have and can do. It gives me that time to reflect and think about how lucky I am even when stuff is going wrong," Ponder said. 
View Comments (1)
Your donation will support the student journalists of Parkway West High School. Your contribution will allow us to purchase equipment and cover our annual website hosting costs.
About the Contributor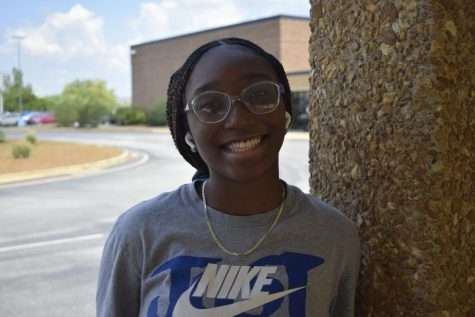 Samari Sanders, Staff Writer
Pronouns: she/her

Grade: 11

Years on staff: 2

What was your favorite childhood TV show? My favorite childhood TV shows were "Doc Mcstuffins"...