Swipe Right: Male Edition
Senior men attempt to find a roommate
Hang on for a minute...we're trying to find some more stories you might like.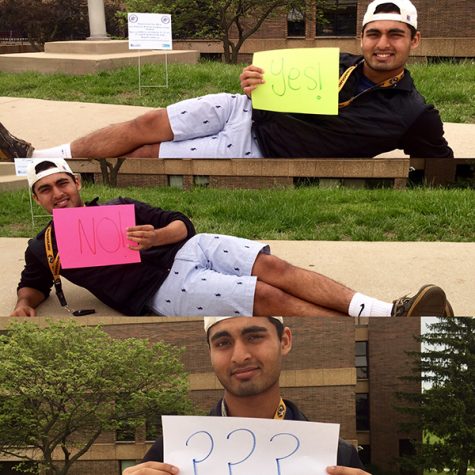 Finding a college roommate is much like searching for your soul mate online—whether you are male or female! The searching process is all the same.
When asked about the online roommate search provided by his college of choice, senior Koel Branson felt the method needed improvements.
"Next year I am going to Columbia College Chicago. Columbia's process really isn't good. Basically, when you fill out the housing application there is a roommate matching section. But the profile you create for yourself doesn't give any information at all," Branson said.
According to Branson, sharing significant information about yourself is important in selecting a potential college roommate, much like finding the perfect date. But even if the method is not all-encompassing, there are techniques to draw out the truth.
"Incoming students found their way around the limited information by dropping their social media handles in their description," Branson said.
Unlike Branson, senior Matt Pilgrim avoided the online searching process altogether and met his roommate through a friend.  
"I met my roommate, [Hasan], through my friend Nick Balestra. He and Nick have  been really good friends for a while and I have been good friends with Nick since middle school, so I trusted his judgment," Pilgrim said.
Other students decided to take matters into their own hands, like senior Joe Ross, by joining a Facebook group. After taking the first step, things took off for Ross and his roommate search has been productive.
"Next year, I'm going to University of Chicago," Ross said.  "I joined UChicago's class of 2020 Facebook group and GroupMe chat, and although I didn't really say anything in the message, I kept up with that other people were saying to get to know some people. Thankfully UChicago has a really thorough housing form that lets you list all of your interests, habits and hobbies, and the University hand-picks roommates for those who decide to do random."
Because of the significant lifestyle change, senior Nick Lathrop sees the importance in finding a compatible roommate for the future.
"It is pretty stressful because the person you choose could have a huge impact on your freshman year. I want to filter out the ones I don't have shared interests with," Lathrop said.
Like a blind date gone wrong, rumors of bad roommates also cause students to be wary when meeting new people online. That is why Branson decided to get out of a potentially bad roommate situation before it went south.
"I had a group of four roommates and all of them seemed really cool, but then they added another guy who was vaping in every one of his pictures. I call him Vape God," Branson said. "I could probably handle Vape God if I was just going to school with him, but not living with him. So instead I lied and said I couldn't afford to live in that particular building. Hopefully, we're not neighbors. That would be uncomfortable."
---
Through the search process, these seniors have the following advice.
Ross: "Just be yourself when you're talking to future classmates or roommate prospects. You'll be miserable if you end up with someone you're not compatible with."
Lathrop: "Start looking early but don't be too quick to make your decision. Make sure you know it will work out. If it is random, I guess you have to play it all by ear!"
Branson: "Take your time. Don't just pick a person because they like the same music as you. Nowadays everybody likes the same music anyway. Pick someone similar to yourself. Don't just pick someone because you think they're dope. Dope is not a personality trait. Pick someone who you really get excited about meeting and can picture yourself causing trouble with!"
Pilgrim: "Don't give up on finding a roommate because it can be challenging at times to find one. Also, be prepared for a 'change of plans' at any time possible."