From shack to studio
"Rockstar-gone-teacher" builds his way back to music
Too much time spent without music often kills the desire to play, but social studies teacher Aaron Bashirian did not lose interest. Instead, the rockstar-gone-teacher stayed in touch with his desire to make music. Bashirian will strengthen that connection through what is soon to be in his backyard: a recording studio. 
Three years ago, Bashirian purchased a home with a barn in the backyard.
"The barn was probably built around the start of the 1900s, so it's quite old, very cool [and] was on the verge of falling down. I spent a lot of time restoring it before I could even think about building a room in the second story to accommodate a studio. There's no point in rehabbing the upstairs until the barn is totally stabilized and structurally sound because as you're moving stuff around, you'd be changing things upstairs," Bashirian said. "It's straightforward, [but] it takes a while. It's a lot of work."
"
You can almost hear the building going, 'thank you.'"
— Social studies teacher Aaron Bashirian
Despite his drive to begin restoration as soon as he moved in, Bashirian knew nothing about carpentry, so he phoned a structural engineer and a barn restoration expert. Some advised Bashirian to tear down the barn for safety, but others believed he could still fix it. He stuck to his gut and built his way back to music. 
"It's total serendipity; it was meant to be," Bashirian said. "When [my family and I] were looking for a house, I knew I wanted a room. Then we found [our current] house, and it happened to have a barn. The second I saw that [I thought], 'that's going to be the studio.' I knew it needed a lot of work, but who goes house-hunting for a barn? Nobody has a barn. It really was the luck of the draw of finding this place."
A lack of time set Bashirian's progress back this fall when the school year began. Not only did his schedule thicken due to returning to work, but also due to his kids participating in sports and activities.
"What you start to see when you have a project like the barn [is that you] want blocks of time to work. It's hard for me to take an hour here and there [to] do something. I want a block of time, [but] work is work. I can deal with that, but my kids' obligations punch holes in any block where I've got an hour at home before I have to take them somewhere. What I tend to do is focus on doing smaller things [such as] chopping wood," Bashirian said.
Social studies teacher Aaron Bashirian adds a wall to the second floor of his barn along with collar ties and a brace. Bashirian put the wall up on one end of the barn to control the area's temperature. "You got to keep [instruments at] the right temperature, otherwise bad things happen," Bashirian said. "And [I have] no way of doing that unless I install a wall with a door to seal everything up. Plus, acoustically, I'm really excited to hear how that thing's going to sound. It's a long tube that I'm hoping will be an instrument itself." 
Since his progress slowed, Bashirian has carved out time to return to the project.
"My wife and I made plans that I'm gonna stay home over spring break and work on the barn; she's going to take the kids to Florida. So, I'm excited about that," Bashirian said. "I don't really want to go there anyway. I'm not a big fan of Florida; it's boring."
Finding music pure and visceral, Bashirian is dedicated to returning to music.
"I forget about everything else around me when I'm in the zone recording; I'm in this pure creative state. It's my favorite place to be, [but] there's not much else I do that gets me to that level [either]. I can do that with carpentry or any crafty thing, but it's not as powerful of a feeling. I would never allow anybody to film me in that state because I'm celebrating like a monkey," Bashirian said.
Bashirian will bring his instruments — currently stored at his father-in-law's house — to the revamped space when the project is finished. His gear includes computers, guitars, a keyboard rack and a PA system.
"The thing that kills me right now is that all my music gear is packed up; it's not like I can go over there and [use] it," Bashirian said. "All I want is to be able to walk across my driveway, go upstairs, work for an hour and be able to go back home. That's what I'm looking forward to: having it there and accessible."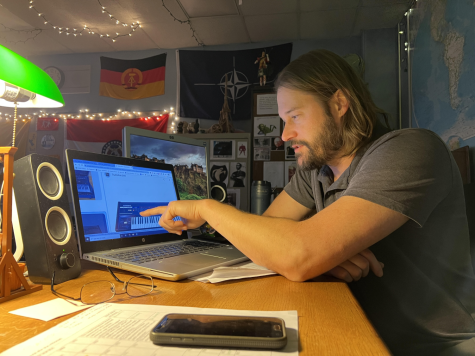 In the past, Bashirian has created songs ranging from
Japanese rap
to
dance music
. He intends for his new work to combine
folk
and
rock
.
"I don't know that I can pull [rock] off; I'm not angry. [However], rock's pretty broad," Bashirian said. "As a kid, I found I wanted to write Mötley Crüe stuff, but it came out really cheesy. I discovered I'm much better at doing more happy-go-lucky [and] pop-y Beatles stuff."
Currently, Bashirian is developing four to five songs with his friend and West Middle English teacher Joel May. Despite introducing his music to the public through CDs and performances, Bashirian struggles with gaining popularity. 
"I'll gladly be a one-hit wonder; why not? My dream was always to have a song break and [for] people to know my name. It's not about money. I just want to be recognized as someone who can write decent music," Bashirian said. "At the end of the day, I do it because I love that feeling [of] jumping around my studio and the experimentation side of it. When I'm in my studio recording music, I feel like a god — I'm creating something from nothing."
View Comments (2)
Your donation will support the student journalists of Parkway West High School. Your contribution will allow us to purchase equipment and cover our annual website hosting costs.
About the Contributor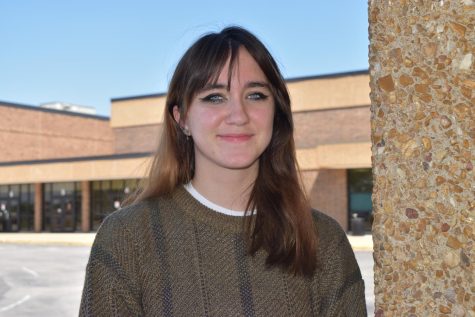 Kristen Skordos, Staff Writer
Pronouns: she/her

Grade: 11

Years on staff: 2

What was your favorite childhood TV show? Either spongebob or the office

What is your favorite...