Magnet Memories
Athletic and Activities Secretary Gina Groceman shares her collection of magnets from her worldwide travels
Living anywhere from Japan to Germany, new Athletic and Activities Secretary Gina Groceman is well-traveled. Throughout Groceman and her husband's many adventures, they not only developed a passion for travel but gained a collection of over 100 unique magnets, all with a memory from each trip. 
"My husband just retired from the Marine Corps, so [during his career], we lived all over the United States. I have been in almost 10 different states in the last 18 years," Groceman said.
Contrary to living in Florissant, Mo., her entire childhood, Groceman discovered her infatuation with travel after she got married. 
"[Travel] just happened, but it's also a passion. I love visiting other places and learning about other cultures. Especially with Belgium, we went to the memorial, and it was very cool to see that they still commemorate World War II," Groceman said. "Going into Japan, [when] you walk into a restaurant, you have to take your shoes off and put slippers on, and I find it fascinating."
Groceman has not only visited countries in North America, Europe and Asia but has also lived in the states of Michigan, Missouri, Hawaii, New Mexico, California, Virginia, North Carolina, South Carolina and Kansas.
"[Moving] had its ups and downs. One of the good things is that I got a lot of experience. By seeing the world, I got to relate to people and understand people's differences. At the same time, it's hard to uproot, start all over and make new friends every couple of years," Groceman said.
Throughout her and her husband's adventures, Groceman found another passion, collecting magnets. 
"We've been overseas from Japan to Germany, Luxembourg and England for different things with the military. And anything we go to, [such as] museums and shops, I always look for a magnet. Our entire fridge is full of all the places we visit," Groceman said.
This tradition began at the start of their relationship. 
"The first [magnet] I ever got was a gift. That's how it started. I got it as a gift for [my] wedding. It has a little bride and groom and St. Louis on the foot. We got married, had a big wedding, and someone gave us the first one. I thought, 'oh, that's neat,' and then when we were stationed in Hawaii, I thought, 'I'm gonna get a magnet,'" Groceman said.
From then on, whenever Groceman visited a new place, she returned with a new magnet. Groceman's vast collection represents her travels and what she brought back from each place. 
"When you move all the time, you have so much stuff you could bring, and by collecting magnets, that's something easy and small that I can always bring. They're visible all the time because they're on my fridge," Groceman said. "There's a lot of family memories. People visiting will sit, and [the magnets] are a conversation piece, but they're also easy to move around."
View Comments (1)
Your donation will support the student journalists of Parkway West High School. Your contribution will allow us to purchase equipment and cover our annual website hosting costs.
About the Contributor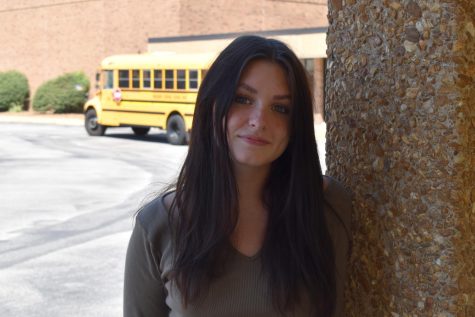 Claire Creely, Staff Writer
Pronouns: she/her

Grade: 11

Years on staff: 1

What was your favorite childhood TV show? Wild Kratts

What is your favorite book? behind closed...