A new beginning for female water polo
From 2018 to 2019, boy's water polo participation has risen by 8.8%, while girl's water polo participation across the country has seen an 18% increase. Team captains Taylor Johnson and Thalea Afentoullis saw an opportunity for the school and organized a female team for the first time since 2014. 
"I wasn't as head-on with it as [Johnson] was, but I think she just started reaching out to people. I reached out to the swim team because I used to swim, so I knew the girls. I got a few of them to join [the water polo team], and then we made flyers, we were reaching out online, and we just pulled together as many [people] as possible," Afentoullis said.
JV boys team coach Brian Welch and varsity boys team coach Charlie Cutelli asked for at least 10 girls to be on the team to make it official, but there were only nine athletes committed, prompting a compromise. The team of nine was made official through the Missouri State High School Activities Association (MSHSAA).
"We only have nine girls, so we play the whole game because we don't have that many subs. So you're either in the whole game or you're out for like a minute or two, which even though it's tiring, I still like because when we played co-ed with the boys, I barely ever got playtime," Afentoullis said.
There are seven players in the pool at a time and for freshman player Gianna Lionelli seeing the six other girls in the pool changed her perspective.
"We have to start somewhere. Even if our team is small, at least we have a team. I'm proud of everyone on the team. Especially all the new people like me, because this sport is really hard and it's hard to do when there are 27 other boys in the pool at the same time as us, and it's really hard when there are only nine girls, but no one [has] quit," Lionelli said. "Everyone's persevered. And everyone said, 'you know it's for West, it's for us. We just need to start this new generation' which is cool."
Many of the girls are playing this sport for the first time. Boys varsity water polo player Mason Jensen watches the girls play when he has the chance, and during practice, he tries to help them with their technique and any tricks he believes would be helpful to the girls.
"The varsity team and JV team are very supportive of the girls. They'll give pointers to help them succeed and get better. It's just as important for them to practice as it is for us to practice], so we love helping them with that," Jensen said. 
For Welch, coaching the girls and the JV boys simultaneously has been a new experience. He has used the help of assistant coach Brittney Hess, who keeps track of the team's record. Hess is on the coaching staff but not paid through Parkway.
"We have three teams and two coaches. It's not easy. As far as I'm concerned, I'm pretty much the practice coach for the girls. I go to all the games I can, but, for example, today we've got a varsity and junior varsity game at Kirkwood. And then the girls got a scheduled game at Marquette. So [I] can't do that," Welch said. "But we have someone who helps us out, Brittney, and so she's always with us when we need her for anything." 
The girls on the team are trying to encourage other girls to try out male-dominated sports, and they are hoping to recruit more female athletes for future seasons.
"Not a lot [of girls play water polo], so it's just an unknown sport. So I went in there and [I thought] 'I might be one of very few girls, but it's worth it. It's worth it to have other girls see [that], this is a sport [they] could get into," Lionelli said. "If other people see this, and they're into it, I don't want them to be scared not to try. I want them to see someone who's a girl out there playing."
Although they have yet to win a game, for Afentoullis, it is a lot more about learning from their mistakes and creating connections with her teammates. 
"I love it so much more now. Last year I would dread going to practice, but now I like it because I have a team, and [the] girls have become my friends and family," Afentoullis said.
Leave a Comment
Your donation will support the student journalists of Parkway West High School. Your contribution will allow us to purchase equipment and cover our annual website hosting costs.
About the Contributor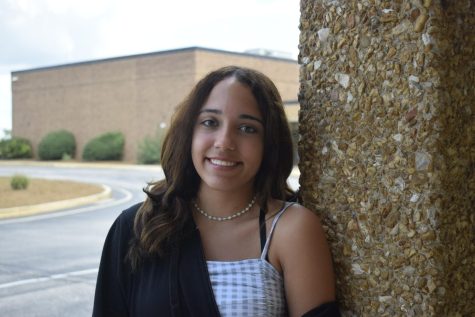 Sabrina Urdaneta, Staff Writer
Pronouns: she/her

Grade: 10

Years on staff: 2

What was your favorite childhood TV show? Bubble Guppies

What is your favorite book? History...