Culinary Arts II caters the African American read-in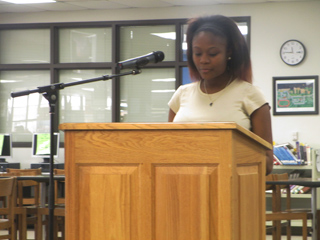 Hang on for a minute...we're trying to find some more stories you might like.
The 10th annual African American Read-in took place in the library during both lunches on Monday, Feb. 25.
The read-in promoted the awareness of African American authors.
"Various students read short excerpts from famous writers sampling African American poems, passages from books and other categories," Librarian Mary Ann McFarland said.
Senior Amber Jones was the first to read from a book that Library Secretary Deb Geiser's niece's friend illustrated.
"I was a little nervous," Jones said. "I was disappointed there wasn't that many people but it was still fun. I think next year they should choose older poets to read from because I heard a lot from Langston Hughes and Maya Angelou."
Student guitarist's sophomore Dave Lavin and senior Michael Best provided background music during the read- in. In addition, Katie Hashley's Culinary Arts II students catered pizza, cupcakes and cookies for 75 attendees.
"We kept the budget as low cost as possible," Hashley said. "The students were graded based on participation, sanitation, knowledge of cooking technique and teamwork capabilities."
Culinary Arts II student Kiya Presberry served the food to the guests at both lunches.
"It was a great experience watching people enjoy the food we had worked so hard to create," Presberry said.
Culinary Arts II senior Sean Hannon learned a new appreciation for preparing food for 75 people at one time.
"It's a little stressful because of the amount of food we have to make and the time limit," Hannon said.