Best of Boba
A guide to the best bubble tea shops around St. Louis
Bubble tea — more popularly known as boba, which originated in Taiwan in the 1980s — has become an increasingly trendy craze amongst today's youth in America. While the term "boba" is commonly used to refer to the drink itself, actual boba are the chewy, black tapioca pearls in the drink typically made from starch derived from cassava root. This unique quality of bubble tea is arguably what makes them so popular today, but with this distinctive drink's popularity can come some struggles in knowing where to begin. The extensive menu can be confusing when ordering at boba shops — milk tea, fruit tea, slush, popping boba, jelly, red bean — and the combinations can seem endless. To help, this is the Pathfinder's guide on the best boba shops to order from based on your preferences. 
We traveled to five boba shops within St. Louis to offer our opinions on three of their boba drinks: classic milk tea, strawberry milk tea, and one random specialty drink. Our critique focuses on aesthetics, menu, boba and drinks.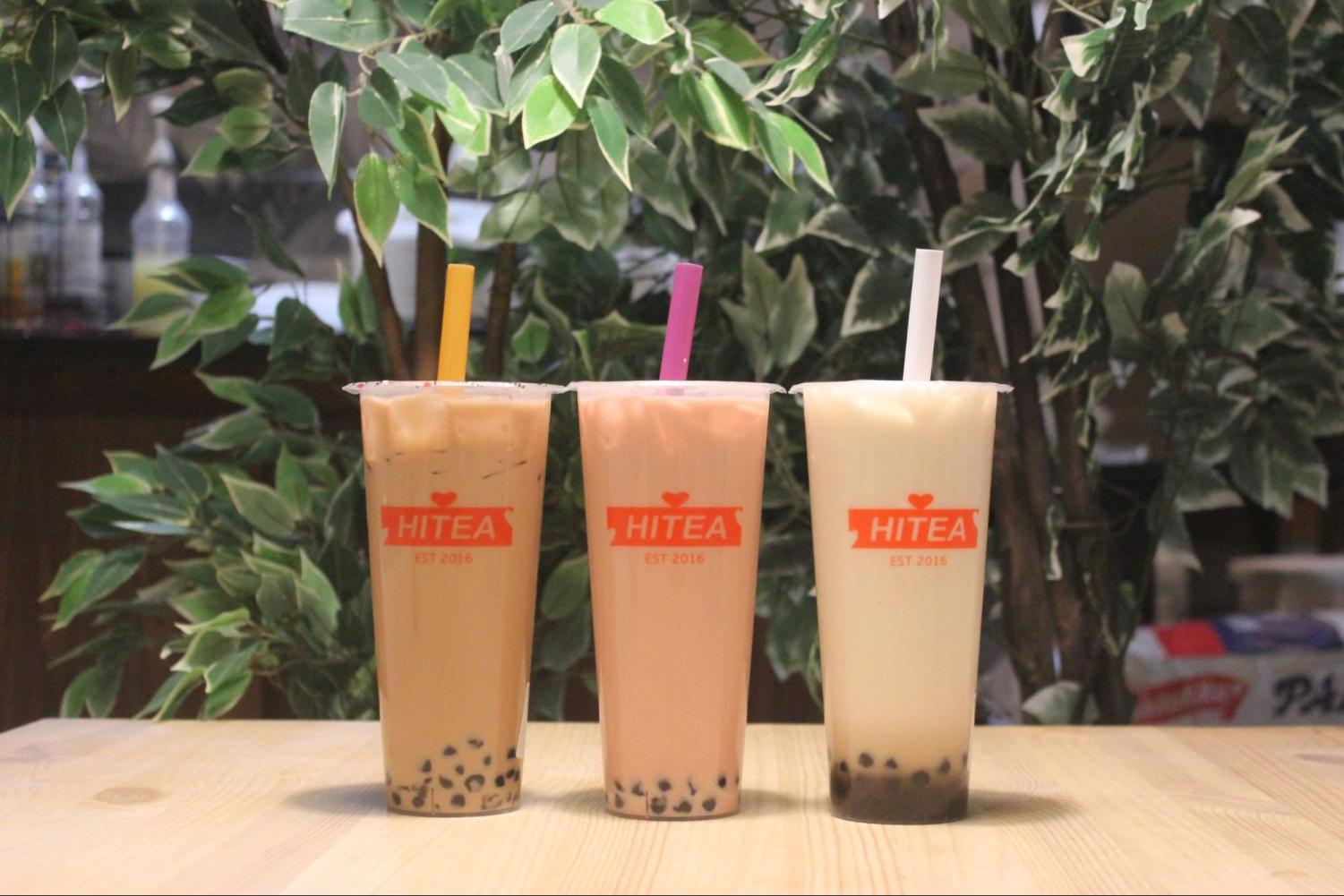 Hitea
Overview:
A lifesize teddy bear, arcade machines and all sorts of greenery make up the popular boba hotspot, Hitea. Following an aesthetic pink theme, every corner of the spacious establishment is post-worthy. Its relatively short distance, 15 minutes away from school on Olive Boulevard, adds another benefit to choosing this spot for a boba treat. The service is bound to treat you well — however, the prices may not, teetering more on the expensive side with individual drinks costing over five dollars.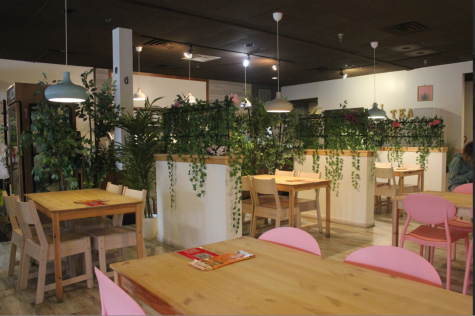 Aesthetics: 9/10
When it comes to design, Hitea makes an impressionable sight with the ideal Instagrammable aesthetic for a boba shop. Dark green vines hang from small wall barriers between each table, offering privacy and a natural charm for customers. Traces of pink can be found across the shop in chairs, neon signs, and cute flamingoes throughout the store; the look is completed with the brand's iconic pink butterfly in the corner of the register counter. The aesthetics are immaculate, marked with beanbags and tables perfect for posing for pictures. There is no doubt that the inside of Hitea feels like a boba wonderland for the customers.
Menu: 4/10
For a boba shop, Hitea does not offer as much of a range of drinks as the typical menu. However, the varieties of boba drinks that are available are incredibly unique and original, often including various distinctive ingredients. In addition to a typical display menu, Hitea offers handheld menus, digital menus, and even a screen through which customers can order contactless, making the experience. The main issue with the menu, though, is the lack of corresponding images to the drinks listed, leaving room for confusion on what drink you were ordering.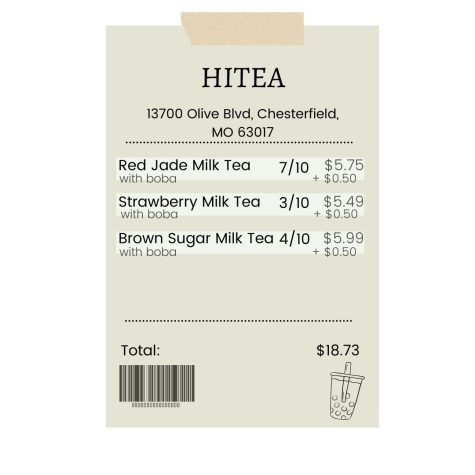 Boba: 3/10
As established, boba are the tapioca pearls rather than the drink itself. Boba can taste differently depending on where you get it, but ideal boba can be tough to find since it features the perfect balance of chewiness with a perfect balance of size. Unfortunately, Hitea falls short in the boba category, mainly due to the uncomfortable texture. We found the boba to be inconsistent, with some pearls more chewy or soft than others and others firm and hard. The texture of the boba even cost the positivity of the drink experience because of the offsetting feel of the tapioca pearls.  
Drinks: 4/10
Unfortunately, Hitea's drinks do not live up to the quality of their interior design. They do not offer a "classic" milk boba tea, so with the help of an employee, we substituted it for the red jade milk tea. The red jade milk tea has an enjoyable, slightly sweet taste, but the cinnamon-esque flavor feels somewhat watered down and not very poignant in flavor. The strawberry milk tea tastes extremely diluted and lacks much of strawberry flavor, rather reflecting a milkier taste. Lastly, we chose to try the shop's most popular specialty, brown sugar milk tea, which consists majorly of milk with caramelized brown sugar at the bottom. Our taste testers did not mix the drink well and drank purely the brown sugar flavor at the bottom; therefore, we were left with only milk and boba. Despite the accident, the truth is that there is not enough brown sugar in comparison to milk, so we recommend ordering this drink only if you are a milk enthusiast. 
Conclusion: 4/10
If you're looking for somewhere to sit, hang out and take pictures, Hitea fits the description perfectly. Its aesthetics are undeniably charming but cannot make up for the unenjoyable experience of the actual drinks — we just couldn't get past the irregular boba texture. Especially with their slightly high price point, Hitea drinks are not worth it compared to alternative options. For the overall experience, we rate Hitea an average of four out of 10.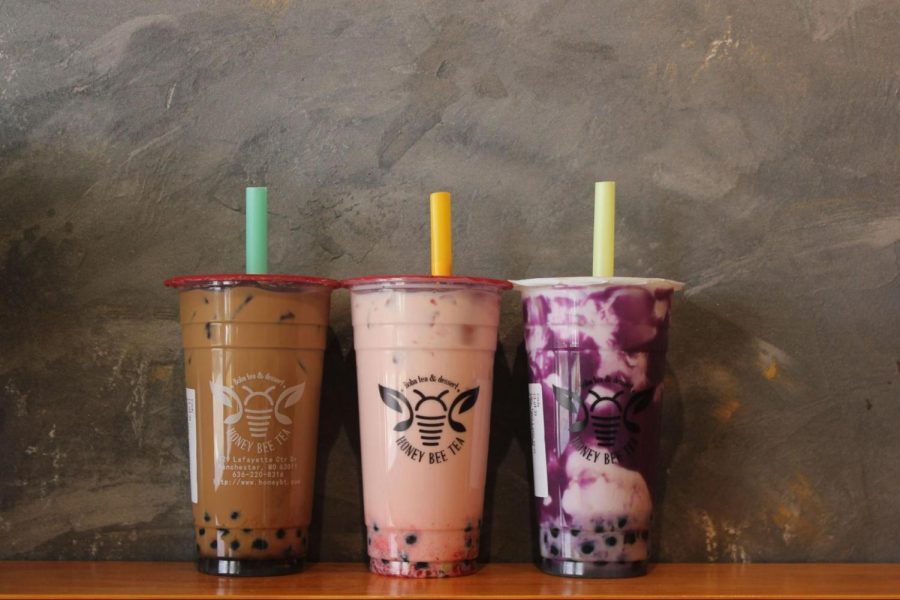 Honey Bee Tea
Overview: 
Honey Bee Tea is located just eight minutes away from our school, making it the closest boba shop on our list. Opening last March, introducing a newer boba shop stirred up some excitement at the prospect of a close spot to purchase boba. The shop's interior reflects a classy, modern vibe with themes of gold and green throughout. When you step in, the aesthetic inside the shop is very charming — but the prices can be shocking when you go to check out.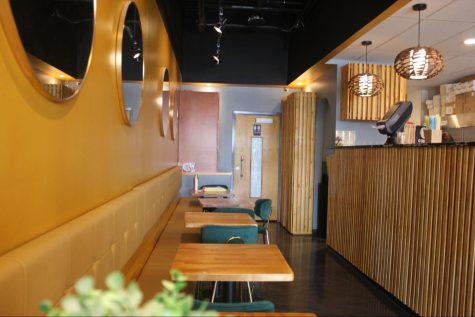 Aesthetics: 8/10
The narrow boba shop features a dark black ceiling with contrasting yellow walls and gold accents that create an elegant space. Wood bead-board lines, tall counters and golden lamps hanging from the ceiling bring warmth to the shop. Perhaps the cutest feature of the shop is its display of merchandise, including Honey Bee Tea shirts and plushies. Despite its keen eye for decoration, Honey Bee Tea is small compared to other shops. The narrow hallways offer finite space, and the seating is limited to three or four tables. This arrangement makes it perfect for grab-and-go customers, but if you're looking for a place to sit and relax while you drink your boba, this is probably not the place for you.
Menu: 4/10
As for variety, Honey Bee Tea does not offer many options in terms of drink flavors. However, the menus are very clear, depicting pictures with every drink option. If you want to know exactly what you're getting, Honey Bee Tea's menu is for you. The shop even offers extra handheld menus and a screen menu feature at the counter.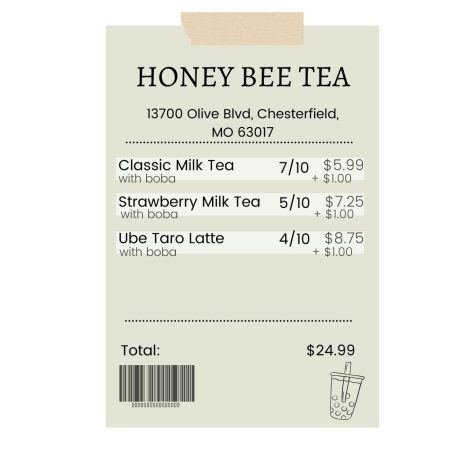 Boba: 3/10
Honey Bee Tea's boba is surprisingly tasty, incorporating a good consistency and chewy texture. The only downside is the size of the boba, which is on the smaller side, and the boba's prevalence in the drink. Despite its good texture, there is a lack of boba in ratio to tea within the entire drink. 
Drinks: 4/10
We ordered their classic milk tea, strawberry milk tea and one of their signature drinks, the ube taro latte. The classic milk tea has a strong tea flavor and is not overly sweet — the ultimate compliment from Asians. Overall, it is pleasant yet average for a bubble tea. As for the strawberry milk tea, the strawberry jam at the bottom of the drink is a unique addition but is far too sweet considering the milk tea's very diluted strawberry flavor. It is necessary to mix the drink thoroughly, otherwise, the contrast of sweetness levels is too much. The ube taro latte is one of the more unique drinks we tried, particularly in its bright purple coloration. Flavor-wise, including taro and ube, two root vegetables of Asian origin, leads to a distinct starchy, nutty flavor. Unfortunately, due to the drink's strong, unique flavor, we were not accustomed to the taste of the ingredients and did not enjoy it as much. 
Conclusion: 5/10
The receipt at Honey Bee Tea is shockingly high for painfully average drinks, which is a major dealbreaker. Ultimately, the excitement from a new and nearby boba shop quickly fades after one visit. For its high prices, Honey Bee Tea is no better than your typical reliable boba shop — for that reason, we rate Honey Bea Tea a 5 out of 10. We recommend skipping out on this shop as a regular.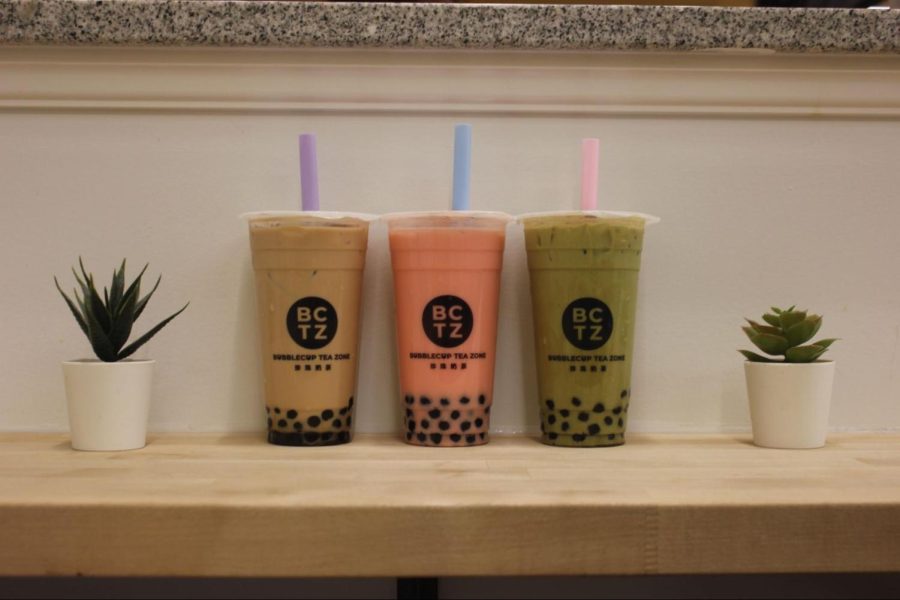 Bubblecup Tea Zone
Overview: 
Further down Manchester is the Asian supermarket Pan-Asia, which features the Bubblecup Tea Zone boba stand in the corner inside. The shop's location inside the popular grocery store attracts many customers, offering an affordable, refreshing beverage for daily shoppers and the reliability of the shop makes Bubblecup Tea Zone a common spot for boba lovers.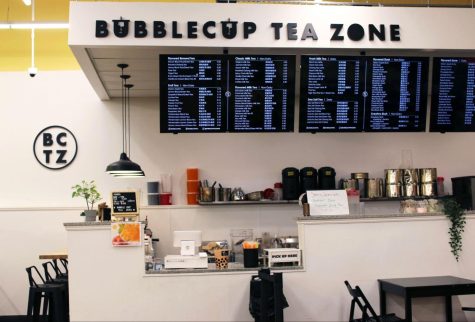 Aesthetics: 6/10
Despite the limitations in space, Bubblecup Tea Zone works with what they have to provide a sleek seating area by the counter. The compact zone features an aesthetic that differs from the rest of Pan-Asia; a simple black and white scheme encompasses the area to reflect a modern look. Though the seating area is small and simple, featuring a couple of black tables, various plants and vines add color to the shop. The best feature of the shop is the bar seating behind the counter, which provides a great view to watch the boba-making process happen. However, the general crowdedness of such a small space and its position inside of another store naturally docks a few points in the decoration department.
Menu: 6/10
Across a menu of three display screens, Bubblecup Tea Zone showcases hundreds of different drinks, so there's no shortage of options. Snows, slushes and salted teas are among the variety of drinks offered — however, the menu clarity of this shop is not as strong, lacking pictures on the screens to go with the drinks.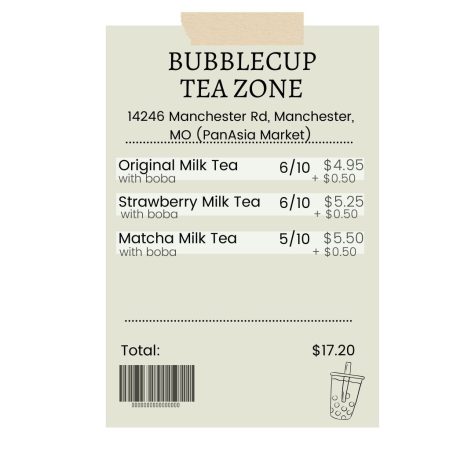 Boba: 4/10
Due to its unusually hard texture, Bubblecup Tea Zone's boba is the most lacking category in our ratings. In comparison to other shops, Bubblecup Tea Zone's boba does not have the soft chewiness that we are looking for. Compounded by the small boba size, the drinks all feel slightly off because of the boba consistency. 
Drinks: 6/10
Bubblecup Tea Zone's classic milk tea is average in our ratings simply because of the milkiness of the drink. The tea taste is overwhelmed by the amount of milk in the drink. Similarly, strawberry milk tea is too diluted to provide enough flavor compared to other shops. For our specialty drink choice, we chose to try matcha milk tea. Unfortunately, if you're a real matcha fan, Bubblecup Tea Zone's artificial rendition of matcha milk tea would not be for you. Still, all in all, the drink is decent if you're craving just a slight taste of matcha in your boba. Overall, Bubblecup Tea Zone lacked strong flavor in their drinks, but not to the point where they weren't enjoyable. 
Conclusion: 5/10
While Bubblecup Tea Zone doesn't offer anything especially remarkable in terms of drinks, their affordable pricing compared to Honey Bee Tea earns them a higher rating. An extra bonus for the shop is when we were offered a brown sugar latte for free by the workers, earning points in terms of service quality. Overall, Bubblecup Tea Zone is your average boba shop, so it earns a solid five out of 10. Our advice is to order any other topping besides boba, like jelly or popping boba.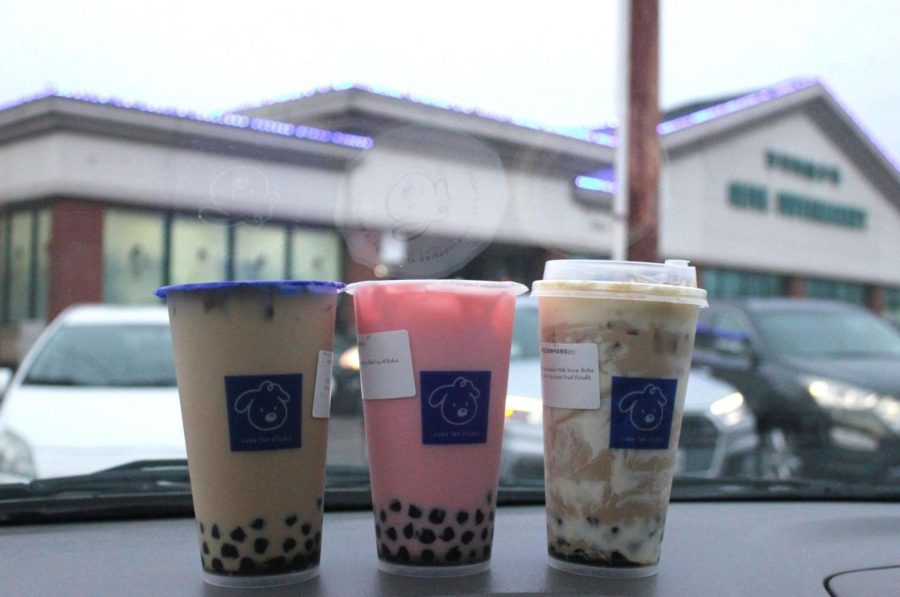 Cube Tea Studio
Overview: 
Similar to Bubblecup Tea Zone inside of Pan-Asia, you will find the entrance to Cube Tea as a window just outside the entrance of Olive Supermarket. For most students at West, Cube Tea's distance is not as convenient, but the 27-minute drive is worth it once in a while. The shop's location can get a little crowded at times, with the cross traffic of supermarket customers walking in and out of the doors and boba shop customers waiting in line for their drinks, leaving customers susceptible to outside weather. But as of April 6, Cube Tea had a much-needed redesign with a new, in-store location right across the street from Olive Supermarket. There is not a website currently up yet for the new location, and it is currently unavailable through online maps, but the setup of the new shop is much more comfortable for customers.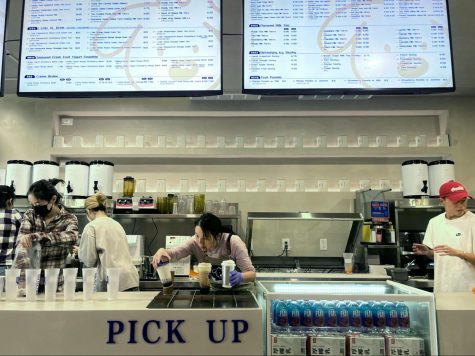 Aesthetics: 7/10
There isn't much to consider at all aesthetics-wise at the supermarket location since it is simply an outdoor space with a checkout window. At the new location, Cube Tea's aesthetic dramatically updated to a futuristic, sophisticated and trendy style with bench seating, cushions and small round tables. Incorporating a royal blue and white color scheme, as well as a pop of color with a sunset lamp illuminating their logo, the new location felt bright and spacious. Our favorite part of their decoration was the new, cute cartoon graphics on their display screens.
Menu: 7/10
Cube Tea has a wide variety of specialty flavors — in small or large sizes — including salted cheese, toasted caramel and tofu pudding drinks. While it is nice that they offer such exclusive drinks, there are no pictures or descriptions to indicate what they will look like, so it can be a frustrating gamble if you don't know your boba that well.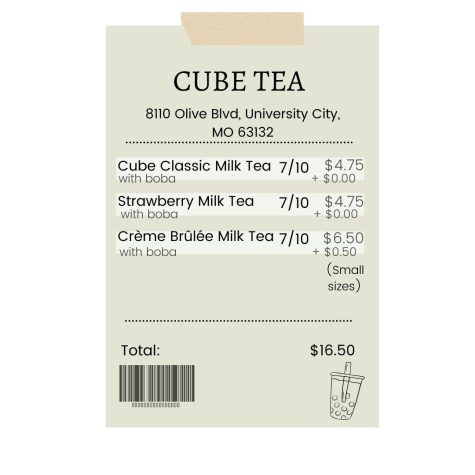 Boba: 7/10
Cube Tea's boba is consistent in texture, offering soft chewiness in every bite. The only downside is the boba size, which is a bit smaller than other boba shops.
Drinks: 7/10
All three milk teas score a seven out of 10 across the board. The classic milk tea manages a good balance between its enjoyable tea flavor and creamy milk — however, in comparison to the other shops, the classic did not stand out with very great quality. Cube Tea's strawberry milk tea has the perfect sweetness and tastes like the definition of strawberry. Lastly, we chose to try the specialty creme brulee drink. To simulate creme brulee, a burnt sugar foam layer lies atop the caramel-flavored milk tea, which is meant to be light, creamy and scrumptious. While it is incredibly enjoyable, the drink can be too sweet for those that don't enjoy the prominent caramel flavor.
Conclusion: 7/10
Thanks to the new and improved Cube Tea building, the space issue is solved. The only thing left to consider is the long distance from the school, but if you happen to be in the area or are up for it, Cube Tea is worth it for its tasty drinks. Throughout every category, Cube Tea scores a seven, which shows their consistency in quality.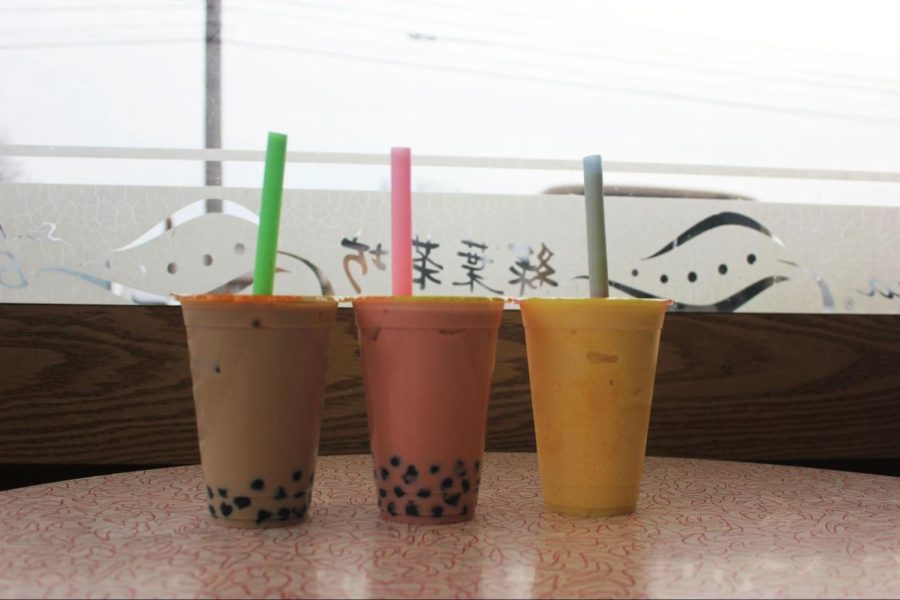 St. Louis Bubble Tea
Overview:
Finally, our highest rated boba place is … St. Louis Bubble Tea! As they say, no one can beat the original. St. Louis Bubble Tea, one of St. Louis' oldest bubble tea joints, is a go-to for affordable and reliable drinks. The only downside is its small, somewhat confusing parking lot and cramped interior, but the shop's experience is worth the slight trouble. Its extensive boba variety and multiple cup sizes make it the perfect boba shop for all taste palates.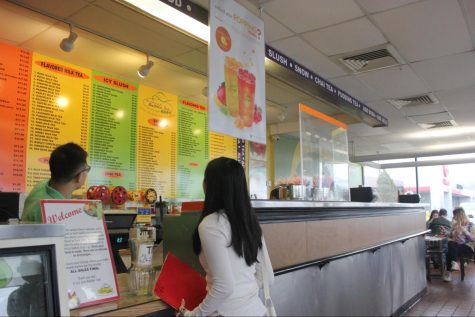 Aesthetics: 5/10
Walking into St. Louis Bubble Tea, we were greeted by various posters displaying information about boba's origins. Through and through, St. Louis Bubble Tea's decor reflects a classic genuinity that focuses solely on bubble tea compared to the trend-based decoration in the other stores. The ordering line feels somewhat crowded with the narrow area right in front of the door; however, the expansive counter stretched down the shop to reveal the larger seating area. Bright colors enhance the simple shop, and full-length windows offer daylight for the customers. But the biggest and most unavoidable drawbacks in St. Louis Bubble Tea are the limited seating and cramped interior that left the boba shop feeling smaller than it is.
Menu: 8/10
The extensive menu is the first thing to greet you in this shop, and for good reason. The large, brightly colored menu offers a broad range of drinks. Furthermore, the shop has boba posters for special drinks like popping boba, depicting pictures as well as descriptions of what those drinks entail. However, the menu lacks pictures to clarify the looks of each drink, leaving room for confusion for customers about what drink they are ordering.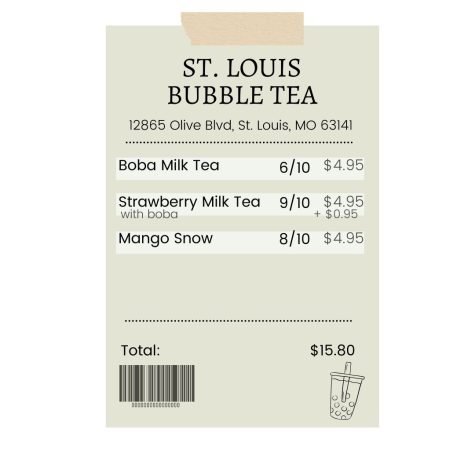 Boba: 9/10
St. Louis Bubble Tea's best feature, arguably, is the boba itself in their drinks. This shop had the most consistent boba, with the perfect amount of chewiness to pair with the drinks. Most of all, their boba is much bigger than others, which makes it more soft and pleasant in texture. 
Drinks: 8/10
As for their classic boba milk tea, the black tea-based drink felt more on the bitter side compared to other drinks. If you want to avoid a super sweet drink, this would be for you — for us, however, it felt a little too bitter of a tea flavor. But in comparison to the generally excessive sweetness in most bubble teas, St. Louis Bubble Tea's classic tea is definitely more enjoyable. The strawberry milk tea had an overall consensus as the best strawberry drink we had tasted. Its strong strawberry flavor had the perfect balance to milk, creating a generally well-rounded drink. Finally, we chose to try something completely different for a specialty drink — a mango snow. A snow is a frosty smoothie featuring a blend of ice and fruit juice. The snow is pleasantly refreshing and had a smooth icy consistency ideal for a hot day, especially with the flavorful mango syrup mixed in. 
Conclusion: 8/10
While it is not as glamorous in aesthetics as other shops, St. Louis Bubble Tea exceeded in categories of taste and authenticity. The drinks were consistently delicious and the boba featured a perfect balance of texture. It is clear that St. Louis Bubble Tea prioritizes drink quality over everything else, which is exactly what we want in a reliable boba shop. If you are looking for the best bang for your buck, St. Louis Bubble Tea has the best affordable drinks, with various options fit to satisfy any customers. So in our opinion, the title of "Best of Boba" in St. Louis is awarded to St. Louis Bubble Tea. 
View Comments(1)
Your donation will support the student journalists of Parkway West High School. Your contribution will allow us to purchase equipment and cover our annual website hosting costs.
About the Contributors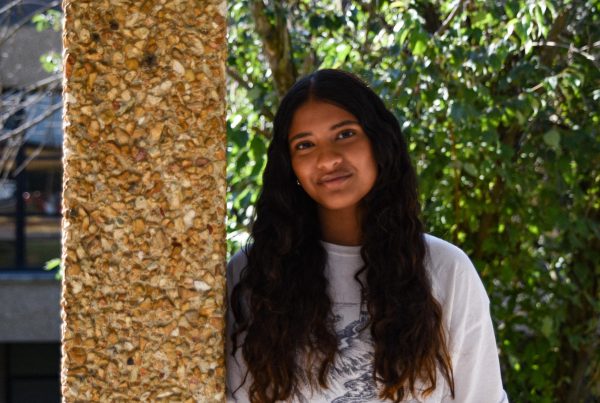 Risa Cidoni, Features Editor
Pronouns: she/her

Grade: 11

Years on staff: 3

What is your favorite piece of literature? "Where the Crawdads Sing."

Who is your hero? My...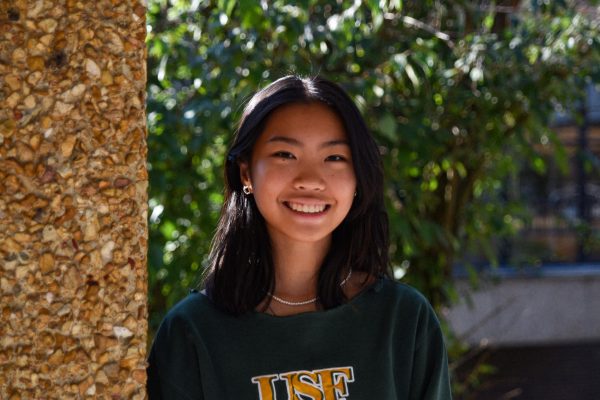 Cindy Phung, A&E Editor
Pronouns: they/she

Grade: 11

Years on staff: 3

What is your favorite piece of literature? "The Perks of Being a Wallflower" by Stephen Chbosky.

Who...