Indian Club in Motion
Pulling up a slideshow and setting down a tray of samosas, junior and Indian Club founder Puneeta Ganga prepares to present their lesson on chai as people slowly pour into the room. 
They spent their meeting going over how chai was influenced by the British and its rise to popularity in Indian culture.
Ganga founded the club Oct. 19 with junior and Activities Director Riya Ashok, hoping to give a voice and space to Indian students while allowing others to learn about the country's culture.
"The purpose of [our] club is to develop a cohesive community where minorities can come together and share aspects of their culture that aren't talked about much but are important," Ashok said.
During the first meeting, members drank homemade chai that sophomore and Social Media Manager Samir Shaik brought. Additionally, Ganga and Ashok served traditional Indian biscuits, such as Parle-G, Marie gold and milk rusks. 
"Everyone was respectful and eager to learn about Indian culture, so it was a very welcoming and warm environment," sophomore Dima Layth said. "As we tried the chai, we discussed and compared the different types of teas that we've grown up with. That's what I love about the club; it's an opportunity for all kinds of kids to come together and learn more about each other."
Ganga spent two months ahead of time planning the club's agenda, spreading the word and setting up their Instagram account. However, choosing board members took the most time.
"Having good leaders is extremely important because this is a new club," Ganga said. "I wanted people who took this seriously so the club could thrive and succeed in the future."
Despite being centered around India, 45% of the club's members are from varying ethnic backgrounds outside of India.
"Having diversity bolsters this sense of acceptance and community that wouldn't exist otherwise," Ashok said. "Everyone is different in terms of how we see the world around us, and having a pool of information and various opinions helps us broaden our scope of opinion."
"
Although the club is centered around one country the magnitude of its impact is not. India's history reaches so many other countries and is linked to the whole world."
— Riya Ashok
The club meets every other Wednesday or Thursday in the history concept center. They hope to not only educate people on the culture of India but also on how the culture varies from region to region. 
"We take this seriously. For every meeting we plan, we make sure it's authentic and that we're not providing false information," Ashok said. "Instead of taking the easy way out, we're willing to go out of our way to properly educate people and go in-depth on the roots of South Asian cultures."
Ganga plans to use the club to bring more opportunities to Indian students and help kids in India threatened with poverty and a lack of education. Through United Young India, Ganga tutored underprivileged kids in India to help them speak English. She hopes to extend this opportunity to Indian Club members.
"I felt happy that I could help them because when I moved from India to America, I had to learn English to fit in, and it was hard. People make fun of you because of your accent or if you don't speak it like they do. Getting to share the same experience while making [the kids in India] feel validated makes me feel fulfilled," Ganga said.
The club also hopes to address microaggressions and stereotypes that South Asians are faced with today and discuss how this has affected their members personally
"The [amount of] microaggressions are crazy, and sometimes it's your people that say these things. Not even that, but some people will let it happen just to fit in because they don't make the connection that [microaggressions are] hurtful and that you could be hurting your people. The stereotypes also create an unhealthy standard of how cultured we should be, so to find that balance and to educate people about [microaggressions] is super helpful to get people to stand up against [microaggressions]," said Ashok.
Additionally, Indian Club wants to make South Asian representation more visible within the school and community to encourage South Asians to take an active role in their community.
"It's easier to feel like you belong if you feel represented in your school," Shaik said. "We provide a space for Indians to see themselves represented because we're doing things to help feel in touch with our culture. Connecting to culture helps build, strengthen and create a community.
View Comments (2)
Your donation will support the student journalists of Parkway West High School. Your contribution will allow us to purchase equipment and cover our annual website hosting costs.
About the Contributor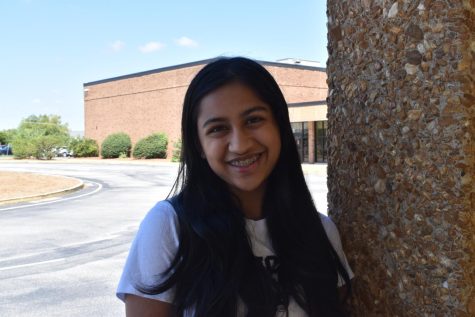 Nidhi Pejathaya, Staff Writer
Pronouns: she/her

Grade: 10

Years on staff: 2

What was your favorite childhood TV show? SpongeBob SquarePants

What is your favorite book?...