New Year, New West
After Principal John McCabe took the reins, he craved the spirit of a larger school. He began by prioritizing school safety. 
"I don't want to change a lot of stuff, but certain things are really important to me as the building leader. The number one thing I like to focus on is student and staff safety," McCabe said.
Six Strikes, You're Out
McCabe began by enforcing a tardy policy. When students arrive late to class, they must report to their grade level principal for a pass. The grade-level principal tracks the student's behavior, so they can correct it before it becomes problematic.  
Students have six chances to be late to class. After a student has exceeded their limit, they receive a detention. 
"I hope [the tardy policy] deters students from avoiding classes. We need [students] in classes where they're supposed to learn with [their] teacher. That's going to help [students] be successful in the class," McCabe said.
Marketing teacher Kelly Kennedy enforces the tardy policy. Last year, the hallway right outside her classroom was crowded while class was in session, causing a distraction for her students.
"I think it's a great [tardy policy]. It's already making a difference; it's not supposed to be a punishment. It is a way of ensuring students are actually in the classroom and not missing educational opportunities," Kennedy said. 
Unlike Kennedy, some students are against the policy.
"Six tardies just doesn't feel like enough, especially since traffic and other factors make it so easy to be tardy first hour. The fact that they're making us go down to the office to get a pass makes us miss more of the class, so that defeats the purpose," sophomore Ben Bloeser said.
Play It Safe
McCabe had the vending machines moved inside the cafeteria, leaving little to no excuse to walk out of the room. Once lunch begins, all doors leading to the lunch room are closed, and administrators, as well as student resource officer Matthew Paubel, ensure students do not go back upstairs. 
"[One day] I left my lunch in my car, and they wouldn't let me go get it. They made me get a pass. I think it's stupid I couldn't go get my lunch. [Did] they think I was going to run away?" junior Amelia Upchurch said. 
Along with the movement of the vending machines to the cafeteria interior, McCabe has also prohibited students from opening the doors of the building. If people need building access, they are to register at the front door.
"We're not going out of the building when we shouldn't be or allowing for any opportunity for a door to be propped or open. That could lead to someone we don't want in the building coming in," McCabe said. "I want to give [students] access to everything [they] need, bathrooms, vending machines." 
With 29 school shootings across America this year, sophomore Mya Rangel appreciates McCabe's concern for student safety.
"These policies are very reasonable. I have a little brother that's coming to high school and I don't want him to have to experience a school shooting. I would never want him to go through anything like that," Rangel said. 
Hallway Flashpass
To prevent students from roaming the halls during instructional time, McCabe has also instituted an orange hallway pass required when students leave their classroom. The passes help staff know that the student has permission from their teacher to be outside class. 
"It's really easy for a student to flash me their pass in the hallway, and I have no reason to be suspicious because I know an adult has granted access to be in the hallway. It's working; we see less unsupervised behaviors in the hallway," McCabe said. "It's not to micromanaging, but so that I know that there's a trusted adult who knows where [students] are," McCabe said.
Most teachers are appreciative of McCabe's efforts to increase student classroom engagement.
"Requiring students to have a pass in the hallways encourages them to be in class, [be] more motivated and way more successful," Spanish teacher Jessica Verywest said.
Leave a Comment
Your donation will support the student journalists of Parkway West High School. Your contribution will allow us to purchase equipment and cover our annual website hosting costs.
About the Contributor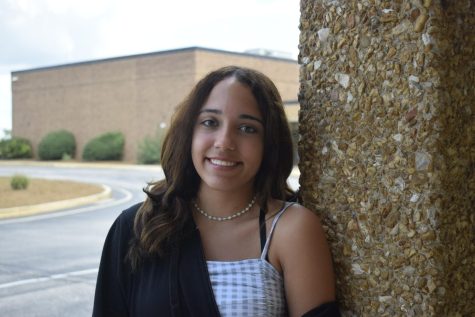 Sabrina Urdaneta, Staff Writer
Pronouns: she/her

Grade: 10

Years on staff: 2

What was your favorite childhood TV show? Bubble Guppies

What is your favorite book? History...