Top 10 local activities to try throughout the school year
As the school year kicks off, vacations and camps shut down for the year. I often do not know what to do when I have some free time. How do I take advantage of the glamorized high school experience without having big, long-awaited plans? After several hours of scrolling through Tiktoks and Pinterest boards, I compiled and rated — out of five — a list of the top 10 things, in no particular order, that you and your friends can do to have fun, even during the school year.
10. Paint your own shoes
This is an activity that's been on my bucket list for years. Start by purchasing white sneakers from your local department store or discount store, which typically costs around $15, then use acrylic paints to customize your shoes however you'd like. Pinterest, Google and TikTok have a variety of images to help inspire your design, regardless of your style and proficiency in painting. Twinning with friends by matching color schemes or designs can even help you find your friends during passing periods in the sea of shoes at school. I would rate this activity a 4/5 — it's fun and creative, but if your artistic ability is questionable at best like mine is, painting may prove to be a formidable challenge.
9. Explore Johnson's Shut-Ins State Park
Johnson's Shut-Ins offers many activities such as hiking, camping, swimming, picnicking or just experiencing beautiful scenery. With six hiking trails, 14 picnic shelters, a small playground and several bodies of water to choose from, it's a place that people of all ages will enjoy, and it's free. As a must-go spot for my family every year, I have hiked, biked, swam and picnicked at the Shut-Ins before, and my biggest takeaways are to wear tennis shoes and bring a water bottle and snack. If the walk gets too long, swimming seems to do just the trick to keep everyone happy. And though my abhorrence for the sun prevents the Shut-Ins from obtaining a perfect score, the multitude of activities and welcoming of all ages gets it a 4.5/5.
8. Visit a cat cafe
Now, I certainly wouldn't try this if you have an allergy or an aversion to cats, but a cat cafe is a bistro that teams up with an animal rescue or adoption center so that guests are able to interact with adoptable cats. They've been trending on social media, and luckily for us, St. Louis has some great cat cafes. The Cheshire Grin Cat Cafe is a nonprofit organization, as is the Whisker Station Cat Cafe & Lounge, which offers activities such as Cat Yoga. Visiting the cafes gets a 4/5 rating from me. Booking a reservation ahead of time is recommended, as the wait time for walk-ins tends to be long. If the increase in popularity and the busyness of local cafes reflect anything, it's that you should give these cafes — and cats — a try.

7. Go to a Water Park
With high temperatures keeping a lot of us from being outside for too long, going to a water park is the perfect way to be outdoors and stay cool at the same time. The Manchester Aquatic Center, North Pointe and Chesterfield Aquatic Center are all popular and within 5 miles of the school. Activities such as water slides, lazy rivers and baby pools for younger swimmers make it possible for a large group of people to all do something they enjoy at the park. Though admission varies depending on age and area of residence, the most you'll have to pay for a daily pass is $10 per person. As someone with a summer birthday, having spent countless memorable birthday parties at these water parks, I can attest to having a blast every time I went. And besides,, who doesn't love cannonball competitions and races to the end of the pool? However, while the water's fun, the parks are often crowded with long lines, which is why they get a 3/5.
6.

Boat around Forest Park
The Boathouse Paddle Co is open daily from 11 a.m. – 7 p.m., with 22 acres of water routes available to the public. They have a variety of boats, paddle boards and double kayaks for rental to navigate the waters while enjoying live music. The routes encompass two islands in Forest Park where wildlife such as ducks, egrets and kingfishers can be spotted. Near Paddle Co is The Boathouse Restaurant, where the menu is posted daily on social media and a great variety of food is offered. Though it's fairly new, opening in 2018, all establishments are well-spoken overall, so I rate it a 5/5 for new and exciting activities to attempt.
5. Grab a bite at SweetArt
SweetArt Bakery is a local, family-owned bakery whose principles lie in creating a safe space for the community and supporting locals, whether it be customers, businesses, recycling or eliminating the use of Styrofoam to protect the environment. SweetArt offers a wide range of breakfasts, lunches and desserts, all vegan and made from scratch in-house. SweetArt was also featured on the Netflix show Fresh, Fried, & Crispy where Daym Drop, the host of the show, was left impressed and in awe that food could be both delicious and vegan. SweetArt is perfect for brunch with friends and family. I'm anticipating my trip, but looking at its reviews and notoriety, an initial expectation of 4/5 seems appropriate.
4. Go thrifting
Thrifting is always an adventure with unexpected outcomes — you never know what you'll find. With stores such as Plato's Closet and Uptown Cheapskate, you'll be sure to discover something you'll love. Another option is going thrifting with a group of people and finding outfits for each other. My friends and I did this once, and not only did we each get outfits we loved for each other, but we were able to spend under $20 each. This is an inexpensive activity that doesn't require a lot of traveling, and establishments like St. Vincent DePaul or NCJW Resale Shop are nonprofit organizations, meaning the money you pay when you thrift goes to charity. 5/5 for thrifting with friends — you're sure to find things that aren't usually your style while still shopping affordably.
3. Check out the Summer Concert Series
Located at Lake Saint Louis, the Lake Saint Louis Parks and Recreation Department hosts live music and dancing every other Sunday, with the last show scheduled along Windjammer Point. The concerts are free, and people are welcome to bring chairs, blankets and food to enjoy the show. This is a fun, relaxed way to spend an evening with friends or family without much planning necessary, and the genre of artists playing varies, so whether you like pop or jazz, blues or country, you're bound to enjoy yourself. I give the Summer Concert Series a 3/5 because its atmosphere is contagiously positive, even if there are similar events hosted in proximity to it.
2. Take a trip to Sweetology
Sweetology is a bakery I've visited a few times to decorate cupcakes with my family, and I am always in awe of the result. There are classes and workshops, both virtual and in-person, where kids and adults learn how to decorate individual cakes, cookies or cupcakes. And while you can visit the storefront in O'Fallon, you have the option of decorating from home as well by ordering from their website and having all of the supplies you need to be shipped to you. Provided kits include themed decorations accordingly, such as an "Under the Sea" kit which includes cookies or cupcakes, assorted bags of frosting, sprinkles and other sugar decorations needed. But no matter what, everyone's designs turn out differently – from frosting flavor down to the number of sprinkles. Sweetology gets a 3.5/5 for creativity and convenience.
 1. Pick your own fruit
Thierbach Orchards, located in Marthasville, Missouri, is a farm that lets customers pick their fruits and berries. Peaches, apples and blackberries are all in season currently. Peaches are $1.89 per pound, and blackberries are $3.99 per pound. I've gone fruit picking with my brother since we were toddlers and the annual rivalry over who could pick the most winds up with us taking home a lot of produce. The farm is open 8 a.m. – 1 p.m. every day, but calling the farm in advance is recommended. Mazes are also open for kids and adults to try and reach the middle, while there are bounce houses available for younger kids as well. I always experience a feeling of accomplishment when eating the fruit I've picked, and I almost think that fruit tastes better with that feeling. Thierbach Orchards gets a 4/5 as it's a fun idea for families, friends or even solo. 
Leave a Comment
Your donation will support the student journalists of Parkway West High School. Your contribution will allow us to purchase equipment and cover our annual website hosting costs.
About the Contributor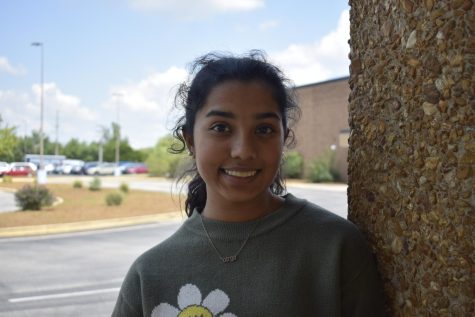 Triya Gudipati, Staff Writer
Pronouns: she/her

Grade: 10

Years on staff: 2

What was your favorite childhood TV show? Growing up, I was a huge Disney fan so either Liv and...