Best of West: Top five classes to take before graduating
With many unique and diverse classes to choose from every year, narrowing down the electives to take can be difficult. While many people choose electives based on their interests, the classes showcased below have something to offer for every student. From social studies to physical education to fine arts, these are the top five classes you should take before you graduate. 
History of St. Louis 
Prerequisite: None
Founded in 2001 by social studies teacher Jeffery Chazen, History of St. Louis should be on every student's class bucket list. But, even if you don't consider yourself a history buff, the way Chazen's booming voice fills his classroom while talking about Anheuser Busch and toasted ravioli causes students to sit at the edge of their seats and listen attentively. The class takes an in-depth look at St. Louis and describes the events that shaped the city into what it is today. Students who take the course become experts on St. Louis landmarks and attractions beyond the tourist's eye.
"I don't see it as a history class; it has an element for everybody's interests, and it's something that you can learn about and go and see it the very next day," Chazen said. "There's an art element, there's a sports element [and] there's an architecture element. It has a little bit of everything for everybody."
Competitive Sports and Games 
Prerequisite: Physical Fitness Concepts 
A class for all the middle school P.E. try-hards, Competitive Sports and Games takes the best parts of a physical education class and puts it into a single hour. The class is fast-paced and takes a deeper dive than your average P.E. class, playing sports most kids could only play on a team after school. While anyone can take the class, it is not for casual picnic game enthusiasts. The majority of the students enrolled in this class are varsity-level athletes or believe they could be if they tried. With school days often being long and strenuous, a class where you can blow off steam while playing the sports you love is an excellent addition to your daily schedule.
"It's a fun class that helps the student's future health," P.E. teacher Tommie Rowe said. "It's a break in their day. They don't have to necessarily put their mind into a book, and they get to come in and play freely. There is work involved, but it's a different type of work than sitting."
Convergence Journalism
Prerequisite: None
With the journalism program being one of the most acclaimed publications in the country, it is something that every student should strive to be a part of. Not only does this class have an honors option, a years' worth of career-technology education (CTE) credits and an award-winning advisor, but the connections you make within the publications family will help you throughout your four years of high school and beyond. Students starting in Convergence Journalism 1 will use the first semester to learn what it takes to be a journalist and begin observing how the publication runs daily. At the beginning of semester two, students will have the option to be a part of the award-winning newspaper or yearbook programs to put what they have learned in the first semester to use. Having taken the class since freshman year, it gives a look beyond the classroom to how businesses and publications work in the real world.
"Journalism provides real-world experience," adviser Debra Klevens said. It's the only class in the school where you run and operate a $60,000 a year business, and you have a product that you deliver to the customer at the end of the year. It's not always easy, but it's fun. We have a family environment where we all do what we love.
Crime and Law 
Prerequisite: None
The best way to describe this class is a semester-long true crime show. The class takes an in-depth look at the U.S. criminal justice system and gives real-world examples about how laws are enforced, including an inside look at the minds behind the criminals. One of the many highlights of the class is the mock trial. Each student assumes a role, and the class works together to perform a court case. The comprehensive look at U.S. law, along with the inconceivable crimes people have committed, makes the students in the class feel like they are in the middle of an episode of "Live PD."
"I think students leave this class with a better appreciation of what's going on in society, whether it's crimes or loss or just different events happening and how people react to them," social studies teacher Nancy Sachtleben said.
Ceramics
Prerequisite: Design Arts
Ceramics is a class to let your imagination run wild while also getting lost in your work. Students learn about the process and strategies of sculpting clay, indulging in the childhood nostalgia of playing with Play-Doh for hours. Completed ceramics projects are displayed outside the art hallway, and almost all of the food sculptures look like they are fit for a restaurant. The class offers a relaxing atmosphere that allows you to get completely immersed in your project, perfect for long blocked days. In addition, Ceramics 2 can be taken for college credit through the University of Missouri-St. Louis (UMSL). Even if you don't consider yourself an artist, Ceramics offers something for anyone willing to tap into their creative side and gives a fresh perspective on the centuries-old art form.
"Ceramics is fun because it's very hands-on, you get your hands messy and get to manipulate the clay," art teacher Ashley Drissel said. "The coolest thing about it is that you get to make something that you can use in your daily life, like mugs and plates. It's cool to have that experience to eat off or drink from something you've made yourself. It takes an ordinary thing and elevates it to the next level."
Leave a Comment
Your donation will support the student journalists of Parkway West High School. Your contribution will allow us to purchase equipment and cover our annual website hosting costs.
About the Contributor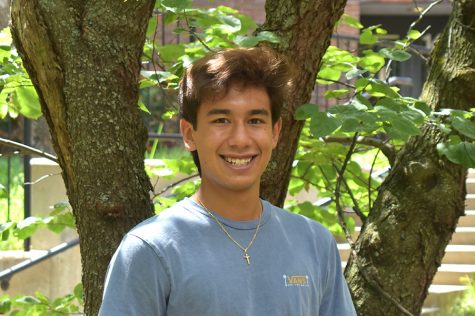 Drew Boone, Staff Writer
Pronouns: He/Him

I am a senior and this will be my fourth year on staff. I look forward to newspaper everyday because it allows me to work at my own...