Five warming winter activities
Temperatures are dropping rapidly, school is ramping into second semester full-force, and life is beginning to get repetitive; between school, sports practice and work, it is the same thing every day.
Sometimes, this means that you spend weekends alone at home, snuggled under layers of blankets in an effort to stay warm. It can be hard to get out of the house. After weighing the benefits of staying home where it's warm, and seeing your significant other or friends, the outcome is usually staying warm.
There are, however, things in St. Louis that you can do that both keep you warm and also allow you to see your friends. Two of our writers set out to brave the cold and try five different activities in one weekend. Keep reading to get the comprehensive list and our thoughts on each.
1. Mauhaus Cat Cafe
Warm coffee, baked goods and snuggly catsㅡwhat more could one person want on a sub-zero-temperature day? Mauhaus requires reservations and one person over the age of 18 in the party, but once you actually get in, the experience is completely worth it. At the moment there are 15 cats roaming the cafe, two of which are permanent residents; the rest have been loaned by a local animal shelter with the hopes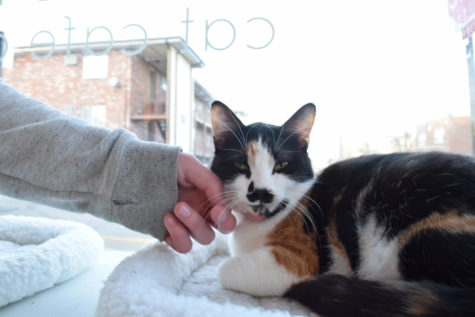 of the cats being adopted. So far, over 30 cats have found new homes, but even if you aren't looking for a new cat and just want to cuddle with them this place is definitely the place to go.
2. Wasabi Sushi Bar
This restaurant, located conveniently in the Town & Country shopping center just down the road from Parkway West, has been voted the best sushi in St. Louis by Sauce Magazine for the past 13 years. While it is a sushi bar, the menu offers a wide variety of options including Ramen noodles and teriyaki beef, steak and chicken for those less enthused by raw fish. However, if you are into sushi, then this is a great place for a multitude of tuna, salmon, crab, shrimp and other rolls. They will even bring it to you in a wooden boat! This is a great place to grab lunch or dinner if you have $15 to spend.
3. Botanical Gardens Climatron
The Botanical Gardens may seem like a spring and summer flower-gazing activity, but the Climatron is kept at a balmy 85 degrees fahrenheit all year with humidity levels of over 85 percent. The Botanical Gardens became the location of the first dome-shaped conservatory when they built the Climatron, a name which refers to the climate-controlled technology. There 1,400 tropical species including bananas, coffee, double coconuts and cacao. But if you are still looking for more the enclosure also contains waterfalls, aquariums and intense green foliage. Even if you're not into tropical plants, this is a great place to visit when the temperature dips just to be reminded that there are warm places in the world.
4. Left Bank Books
If you're looking for a good, locally owned business that gives back to the community, this is the place to go. Left Bank Books is the perfect example of a small-town bookstore—stacks upon stacks of books, a basement filled with used copies and a cat that roams the building, rubbing up on the legs of patrons. Featuring both new bestsellers and books still featuring Shakespearean English, this bookstore is the perfect quiet place to get away. A fun idea is to take someone special and pick out books for each other from the piles upon piles in the rooms.
5. Painted Zebra
The Painted Zebra provides the opportunity to spend time with loved ones while making lasting pieces of art. But don't be fooled—you do not need to be an artist to have a good time. When you arrive at the store, you will be greeted with shelves of different blank ceramic creations for you to pick from ranging from $6 to $36. Many of the options double as useful household items like mugs, light-switch covers and piggy banks. For a cute date idea, you and your partner could select items to paint for each other一even if they turn out like a kindergartener's art project, the important thing is spending time together. The space is large enough for groups of one to a dozen and is the perfect creative outlet for anyone whether you're in AP Studio Art or can barely draw a stick figure.
Even if St. Louis does drop into freezing temperatures, don't settle for staying at home. There are many exciting and new things to do that will keep you warm in the process, and allow you and your friends to see each other while getting a break from school work. Whomever you choose to bring, every option on this list will provide a good, warm time. If you have any activities you like to do in the winter, leave them in the comments below.
About the Contributors
Maria Newton, FEATURES EDITOR
Grade:  12

Years on Staff:  2

If you were a fictional character, who would you be?  Chandler Bing

Does the toilet paper go over or under on...
Dani Fischer, MANAGING EDITOR-IN-CHIEF
Grade:  12

Years on Staff:  4

If you were a fictional character, who would you be?  Biggie Cheese

Does the toilet paper go over or under on...