Cross Country runners complete Frostbite Half-Marathon
In pouring rain, freezing snow or dazzling sunshine, it seems that running never stops for cross country athletes, even in the off-season.
On Jan. 23, three of West's Cross Country runners completed their first-ever half marathon as part of St. Louis Track Club's Frostbite race series, hosted by Big River Running. Although the morning temperature skimmed 32 degrees, freshman Natalie Butler, sophomore Matyas Csiki-Fejer and senior Rachel Osborne bundled up to run 13.1 miles in Forest Park.
"
I ate cheese balls"
— Matyas Csiki-Fejer
"Before the race I wasn't nervous, but I didn't know if I was going to run the whole thing because I didn't really train," Butler said. "I guess I was skeptical about how I was going to like it or how I was going to do."
Butler, who swims during the winter season, was not the only one who did not train specifically. While Osborne ran longer 10 to 15-mile runs to prepare a few months in advance, Csiki-Fejer claims to have followed a fairly "low impact" training program.
"I ate cheese balls," Csiki-Fejer said. "I ran at winter running but the longest I ran was like five miles."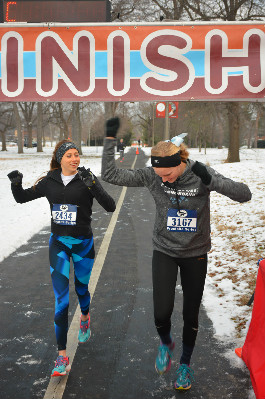 Despite his lack of training, Csiki-Fejer managed to finish the race fourth in his age group with a time of 1:31:00. Osborne and Butler also completed the race with the first 100 female runners, out of more than 400 female runners of various ages.
"When we were a mile out, one lady said, I'll pay you a hundred bucks if you carry me to the finish! and I said, Oh I wish I could but you need to finish!" Osborne said. "It was kind of funny because I just talked to random people."
Also competing in the race that day was Class 3 State Cross Country champion Taylor Werner from St. Genevieve. A three-time Gatorade Girls Cross Country Runner of the Year and ranked nationally on the Saucony Flo50, Werner was a big surprise for the West half-marathoners.
"Right after Natalie and I split up and I had just started to leave at the eighth mile, I saw Taylor coming down to the finish," Osborne said. "It was kind of a wake-up call like 'Wow, I'm not that great,' but it was really cool."
Despite Werner's encouraging performance, not all of West's runners were pleased with their races.
"From my perspective, it was pretty tragic. I didn't like it while I was running but after it was okay. After you reach the eighth mile you hit a wall and then you don't even know what you're doing anymore, you just keep running," Csiki-Fejer said. "I wasn't first in my age group, which was kind of a surprise because everyone that passed me had a beard."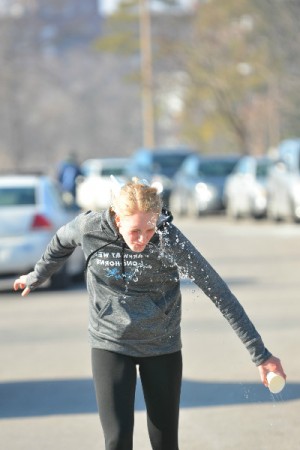 According to Butler, however, bad days are a norm in distance running.
"Distance running just takes a lot of willpower and a lot more strategy. In sprints, you'll be relatively close to your usual time," Butler said. "But distance can really vary based on how you're feeling that day."
Osborne spoke predominantly to the overall experience rather than just the racing piece of the half-marathon.
"The best part was just running with other people and they'd cheer for you as you passed by," Osborne said. "I wanted to feel cool, so I grabbed [the cups of water] and tried to drink them but I just ended up spilling all over myself. It was still pretty gratifying."
A cross country runner for three years, Osborne has a very specific routine when it comes to races, so the half-marathon was "just another race."
"I get up two hours before the race, eat a granola bar and a pack of fruit snacks, and then I go and make sure there's plenty of time to use the bathroom, so I don't have to go during the race," Osborne said. "And then I get nervous."
With their good-luck pre-race breakfasts ready and new personal records to beat, all three of West's half-marathoners have furthered their mental and physical boundaries as athletes.
"As soon as I got home, I started pinning things on Pinterest that have to do with completing half marathons because I felt so accomplished," Osborne said. "I made the goal that I want to qualify for the Boston Marathon by the time I'm 30."
About the Contributor
Emily Dickson, CONCEPTUAL EDITOR-IN-CHIEF
Grade: 12
Years on staff: 4
Life soundtrack: "Ohio - filious remix" by Damien Jurado.
Most passionate about: "Equal opportunity education for children...