Nurturing informed minds
Social studies teacher Amy Thornhill's dedication to guiding students through the complexities of forming opinions in a polarized world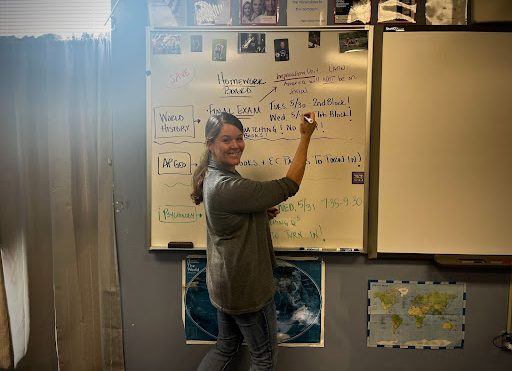 Social studies teacher Amy Thornhill knows that current events play a major role in the topics she teaches in her classes. Thornhill constantly updates lesson plans to fit the news around the globe because she believes in the importance of keeping students up to date on current events.
Thornhill determines what current events fall into the class and category she's teaching. For her World History and Psychology classes, it can be challenging to integrate current events since their curriculums either revolve around the past or relate to biology. 
"If it's World History, it's hard to get to current events. I will weave in events that match the historical events we're learning about. In Psychology, I will try to bring up relevant issues within that curriculum, usually dealing with mental health. Recently we were [learning about] the stages of development [and] the issue of what we do in society if somebody wants to change genders," Thornhill said. 
AP Human Geography connects to current news more because the curriculum already revolves around politics and culture around the globe. The curriculum dates back to 1945; the textbook was published in 2014.
"In my AP Human Geography class, the task becomes staying current and relevant. We had to constantly make sure that we were exposing students to current events, like the situation in Ukraine and Sudan," Thornhill said.
Although Thornhill believes it is important to expose students to news worldwide, some events can be too horrific or cause much sensitivity. 
"[Some current events] are a bit more sensitive, like the [identifying gender] one [in] Psychology. I thought through bringing that up [because I didn't know if it was too much. However], being juniors and seniors, we want to prepare our students to understand both sides, so oftentimes I feel [the] need to err on the side of caution with a current event," Thornhill said.
In recent years, Thornhill's curriculum has changed with the events of Donald Trump's presidency and the role of social media in elections. 
"It's more polarized, meaning you hear the loudest voices on both sides. I have to go back to the basics and make sure kids understand those rapid changes [due to the role of social media] because, within a lifetime of a 14-year-old, you aren't going to see those changes," Thornhill said.
Although Thornhill has not received any backlash or messages from parents, some of her lessons cause students to become more emotional than others. 
"[After] teaching about the Palestinian-Israeli debate. I've had Palestinian students speak with me one-on-one about the impact that the lesson made on them. I've had students who have lived in Israel or have connections and ties directly to Israel who have also spoken to me about that lesson. In AP Human Geo, the topics dealing with poverty [left] students feeling bad because so many people around the world live in less developed countries and struggle daily," Thornhill said. 
Because teaching has become opinionated and politicized, many educators are concerned with the accuracy and bias of the news. 
"It honestly scares me that teenagers are only hearing the polarized view of people on social media. There are so many academics out there who write papers that give historical context and data and present findings based on facts. It does make me nervous that students tend not to want to read those items. It also makes me nervous that many media outlets are openly opinionated. They're not trying to hide their bias [like] they were in decades past. My fear is that students will give up trying to be informed because it takes mental effort and a lot of weeding through what's true and what's not. That makes me nervous for the future of society," Thornhill said.
Thornhill hopes that students will continue to educate themselves on accurate and unbiased current events. 
"Make sure you're finding other ways to educate yourself and find out the pros and cons of either a candidate or particular issue [by] staying up to date on local, state, federal and international news stories," Thornhill said.
Leave a Comment
Your donation will support the student journalists of Parkway West High School. Your contribution will allow us to purchase equipment and cover our annual website hosting costs.