What school did you go to?
I started school in Southeast Missouri. I started kindergarten in Sikeston, Mo., and then I moved to Hayti, Mo. and was there until fourth grade. Then I moved to Arcadia Valley, Mo., and was there until Christmas of seventh grade. That's when I moved up here and I finished the rest of high school in the Rockwood school district. I graduated from Lafayette High School.
How was your childhood home life?
It was great. It was just me and my sister, and she's about five years older than me. My dad and I would go fishing. We did all kinds of things together. My mom really helped to make things possible for us to do. I was a cheerleader, and she always helped me and my fundraisers or whatever I had to do.
What has changed, what hasn't?
When I was growing up, it was always kind of a "brush it off, go on" mindset. Oh, you fell? Well, get up, brush it off, put some dirt on it and go on. Now, I see more parent involvement. Parents are always backing their kids. My parents were always like, "Well if the teacher said that's what you were supposed to do, I guess you didn't do that, did you?" Now, parents are more like, "The teacher's probably wrong. Let's figure out why."
When did you know you wanted to be a teacher and teach this subject?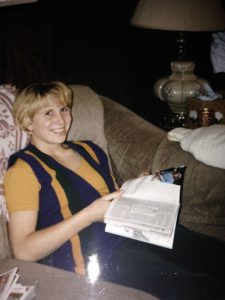 I knew I wanted to be a teacher when I was in high school. I had an elementary school teacher and a high school history teacher [who] both made school difficult. I wanted to make sure students knew that they could do it and that I would support them — that we were here to help them succeed and invest time in them, personally, so that they [could] get something out of school. 
One of my teachers [in fifth grade] didn't like me. I was kind of a class clown, though, so that didn't help things. In elementary school, they would put 'good work' up on the board and she would never put anything of mine up there. If I said "I really tried hard on this one. I hope I can get this one up," she was like, "Look at this handwriting. Does it look like these ones? No. It shouldn't be up here."  My paper was up there once by accident and she ripped it off the wall. 
And I had a history teacher [in junior year]. We had to read a biography. I picked an actress, and he said, "I would expect you to get fluff like this. You're not even competent enough to buy a book." I was floored and that really hurt me. I thought I was trying hard. I thought I was doing what I was supposed to. 
Tell me a childhood story that always makes you smile. 
I was maybe four years old. At the top of the church, there was a flat roof. They were putting tar over it and spreading it, and I thought it was just paint. So, I got into the bucket, the big barrel of tar, and tried to fill up a small bucket so I could paint the garage with it. I tarred myself. I had it on my legs, in my hair, thinking it was just black paint. It doesn't come off easy. 
What things make you nostalgic when you see/hear/smell/feel them?
There are several songs. If I hear a song by the band Van Halen, that takes me back to junior high and high school. Also, whenever I go to games and see teams together [I feel nostalgic]. I played softball and volleyball and I cheered. Being in the gym, just the feel of it, the squeak of the shoes on the gym floor — all of that just reminds me of how much fun I had.