Choir teacher Brian Parrish finishes his last year at West with a perfect score
After 10 years at West, choir teacher Brian Parrish will be transferring to Clayton High School. In Parrish's last year at West, he and the choirs achieved a perfect exemplary score at the 2021-2022 Missouri State High School Activities Association (MSHSAA) Music Festival. 
Three judges listened to every choir for specific technical details such as dynamics, diction, phrasing, expressive content, posture and breath. Parrish practices these techniques with his choir every rehearsal before the contest from mid-January to March.
"There are so many different things that go into singing, so I often say to my students, 'don't let anyone tell you that singing is easy' because it's not. There are too many things to think about. We pay attention to those details," Parrish said.
Guest choir directors Jim Henry from the University of Missouri St. Louis and Lindenwood choir director Pamala Grooms gave their opinions on how the choir could improve to get an exemplary grade.
"My students learn a lot from me, but it's so valuable to have another set of ears on what the choir is doing. We've had a variety of other student teachers, and other choir teachers from Parkway who've come and taken a listen to us and given [us] feedback. The students have grown from those experiences," Parrish said.
After the choir got a perfect score at a contest in March, the student singers prepared for next year's competition. Parrish uses the judges' feedback to prepare his choir for the following year.
"It's part of what we do. That's what we do in rehearsal, just how the contest experience helps make us better for our concerts, our concerts help prepare us for contests, so it's kind of a spiral in a way," Parrish said. "We take the perfect score nearly every year, and I wouldn't say it's expected that all of the choirs [get a perfect score] all at once. I tell students it's really not about the score. It's about the growth and experience because that's the only thing you take with you. You can't take a score with you," Parrish said.
 Parrish and the choir students built relationships with each other through the tenets of "great music, better people," "allow the unexpected," and "if it doesn't challenge you … then it won't change you." Parrish believes that by applying these tenets' attitudes in rehearsal, students can use them in their singing and personal lives.
"This is a wonderful process that prepares you for life. Someday you may have to save another person's life. If you're used to rehearsing your best and trying your absolute hardest on something you're passionate about, you'll be more prepared for that situation. That's what we try to do here," Parrish said.
Parrish's traditions over the last decade were all his own, and he wants the next teacher to organize the choir their way.
"I don't have expectations for the next teacher because that is not my place. I want them to take their vision and run for it. I want them to be able to shape their vision for the core program here. There are some rich traditions that are wonderful. I love the winter concert because it's an honor to be able to uphold such a rich tradition. It's a 54-year tradition at this point, and I've been able to shepherd that into the future. I'm not the best teacher in the world, so I'm hoping that West gets someone who is going to be a real rock star and take [the program] to where they want to take it," Parrish said.
After directing the choir since 2012, Parrish believes that it is now the right time for a change for him and his family. While at West, Parrish taught all the choirs, jazz choir, AP music theory, piano and leadership.
"My favorite part about this job has been teaching the students. It's been wonderful. And I've learned so much here. But sometimes, it's just time for change so I feel like it's the right time. It's a time for change for me, and it's the right time for change for my family. There are a lot of positive things about playing district. I will never forget the wonderful experiences and the wonderful people that I've interacted with here in Parkway," Parrish said. "It's been fantastic. I've learned so much. I've met so many wonderful people, and I'm very thankful for the experience that I've had here. It's allowed me to support my family by doing what I love to do: music and working with young people. And for that, I'm forever grateful."
The older choir students are trusted to keep the traditions running through the choir and to have the younger singers keep the traditions running.
"If you stick to 'great music, better people,' you'll be fine. The moment you let negativity creep in, you're missing on the 'better people' part. The moment you don't try your hardest at rehearsal, you're missing the 'great music' part. The current sophomores and juniors are going to lead the program next year. If they stick to the tenets that we've been talking about past few years, I know they will be successful," Parrish said.
Leave a Comment
Your donation will support the student journalists of Parkway West High School. Your contribution will allow us to purchase equipment and cover our annual website hosting costs.
About the Contributor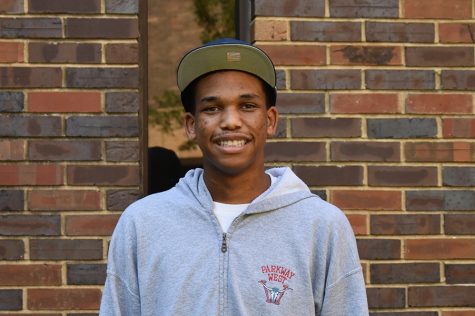 Jordan Scales, Staff Writer
Pronouns: he/him

I am a junior, and this will be my second year on staff. In this class I have learned to ask questions that lead to bigger question.sI...