The dish on free lunch
Earlier this year, students walked through the lunch line and punched in their PIN number, only to find that their meals were free of charge. But why? Where did the money come from? This is thanks to Universal Free Lunch, a government-funded program.
On April 20, the U.S. Department of Agriculture issued a press release extending Universal Free Lunch for the 2021-2022 school year. This reimburses public schools for meals, allowing their students to get one free meal each day. The program aims to quell the stigma around free and reduced lunches, as more than 200 lunches are being served per day compared to 2019, according to data compiled by the district.
Parkway's Director of Nutrition Services, Marlene Pfeiffer, is currently working on a proposal for Congress to make Universal Free Lunch permanent as a member of the Missouri School Nutrition Association.
"I just completed a survey telling them what things are needed, and why it would be a good idea [for public school lunches] to stay free," Pfeiffer said. "We want to reach all the students we might not have reached before."
Alongside the national free lunch initiative comes Parkway's partnership with international food service provider Chartwells. This new union, announced April 14, has been instrumental to logistics that students might take for granted. Chartwells' Resident District Manager for Parkway, Carl Nowicki, feels that the company's global reach is an indispensable quality given current conditions.
"There are several Missouri school districts that have had food supply trucks never show up, so they didn't have anything to serve students," Nowicki said. "So, they had to tell students to start bringing their own lunches due to a lack of sourcing power. Usually no one has to worry about this, but our size helped us in that aspect. We are getting a lot of substitutions on products, but we're getting food… it sounds kind of crazy that it's an issue, but that's really the reality."
To meet the increased demand from free lunches, staffing has become a point of major concern. Kenny Witte, Chartwells' Regional Manager of Nutrition Services, stresses the extra burden on current employees.
"There's an inability to find staff to meet the increased demand [at the moment]. We are working together as a unit and rotating staff to fill holes at the elementary schools while still having them come in to prepare and cook food at the high school in the morning," Witte said.
"
There are several Missouri school districts that have had food supply trucks never show up, so they didn't have anything to serve students, so they had to tell students to start bringing their own lunches due to a lack of sourcing power."
— Carl Nowicki
Amongst all the newness this year, food waste still remains an issue. Nowicki admits this as a downside to free lunch.
"In order to make it a complete meal, students have to take a fruit, vegetable or whatever the case might be," Nowicki said. "In that sense, free lunches are a good and bad thing. On one hand, they get a free and nutritious meal. However, with it being free, they may take things that they don't want like a fruit or vegetable because it'd be crazy not to."
To reduce food waste, Pfeiffer suggests using share tables. These areas, located next to the checkout register, are designated for students to leave unopened food and drinks they took from the lunch line that they don't intend on consuming.
"Then, someone can come up to the share table and get it for free. Produce can also be brought back in and rewashed so it's not lost or thrown out. But right now with the pandemic we had to make sure that everything is being done in accordance with the health department's guidelines," Pfeiffer said.
Pfeiffer also utilizes surveys as a way to reduce food waste. The district has sent out several surveys in the past, from which they determine what foods are in demand and possible areas of improvement.
"We have sent out biannual surveys in the past. We read every one of the responses and see what is in our realm and power to add to the menu. One year, a lot of kids wanted strawberries and watermelon, so that's what we did. We sourced out watermelon and of course, it's seasonal, so we have to watch that too," Pfeiffer said. "Sometimes it's available, sometimes it's not; and the cost. With our surveys, we really try to listen to the students and what they're looking for."
View Comments (1)
Your donation will support the student journalists of Parkway West High School. Your contribution will allow us to purchase equipment and cover our annual website hosting costs.
About the Contributor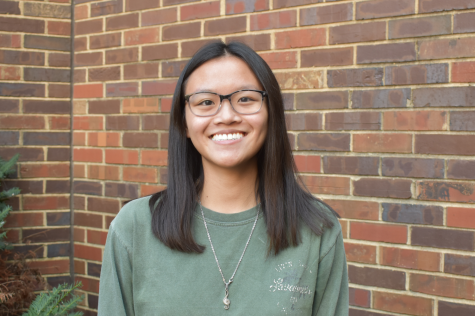 Tiffany Ung, Staff Writer
Pronouns: she/her

I am a senior, and this is my first year on staff. Through the Pathfinder, I hope to gain confidence in my writing ability and better...