An alumna's homecoming
Taylor Rose returns to West as a teacher
As Taylor Rose heads down the hall to get the keys to her new classroom, she walks past her old locker. When she arrives at her classroom, the alumna is pleasantly surprised–it was the same classroom in which she studied English during her senior year. Rose will be teaching English at the high school she grew up in.
"It is a total full circle experience," Rose said. "Mrs. [Erica] Rogers was my junior English teacher and she is [also] an Instructional Coach. We will be working very closely as she helps me with my transition into West."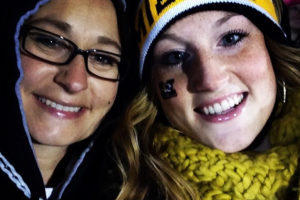 Rose feels as though the traditions and values instilled in the school have kept it the same as it was in her high school years.
"I remember those feelings as a student, and I can imagine that students also have those similar feelings as well," Rose said. "Remembering the challenges I had and the support I had to overcome those challenges will be really important in providing that same support to students. If you have teachers that are there and who put your needs first and prioritize you as a learner and a person, then you're going to have a really good experience. I really want to focus on doing that this year for my kids."
She credits her high school English teachers as the reason she wanted to become an English teacher.
"I can't speak highly enough of those teachers that I had at West, which makes it a huge honor to be coming back as a faculty member in the English department," Rose said. "I was really really lucky to have absolutely outstanding English teachers all throughout high school. I was able to develop a sense of confidence because I felt really comfortable with the reading and writing I was doing because of those teachers."
In high school, Rose participated in soccer, National Honors Society, the Poms squad, Women of West and Orchestra.
"I tried to be very driven in high school, but of course socially, I wanted to be involved in extracurricular activities," Rose said. "I tried to find different ways to occupy my time, and that was what made me the happiest."
"
I can't speak highly enough of those teachers that I had at West, which makes it a huge honor to be coming back as a faculty member in the English department."
— Taylor Rose
Because of her experiences in soccer, Rose spent the summer co-coaching JV field hockey. She will continue coaching for JV during the field hockey season.
"Field hockey is a new sport to me actually," Rose said. "I was told that the positioning was really similar to soccer so they have seen a lot of soccer players who can successfully transfer their skills to field hockey. West was very supportive and promised that I would be taught and be mentored throughout the new coaching experience and that's exactly what's happened. It's been a really new and exciting experience so far."
Through coaching and her studies at the University of Missouri, Rose gets a taste of what it is like working with high school students.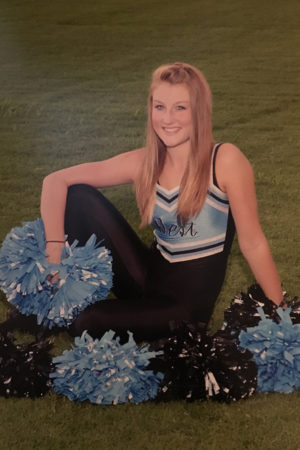 "In years past, my favorite part about this job is trying to provide a learning environment and space where students feel comfortable and relaxed, but also challenged," Rose said. "I hope students know my priority is to view them as a whole person too, taking into consideration their personality, strengths, interests and challenges. All of those things make up every student and all of those things are very important."
Rose, however excited, still feels anxious over the first day of school.
"Teachers get first day of school nerves like students do. You don't always know what to expect," Rose said. "I definitely get nervous about being everything that every student needs me to be at that moment on that day. When students come into our classrooms, they are so much more than students. I think it puts a lot of responsibility on teachers to know them wholly in order to help them be successful," Rose said.
Rose currently teaches English I and English IV.
"I want to make my students proud," Rose said. "I want to make my previous English teachers that I work with now proud. I want to definitely hold my own and make everyone proud but most of all serve students the best I can."
About the Contributor
Sydney Kinzy, PHOTO EDITOR
Grade: 12

Years on staff: 4

Life soundtrack: "Borderline" by Tove Styrke.

Most passionate about: "It breaks my heart that so...