Sophomore Abby Socha prepares for regionals
After competing at over 50 gymnastics meets, spending countless hours at practice and learning different skills for over 13 years, sophomore Abby Socha has risen to level nine out of 10.
"Level nine is pretty hard and I have been working on getting to level 10. It took me two years to get from level eight to level nine," Socha said. "My favorite memory was level five state when I was in third grade because on bars, I scored a 9.9 which was only one-tenth away from perfect. It always reminds me where I started and it keeps me going on a bad day."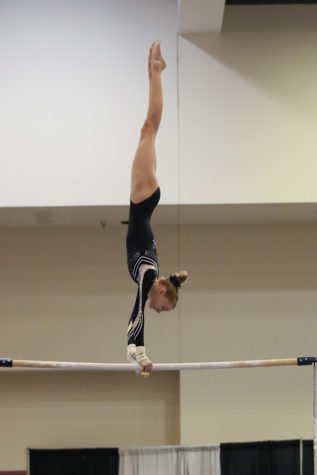 Socha heads to the St. Louis Gym Center (SLGC) as soon as school ends, practicing five days a week, from Monday to Thursday and on Saturday as well.
"Monday and Wednesdays are three hours, Tuesdays and Saturdays are five hours and Thursdays are four hours," Socha said. "I get home between 7 p.m. to 9 p.m. depending on the day. At practice, we go in order of floor, vault, conditioning, beam and then end on bars. I struggle most with shootovers on bars, so I do more drills for it and keep doing it over and over until I am more comfortable on it."
Socha has competed at meets in Florida, Maryland and Texas, typically traveling three times a year for out-of-state competitions.
"Usually, if you go farther south for meets or along the coasts, there is more competition," Socha said. "The hardest thing about a meet is blocking out all the nerves because you want to do good and impress everyone but if you overthink one little thing, it could all go in the opposite direction you want it to."
Placing third All-Around in state, Socha is currently preparing for regionals which will take place April 7-9 in Sioux Falls, S.D.
"Two weeks out was easy so that we could rest our bodies, then the last week we will be practicing the routines for the meet. The meets usually last around four hours," Socha said. "Right now, I'm ranked second for regionals because of my scores. I hope to place in the top so that I can make it to westerns, which is the next competition after regionals including the western half of the country."
With regionals coming up, Socha faces mental blocks and physical challenges while working to improve.
"I start to tell myself that I do not have the skill and cannot do it. To overcome it, I take a step back to reevaluate where I mess up," Socha said. "Right now, I am also having problems with my knees since I dislocated it twice. I have been going to physical therapy twice a week for four weeks. I continue to go to practice since the injury will not stop me from regionals."
Despite the injuries she dealt with, Socha hopes to reach level 10 next year and continue competing in college.
"I will continue to keep practicing and work hard on my skills so that I can reach the next level. I hope not to injure myself again," Socha said. "Gymnastics lets me do what I like, and I do not have to think about anything else while I'm there except for doing what I know how to do best."
About the Contributor
Gabby Leon, STAFF WRITER
Grade: 11
Years on staff: 3
Life soundtrack: "Breaking Free" from the High School Musical soundtrack.
Most passionate about: "Bullying and racism/discrimination....