Fall into new TV
New Shows
There are more than 20 new TV shows coming for the upcoming fall season. With a combination of promising new shows and more seasons of old favorites, there is no better time to start watching.
First is How to Get Away With Murder, a show about four law students in their first year, negotiating their way through the trials and demands of their chosen field. To get ahead of the others, they end up resorting to not-so-legal tactics. Viola Davis leaves the big screen to lead the cast as the tough professor, so this show is a can't miss in the upcoming season.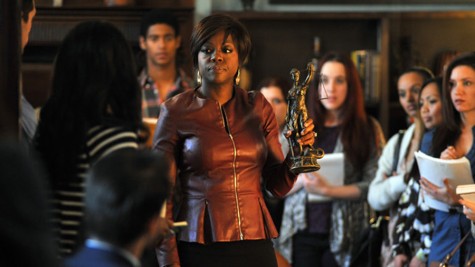 Madam Secretary, highly-anticipated by critics, also debuts this month. Tea Leoni of Tower Heist and Deep Impact takes the commanding role of Secretary of State, with Michael Simon Hall backing her up as the Department of State Advisor. However, this is not just another political drama. This show has been compared to The Good Wife in terms of strong lead female characters, and is a front runner for this season.
An exciting prequel to Batman, Gotham is another well rated TV show coming to us this year. And while it might seem like superhero overkill, Bruno Heller, writer of The Mentalist, brings new life to this seemingly finished story. With Jada Pinkett Smith running a crime ring, and James Gordon and Harvey Bullock playing the rookie-veteran roles, this show is setting up to be a must watch.
Another TV show that has been advertised well, Red Band Society, has fallen flat in first reviews. A coming-of-age story surrounding terminally ill teenage patients tugs at the heart strings, but is not necessarily original. It has been compared to The Breakfast Club, with the full cast of athletes, misfits, brains and princesses. Octavia Spencer shines as a pediatric nurse and the rest of the cast trails behind her.
New Seasons
After Murder House, Asylum and Coven, American Horror Story is coming out with season four, titled Freak Show. This show picked up fans quickly and promises a fantastic and terrifying new season. It is definitely not for the faint hearted but can get addicting quickly. The cast has a solid base, consisting of Evan Peters, Jessica Lange, Sarah Paulson and Emma Roberts, and is adding guest characters every season.
Loading ...
An unusual but hilarious show, The Mindy Project, centers around a successful obstetrician who stubbornly imagines her love life as a fairy tale, when everybody else knows that is not possible. There is a strong supporting cast to round out the show. The Mindy Project is coming up on season three and shows how Mindy Kaling, who plays main character Mindy Lahiri, deals with real life problems like being a woman of color, struggling with her weight, and balancing friends, love life and work.
Modern Family came back with season six on Sept. 24. Following the different kids through all the phases of life, this show attracts viewers of all ages. The mockumentary style of filming, reminiscent of the Office, continues in the new season, along with all the antics and hilarity of past seasons. Covergirl Sofia Vergara returns along with Ed O'Neil, Julie Bowen, Sarah Hyland and many more.
Bob's Burgers is an animated comedy that has been picked up for the fifth 22 episode season, about a family that owns a failing burger shop. Quirky and original, this show has surprised viewers with every episode. Tina Belcher, voiced by Dan Mintz, became a popular and relatable character over the past few seasons, turning the typical teenage groan into a catchphrase. Even being called 'The Best Character on TV' by a poll in Entertainment Weekly, Tina rounds out this promising new show on FOX.
About the Contributor
Kyla Hatton, Sports Editor
Grade: 12

College / Future Plans? UCLA/UBC

Swag Level (1-10): Jacob Cupps

Fun Fact I can't touch my tongue to my nose.