Athletes of West: Episode 1
Now presenting, "Athletes of West," a podcast featuring a new Longhorn athlete each episode who represents and plays for West every day—bringing you stories from the players themselves, both on the ground and behind the scenes, covering individual accomplishments, those who set new records, team captains, athletes of the month and many more. Stay tuned!
In this episode, we meet sophomore Chase Haun, a multiplayer varsity athlete who immerses himself in three sports at West. Listen on to learn about the secret behind his grind.
Transcript
Raj Jaladi: I'm Raj Jaladi, and you are listening to athletes of West, a podcast brought to you by the Pathfinder. We are joined today by multi-varsity player athlete, sophomore Chase Haun who played varsity basketball, varsity football and varsity volleyball the season. And that's pretty rare as a sophomore. So how do you manage to do it?
Chase Haun: I love working. I love playing sports. It's just fun, playing with the boys. And it's just a good time all around. So I love doing it. So that's how I get through it.
Jaladi: So, you play varsity for all three of those sports, but did you grow up playing all three of those sports. Did you grow up playing one of these sports and the other ones came naturally?
Haun: I played football through middle school. I didn't play basketball till seventh grade and then volleyball I started in high school. They're all gradual, but some came faster than others.
Jaladi: So you started playing volleyball in high school and made the varsity team the second year.
Haun: I played at the end of the year. I played varsity because Brady got injured.
Jaladi: Oh, so your freshman year.
Haun: I got a ring, yeah, I got a ring.
Jaladi: Oh, okay. So do your abilities in football and basketball translate to volleyball or does it just come naturally to you?
Haun: It's definitely a gift being tall, you know what I'm saying? But I got bounce. I'm not going to lie. I'm a bouncy boy. So being able to get physicality from football and just learning from those two sports, not even on the physical side of things, just learning how to play and how to be part of a team definitely helps when it comes to say volleyball or basketball, all of them really correlate. Even though they each have different skill sets, you see they definitely all play off one another.
Jaladi: So you mentioned you started football first, but then got into basketball. What sport, if you had to pick one to go to college — only one — what sport would you pursue?
Haun: My favorite is definitely basketball because right as I got into it, I just totally got into it, like watching the NBA and playing 2k with the boys. I put a lot of dedication to it, so I find basketball the most fun with one of the best cultures. It's a good time, so I would love to play college ball.
Jaladi: You started playing football first, and you said you started playing basketball seventh grade. Okay, so this is a personal story, but I went to a freshman game one time to commentate. It was basically me saying Chase Haun scored this, Chase Haun scored that, the entire game. So you went from, so you played, for the freshmen team your freshman year. How did you go seventh grade, just starting, to your freshmen year being like that? What work did you have to put in for that?
Haun: As I started, I was definitely the worst on the team. I was buns. The only reason I made it was definitely because my dad was the coach. I was the coach's boy. But, behind the scenes, that's what it's all about, when you're out working the others, that's whenever you really become good. So, every day, I'd just go in the backyard and get some shots up. From then on, it's just soared. Some things came naturally, like my bounce. I still put it in work, but in the end,
it's really just about putting in the work when the others don't see you so that when you're playing good, they do see you.
Jaladi: What are some of the most proudest moments this season for you in all three sports?
Haun: Well, let's see. I'd say [in] basketball, there were so many moments. It was a great season. Came up a little short, but I'd say beating Central or beating Patton[ville], that was probably our best game we played. They had Kellen Thames and he's a pretty great scorer. The fact that we were able to go out there and execute and beat them when everyone was saying they're better than us, it was really a statement win. That's probably the top moment for basketball.
I'd say [in]volleyball. I'm going to go with, I wasn't there for it, but the boys just beat Melville, and they beat us earlier in the tournament. Everyone was talking trash on us for that, and then they came out when I was sick and beat them in three sets, just dogged on them and played some great volleyball. That's pretty hype, watching it from the sidelines.
And then, football. Let's see. That's a long time ago, man. I'm going to go with beating, probably destroying Central or South because you love beating — no, let's say beating North. That was the first game I really played. It was a close one, but we beat them. It was just a big statement win like all the others, so yeah.
Jaladi: I do remember in the Parkway South game, I think it was the South people [who] pulled up to the parking lot, saying, "Horns down," and then scored two points total. But hey, it happens. So I have this from playing tennis all the time, I faced a lot of pressure, but also tennis is a single sport. What kind of pressure do you face when you're playing a team sport? And how do you overcome that?
Haun: Being one of the only sophomores on most of the teams I played on, at least let's say for basketball, walking out after getting hyped in the locker room, seeing the number of fans that are out there, knowing you're going to have to go out there and play is pretty nerve wracking. There's a lot of pressure, especially like personally when I'd get fouled and I'm at the free-throw line that's definitely where I struggled the most this year because it's just hard overcoming the fact that everyone's watching you. Before the season, I was a knockdown for sure, at the free-throw line, and let's just say I didn't do too great, but there's definitely a lot of pressure because there's a lot of heckling that goes on. Sometimes you just got to go out there and play how you know to play.
Jaladi: Anyway again, related to self-experience, I feel like one tennis match and like my body's done for I can't like walk. So I'm curious how you keep your body in shape. Not one but three sports. All of our state level. Cause to me, that's
Haun: Yeah, you just go out to eat a lot of McDonald's. That's really about it. I'd eat a Munchkin. I go to bed, and I wake up feeling great. You just gotta get through. You definitely get injuries here and there.
Jaladi: So you recommend the audience eat Mcdonald's?
Haun: Yea, it's a great source of protein.
Jaladi: I guess, in any sport really, winning and losing is part of the game, but how do you feel when you win a game and how do you feel when you lose? And I guess what things do you guys do? In practice, maybe after a win or after a loss?
Haun: Yeah, winning, there really isn't a better feeling, but unless it's a, again, a team, you should have destroyed and ended up being a close mean, then that, that doesn't always feel great, but a win is a win, and it looks good on your record. So if it's a big game, everybody's hyped. You're dancing in a locker room. You get, in turn, losses. They don't usually feel too good, especially in basketball. We only had three losses all year. Each one was pretty devastating to us. There wasn't one where, oh, we were right there the whole time. We were, but we knew we could have done better. And so that's what makes us feel bad. And so you just gotta really take losses are great learning experiences, because if you're consistently winning, you never know what to work on to make your team better. So when you're losing a couple games here and there. It's a great lesson to just put right in your face what you can work on as a team. And so that's what our teams would focus on, and that's how we get better going into the postseason.
Jaladi: I guess this is a pretty simple question. What does it mean for you to play for West? What does that mean to you?
Haun: It means we're dogs. I love going out there showing out for the boys, and just West is best. That's it simply.
Jaladi: Right now, you said your plan was to pursue basketball in college. Obviously, in any sport, injuries can be a big part. I don't know if you faced any major issues or injuries, but how, if you did, how did you manage to overcome them? What steps did you take? And also, what steps do you take to prevent injuries as well?
Haun: Most important to prevent it. It's just stretching before you play. Definitely gotta be ready to go and do whatever. Even if you're not currently in, you always got to make sure you're warm because you never know when your number is going to get called. And so I've definitely had my number of injuries that are not. I haven't had any serious ones. Thank goodness. But I've torn my groin. And this year, during football, I tore my calf going into basketball, but he just got to rest and know that his body would be able to recover. And you got to make sure that you come back stronger from it. That's really about it.
Jaladi:  I maybe know a little bit about this at the professional level, but at the high school level, does it impact the level of trust that the coach has on you. If you do get injured, what it takes to maybe work back into the starting lineup or whatever.
Haun: Yeah. I think if you get injured, it can definitely take away from [00:10:00] your minutes or how you look, because even though it's not a great thing, it could somehow make you look weak or if you've been out for too long, more than you should have. It can definitely make you look like you're just trying to play it off or you don't want to play, but it also, I hate getting injured because it can give other people time in the light, which I definitely love seeing other boys play, but that can make the coaches change their mind on who you want to. And I'm not against that. Seeing my teammates go out and compete. I always, I love whenever that happens, but you definitely want to see yourself playing too. So injuries just suck for that.
Jaladi: Yeah. And a transition here, but I do know you take AP courses, and you take a pretty rigorous course load. I have trouble managing in the spring with one sport. For I'm really shocked at how you managed, with three sports. So how do you really balance between going from, okay, I lost a tough game to now? I got to study for an AP test. How do you manage all that?
Haun: Whereas it's difficult for sure. Sometimes I'd say after we lost in Eureka for basketball, I didn't really want to do anything. I was just lying there. Depressed, losing all my seniors and I knew, but I knew that the next day I was just going to have to bounce back. And literally, the next day, I started volleyball. So I knew if I was going to have to start playing a different sport, I was going to have to keep up in the grade books. Because even if I want to play, college is definitely not certain. So you always gotta have a plan B. My grades are probably the number one thing in my life. So I got to make sure that I'm out there not only competing on the sports side of things but making sure I'm academically sound.
Jaladi: What do you do to relax?
What do you do to chill? Once you're, once you're, okay, I just played a sport and I just finished all my homework.
Haun: What do you mean? I grabbed. I grabbed some McDonald's. I either lay down on the couch or lay down in bed. And I just watched some YouTube some TikTok, and I just chilled. I just go on my phone, see you, see what's happening in the world.
Jaladi: There's not much time left, but what do you, what else do you do outside of school and sports? Any extracurriculars?
Haun: Oh, honestly, there's really nothing. Not have much more hanging out with friends on weekends when I get time, and I used to be a boy scout. That was pretty interesting.
Jaladi: Being a sophomore in varsity itself is a big feat, but I guess how what are you doing to take steps? Because I think, do you expect to be taking bigger roles in the teams next year?
Haun: Yeah. Even though I've gotten to the point where I am. You can always get better. So I did. When I was in seventh grade, I just got in the backyard every day, got up shots, and it's just soothing seeing the ball go through the hoops. So the more and more I do it, the more and more I enjoy it. And so, even though I'm not at the point I want to be, I know that working every day and doing what I love will get me to where it will be. And so, in the future, I can be ready to take on whatever role the coach wants.
Jaladi: Yeah. And, what's your goal in terms of a career in sports? As of now?
Haun: I've been on edge either plan. I would play anywhere. I'd play decently. It's a sport that I love, but if not, I wouldn't mind just walking in and doing a future and, being a doctor or something, making money.
Jaladi: I guess my final question for you is, what other advice would you give to players who aspire to be you and multi-sport athletes?
Haun: Yeah. I'm a perfect example. I'm very humble. But now you gotta make sure that your ability on the court isn't the only thing you're focusing on because it's definitely more about being a team player instead of just being a player overall, you gotta be able to know how to play in certain situations and how to get your teammates up instead of getting them down. And you've just got to make sure you're always in the right headspace when you're performing. And when you're out there, you can't get too down on yourself, and you can't get too down on teammates. Cause there's always the next thing that you get to be ready to take on. And so that's really all you got to focus on. If you're trying to be good, you just gotta make sure that you're a great person before you're a great player.
Leave a Comment
Your donation will support the student journalists of Parkway West High School. Your contribution will allow us to purchase equipment and cover our annual website hosting costs.
About the Contributor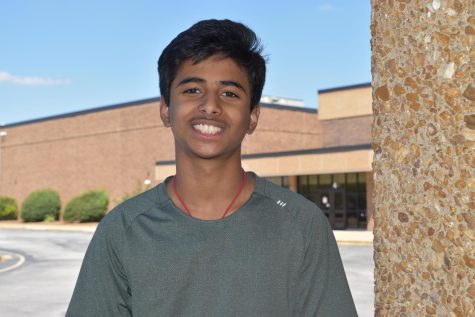 Raj Jaladi, Newsletter Editor
Pronouns: he/him

Grade: 11

Years on staff: 3

What was your favorite childhood TV show? Phineas and Ferb

What is your favorite book? The...