Five Week Fantasy Football Recap
Raj Jaladi 
Welcome to Parkway's fantasy football podcast. It's been about a third of the season so far. I'm Raj Jaladi. I'm a junior attending Parkway West High School. I'm Luke Brockman. I'm a junior at Parkway West High School as well. And I'm Yusuf Hacking. I'm an alumnus of the class of 2021. Right now, I'm feeling down in the dumps. I was wondering how well you are feeling so far about your fantasy teams. I feel good with my four and two but never can complain. But I've had some injuries to both my running starting running backs. My first two picks have been out for more than two weeks, but I'm still feeling super confident.
Yusuf Hacking  
I'm four and two in both my picks to involve my leagues, which is very fun, but I just had Marquis Brown go out for a while, which is very tragic, overall happy with my picks and happy with my trades.
Raj Jaladi 
Yes, so we'll go ahead and get right into this episode here. We're going to talk about a few things that stand out so far. So let's get straight to the running back. I think we should start it off with the recently picked-up running back. Definitely catching a lot of heat here scored 19 points last week and 14 points for the weekend before- Kenneth Walker. So I'm going to start this one off with four I think he has the potential for the best to waver pick up if you got to pick him up. I know a lot of teams dropped him after drafting him because he was hurt, but for a short time, I think he's going to hit on almost all the workload. Very good in college. I think he's set for a solid running back to roll in fantasy lineups. 
Luke Brockman
Yes, I agree with you. I tried to get them off waivers, but you got him. He had a great career at Michigan State. And he didn't really get that role at the beginning of the year with Rashad Penny as the clear starter but now with him hurt. I agree he can be a running back too. And I'd have him above guys like Aaron Jones moving forward. 
Raj Jaladi
You? Okay.
Yusuf Hacking  
Yes, kind of, Walker; I had an opportunity to stash on my bench. But I decided not to because the Sea-Hawks offense scared me. And the committee scared me. But both of those things went away. The Seahawk's offense is really good. Rashad Penny got injured. I think Travis Homer also got injured. So he's just in a really good situation. And it was stupid of me to not pick him up early because I did not get him in my league.
Raj Jaladi 
Yes. And since Luke already wants to start throwing shots at my players, we can take it there, that's fine. We can go to the Green Bay running backs. What a start off with Aaron Jones. Okay, there are a few positives in my eyes; there are a few positives and a few negatives. And here's what I truly insane talent. I mean, this, he's very efficient when he has the ball in his hands. He's very good. He's just a good running back. But they're not giving him the workload. So it scares me in a way, but they're also not winning. So I feel like they're going to change something and get him more involved because he is one of their superstars. And there are not too many superstars on their team, especially on their offense, that can't seem to get going. I feel like they're going to have to use him. And I do think he's going to get a workload increase. He's a great player. So I think that doesn't get disappointment in Aaron Jones just yet. Yeah,
Luke Brockman
For Aaron Jones, I would try and avoid that running back committee over there with Dylan and Jones. I just think every week, it just changes one week, and Dylan will get more work. And then the other week, Aaron Jones will get more work. I wanted to believe you would become that RV one and just take over that role. But it hasn't been that, and I heard Rogers say he wanted to change the offense over there. I don't know what that means. I don't know if that's going to benefit Aaron Jones The way he's thinking, I would say Aaron Jones is like low-tier flex play.
Yusuf Hacking 
Low-tier flex play. Okay. Yes. If you were to you and to come down on, I think nothing should really be changing with Aaron Jones. If you have him on your team, I think there's no world in which you sell low on him because there are a lot of upsides left. And as Raj said, he's really good at dealing with what is not very good. So the Packers should give him the ball more. Now. It's been six weeks, though, and they haven't really done that. So you can't really expect them to change even if they probably should. So the only thing to do with Aaron Jones, I think, is you got to hold them. I wouldn't be trying to trade for him from other teams because there are a lot of risks because they basically haven't used him nearly as much as they should be and as much as you'd want him to be used if you're trading for him. But I think he's neither l low nor a buy-two. I think you just got to hold him and pray. 
Raj Jaladi 
I'd also like to point out that the two weeks that Aaron Jones was used and had more than 100 yards. They won both those weeks, the two weeks, the weeks that they used him they want, so they should see this like the bears and against New England. So I think they're going to get him used a little more. Let's talk about the rather disappointing running back for where he was drafted Nadja Herod last year got so much workload great in college, and they were talking about a steel foot and his plate maybe that was limiting Him that was a slap. The snapshot in which he was playing was also not very good, like a 60% snapshot that's not good at all. I think you can just bench him honestly on eight min leagues in maybe even 10 Min leagues because even with the touchdown last week, he still wasn't.
Yusuf Hacking  
At the end of the day, he is a bad player in a bad offense. Last year he got carried by big Ben's noodle arm this year. The offense isn't even dumpling off them all the time. Like you said, he's injured. The undrafted rookie Jalen Warren is stealing just enough snaps thrown to make him even less valuable, and he's not there's no upside there at all. The offense is terrible. And he's not a very good running back.
Luke Brockman
Yes, it's rough this year with him; he hasn't gotten over 11 points this year, hasn't gotten over 20 attempts, and the plays are just very scary over there you don't know what's going to happen. I think he's bench-able, and as Yusuf said, he's not getting those dump passes to him like last year with Big Ben, so there's no real value with them
Raj Jaladi 
All right, I think that covers a good amount of running backs. We're gonna go right along receivers where it's a bit more interesting. I want to go directly to Cardinals receivers. Now, as you said in his introductions, Marquis Brown is out for six weeks, I believe, with a fracture. DeAndre Hopkins is now back with perfect timing. Want to talk about quickly about DeAndre Hopkins, I think he's gonna have a good one. I think you start them actually this week itself. There's no reason to bench him. But I do want to talk a little bit about Rondale Moore, I'm actually unsure, so I wanted to defer to you guys on Rondale Moore and where you see him and see where to pick up with Marquis Brown out.
Yusuf Hacking
I think he was worth a pickup last week too. I think he's just pretty good. He's going to have a decent role in the offense because he's the slot guy. So he was going to have that no matter who was playing on the outside, but the Cardinals' offense scares me. Kingsbury is a terrible head coach, and Kyler Murray needs to figure some stuff out. But at the end of the day, Rondale Moore down, you're gonna have good rolls. Even if I were DeAndre might be a little bit washed.
Luke Brockman
Yes, I agree. D-hops is not the old D-hops he used to be a few years back last year. It wasn't great for him. It was a good year, but nothing that we've seen from him in the past. So I want to really see Thursday night what D-Hops is going to do in his first game back. QB's play with Kyler is a little iffy right now. But I think Rondale Moore should be worth a pickup. He's played three games this year, and his targets have gone up every game. So that's something to be looking forward to. So I think both of those guys will have good weeks. And I think D-hops is starting this week. But Rondale Moore. Maybe 10-12 Min can be a flex play.
Yusuf Hacking 
I'll say about D-hops before we go. As you said, Luke, he was bad last year. So I really hope the PEDC took it to work.
 Raj Jaladi
It's moving right along. I want to talk about this because I strongly believe one way Amon-Ra St. Brown was great. The first two weeks. And then what happened? I don't know. I think he got hurt. And then he didn't do so. Well. The thing is that he's really good. But I think that maybe he could be a sell high. He could keep up his work right or like his amazing performances. I've been saying this since like week two, but like Jameson Williams, when he calls back, I feel like he's going to have some kind of role in the offense. Lyons talks very highly about Jameson Williams. It's not going to be right after the buy, but he's going to come back at some time. So maybe I'm thinking Amon-Ra, you could try and sell high.
Yusuf Hacking
Raj, I wish you had Amon-Ra and one of the leagues that we have together so that you could trade him to me because he is a buy high right now in my opinion, especially in something like dynasty waded into now Jameson was coming into play Oh no. Okay, I'm going to say Amon-Ra has been getting like 30% Target shares his whole career since the line starter finally started playing him a little bit at the end of last year. It does not matter if Hodgkinson, Swift or even some rookie James Williams is playing; Amon-Ra is the Sun God, and he gets his buckets. Okay, so he's gonna get his fantasy points.
Raj Jaladi 
Hockett said all those don't feel like they have a lot of mouths to feed. 
Yusuf Hacking 
They have mouths to feed, but Amon-Ra is the only one eating okay. And that's what he's been doing just started the year. He had 12 targets a game before he got injured, and in the game he did poorly on, they were playing him like 30% of the stuff because he was coming back from injury. I wish I didn't have him in self-weeks so I could go get up.
Luke Brockman
I don't know about Amon-Ra. So his three weeks, he was like fully healthy. He had 12 targets, nine targets, and you have to feel good about him. But I think I agree with her eyes. There are a lot of weapons on that offense, especially with Jameson Williams coming back. I think he's still going to be good and put up numbers, but I don't think he's going to be that top 10 guy that most people have a man. I think he's gonna be a good wide receiver to like you can bank on him putting up 14 to 16 a week. 
Yusuf Hacking 
That's a wide receiver one man 
Luke Brockman
That is not a wide receiver one, and PPR
Raj Jaladi
Luke that's playing it in Eight man league, so it's a bit different. Okay.
Luke Brockman  
Mickey Mouse league. I played a 14 team
Raj Jaladi 
Kyle Pitts, Yusuf if you're if you still support this man, you're on your own man I might have to the man who you were so high on to admittedly I was too I don't know at this point for Kyle Pitts hate to say it, but it's a prayer. I'm just praying that it'll be good. There's nothing to support, he will be good. There's nothing to support. He's gonna go to increase his workload. There's just nothing supporting that he's going to come back three targets for targets. He did have that one good week. But other than that, I mean, it's been very disappointing. He caught a touchdown on American soil. Congratulations, biggest accomplishment. But I'm losing hope, and I'm starting to Njoku if this keeps up, I'm starting to joke you over him on a weekly basis. 
Yusuf Hacking
Just got to hold on, though. You can't really trade him right now.
Raj Jaladi
Nobody. Nobody wants. Yeah, exactly. Yeah, he'll just be sitting on the bench. 
Luke Brockman
It is rough with him because this year tight ends, you have Kelsey and Andrews and then the drop off is just extreme like you got the next guys up or like better, and so it says what do you guys have on like, as you're like, tight end ranks? Do you have them?
Yusuf Hacking 
I'll be like nine or sometimes 10 Yeah, top 10 Just around
Luke Brockman
This draft is like the third or fourth tight 
Yusuf Hacking 
Raj, Did you draft him? 
Raj Jaladi
Hmm. Who?
Luke Brockman
Where he came out of college as the best tight end
Raj Jaladi
Not even that. He had 1000 yards, he had more than 1000 yards
Luke Brockman 
It is the QB change to is hurting is I mean obviously I will
Raj Jaladi 
I will say this; the one glimmer of hope I have Okay, the one small hope his snap share for the last three weeks have been low. I don't know if that's just an Arthur Smith thing, or maybe last week he only played 58% of the snaps. Maybe that's because of his hamstring. He was questionable coming into the game and missed the game before that. That's the only hope, but you know, it was probably the worst draft pick on my entire team. That's unfortunate.
Raj Jaladi
Thank you so much for joining us in today's podcast. We wish you good luck with your fantasy football season.
Leave a Comment
Your donation will support the student journalists of Parkway West High School. Your contribution will allow us to purchase equipment and cover our annual website hosting costs.
About the Contributor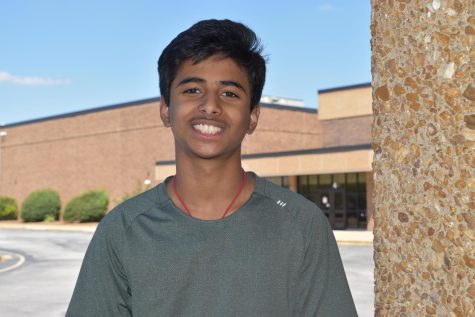 Raj Jaladi, Newsletter Editor
Pronouns: he/him

Grade: 11

Years on staff: 3

What was your favorite childhood TV show? Phineas and Ferb

What is your favorite book? The...