Alumnus Andrew Peterson begins new business as a private chef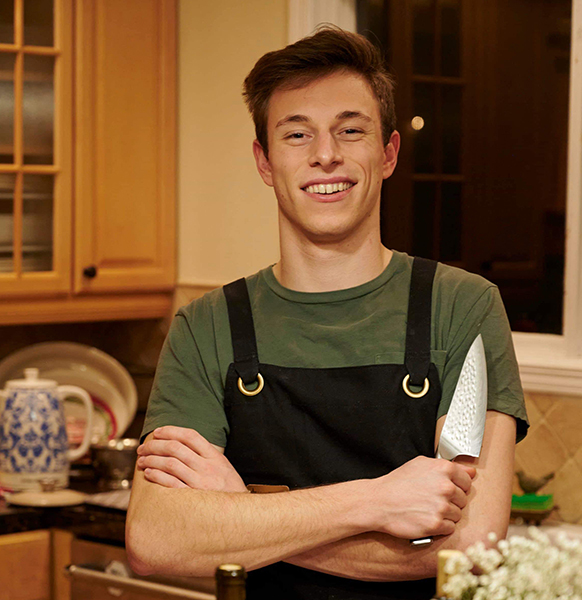 At just six years old, 2016 alumnus Andrew Peterson remembers sitting on his kitchen counter cutting vegetables because he was too small to see over the countertop. 
"We all helped cook and enjoyed our family dinner, so the idea of dinners was instilled in me early on," Peterson said. "That played a big role in cooking for me because when we got together as a family, that's what it was all about. Getting together, eating, drinking and just having a good time."
Dinners at home cultivated a love of food in Peterson, one that would prove important as he grew older. 
"I can't remember a time I wasn't passionate about food, mostly because it tasted good and made me full. We also ate out which I really enjoyed," Peterson said. "Going out to eat was definitely fun. I remember loving going out to eat, and I liked the restaurants and the ambiance a lot."
As a child, his mother usually cooked dinners for the family. 
"My mother was more responsible for the food because she was around all day for the most part, and my dad worked 9 a.m. to 5 p.m., so he was gone before I left. That was our time to talk about our day," Peterson said. "[My sister and I] hung out with [mom] a lot [while cooking] so a lot of the food that she made was influential. We always had a rule growing up that whenever we had food or made dinner, we always had to try it. A lot of that food curiosity has carried with me." 
"
We all helped cook and enjoyed our family dinner, so the idea of dinners was instilled in me early on,
— alumnus Andrew Peterson
As Peterson finished middle school, his father assumed the role of 'chef' in the house.
"[My mom] passed away from breast cancer when I was in eighth grade. It started when she was in her early 20s," Peterson said. "Going through high school, since it was just me and my dad, he would make me lunch [and] breakfast every day. My dad grilled a lot; I remember being out with him at the grill when I was young, getting a spark in my eye."
Starting in the summer between freshman and sophomore year, Peterson began his employment with Yia Yia's Euro Bistro. First working as a busser, then when he turned 18 he became a server; while it was his first job in the food industry, it was not his first thought of the possibility of being a chef. 
"Honestly, it's kind of funny, because when I was young, that's exactly what I wanted to be for a long time. I was either going to be an astronaut or a chef," Peterson said. "The astronaut thing didn't work out, unfortunately."
This job gave Peterson a taste of the culinary industry and service, and combined with his passion for food, he decided on a career path. 
"When I started serving, I can pinpoint it down to the very day I decided," Peterson said. "There was a table that came in, and a bunch of stuff went wrong. The food was taking forever, and the [customers] had somewhere to be. They got super upset and were like, 'we're leaving in five minutes if it's not ready.' Everything ended up being fine, but on that day, I realized I actually cared about that, about the customer's experience and service. While taking care of people, you're providing an experience. Knowing that I didn't give that across the board made me try harder."
"
While taking care of people, you're providing an experience. Knowing that I didn't give that across the board made me try harder,
— alumnus Andrew Peterson
During his time at Missouri State University where he is majoring in Hospitality and Leadership, Peterson learned of a local chef who owned her own business as a 'private chef.' After reaching out to her, Peterson was given the opportunity to work on a few events with her. 
"I've done a large event with her, and I've done multiple smaller events with her, with about six people," Peterson said. "She would invite me to come with her and cook because typically, it's a two-man job. It was through those [events] that I realized, 'wow, I have the passion, I could be doing this [as a job].' It is just a matter of doing it." 
This realization kickstarted the process of beginning his own private chef business. 
"I am honestly most proud of just doing it. So many times you're like, 'oh man, that is something I have always wanted to do,' or, 'that's a dream of mine.' Just being able to put this in motion, even if that means I only do three dinners the rest of the semester, is still just a fun project," Peterson said. "I have always seen food and service as the focal points of restaurant ownership, and not many managers are really great chefs. In fact, many of them aren't even chefs to begin with. Obviously, it will make me marketable having started my own business."
Peterson understands that when he says his current job title, people often think of chefs who cook for families on a regular basis, usually employed by the wealthy and the famous. 
"A private chef is not a personal chef. A personal chef is someone that you hire that cooks for you very frequently, if not most of your meals. A lot of celebrities have personal chefs. A private chef is for hire per event. There can be any kind of private chef. What I specialize in is course style fine dining. [That] basically means that instead of having a big meal, it is split up into plates. It is smaller bites that add up to the experience so that when you get to the end, it is this long thing as opposed to having this big plate of food and eating. It is something that I didn't always know about."
One aspect of being a private chef that is similar to the job of a personal chef is the in-home service, which adds another responsibility: charm. 
"Most chefs are introverted, and they don't have that kind of service responsibility on the service aspect. Being from the service industry and trying to perfect my service for so long will benefit me significantly," Peterson said. "The nice thing about having [the meals] in their home is that they are comfortable. Just being able to be very personable and having a lot of fun with it brings the job from a five to a ten. If you can give them great service along with great food, even better. You can't do one thing better than the other, you have to do them both well. The vibe in a restaurant is not quite the same, it is very bustling and busy, it is total energy, whereas at home dining is more controlled. It is more relaxed, even though it is fine dining food."
Throughout the process of choosing the food that he would focus on cooking as a chef, Peterson was reminded of the food of his religion. While he wouldn't define his food as 'Jewish', he feels that his meals are influenced by this culture.
"A lot of those foods were kind of traditional foods, and they held importance to me. When I was thinking about what I wanted to do, I thought about my traditions and my heritage and food that was nostalgic for me and food that I really enjoyed and had ties to. I feel like everyone likes authentic food, but also food that is authentic and new is exciting," Peterson said. "I wouldn't define my food as being Jewish, but having Jewish influenced foods is what I am most comfortable with even though it is not what I cook all the time because I have been eating it my entire life. For other people, building my repertoire of Jewish food is almost unheard of because it is typically peasantry food. Doing that has been a really cool project for me. It is not something that is done."
"
I thought about my traditions and my heritage and food that was nostalgic for me and food that I really enjoyed and had ties to. I feel like everyone likes authentic food, but also food that is authentic and new is exciting,
— alumnus Andrew Peterson
Peterson decided to focus on fine dining for a multitude of reasons, particularly because of its flexibility.
"I liked fine dining because it tastes good and looks cool, but it is also a really great way to express yourself as a chef. In course style dining, because it is so much more of an attention to detail, you can really do what you want with it. You can take it where you want, and you have a ton of control with how the dinner goes."
While fine dining is something that Peterson enjoys, he understands that it is not a sustainable lifestyle. Thinking ahead, Peterson wants to own restaurants, using the skills he has gained for his current private chef business.
"I wouldn't say this is something I want to do for the rest of my life, but it is something I want to incorporate into a restaurant setting," Peterson said. "My ultimate goal, my, 'this is it,' is to open three restaurants. I have no idea where they will be, but they will be three vastly different concepts. My passion is fine dining, but it is not sustainable. It is very difficult to just have one restaurant that is fine dining because your market is so small, and your cost of ingredients is very high. I actually want to open a place like The Wolf Cafe. That is one of my favorite places in St. Louis. I would love to open up a place like that at some point somewhere, in a smaller town like Springfield."
While food is an important part of his job, Peterson notes the importance of service in his new business, as well as the food industry as a whole.
"I think food service all comes down to attitude and perspective. Some people are just programmed to care more about other people," Peterson said. "Just wanting to be at work as opposed to having to be at work instilled that in me. I always say that it shows; you can tell when people actually want to give you good service."
View Comments(1)
Your donation will support the student journalists of Parkway West High School. Your contribution will allow us to purchase equipment and cover our annual website hosting costs.
About the Contributor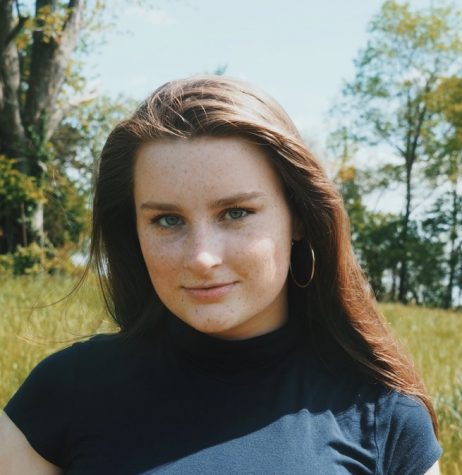 Zoe DeYoung, Staff Writer
She/her/hers

Grade: 12

Years on Staff: 3

What has been your favorite quarantine hobby? I downloaded Tik Tok

Is a hot dog a sandwich? Yes....