Art teacher Ashley Drissell finds herself through Latin dance
Eyes closed, art teacher Ashley Drissell sways to get a feel for the beat of the music. The crisp percussion conjures memories of her childhood, constantly being surrounded by music and dance. This exposure allowed her to discover a love of dance.
When Drissell was about 12 years old, her parents' passion for music and dance led them to start traveling to Cuba for music and dance workshops. Her father is also a recreational Latin percussionist. Because of this, Drissell considers dance and Latin music an integral part of her family's identity.
"Growing up, my dad was, and still is, always drumming," Drissell said. "Whether it was his car dashboard, the kitchen counter or his congas that he kept in the living room. It was so normal for me that it felt strange when my friends were so curious about the music in my house. It wasn't until I was a teenager that I started to take it less for granted."
After about five years of her parents traveling to and from Cuba, Drissell joined in their enthusiasm for the culture at age 17. She values immersing herself in an environment to appreciate it.
"Being in Cuba lit a fire in me. There's something formative about going to a place at a young age where all of your senses are activated in a new and different way. My experiences there changed me and still stick with me today. I'm so grateful for having been afforded time there," Drissell said.
Drissell's father performed Latin music with his band on American soil. As a teenager, Drissell often got involved in her father's musical endeavors and went to several venues with him.
"My dad used to play a lot at nightclubs. When I was about 18, I would help him carry his drums there. Of course, you're not supposed to go to bars and nightclubs at that age. I wasn't there to drink or anything. I was helping the band set up, and then, I would stay and dance the whole time," Drissell said. "Afterwards, I would carry the drums out and no one ever knew. People always asked me, 'what do you do for a living' or 'where do you go to school?' I always said I was a WashU student, which was a terrible lie, but I didn't want to get caught. I wasn't there to cause trouble; I just wanted to dance."
"
There's something formative about going to a place at a young age where all of your senses are activated in a new and different way."
— Ashley Drissell
Throughout high school and college, Drissell expanded her interests to swing, African dance, ballet, jazz, hip hop and belly dance by taking several classes. In college, she was a member of a dance group that combined African, contemporary and belly style which performed all over Missouri. 
"I don't elaborate much on my belly dance experience with my students because it can be a bit more of a sensual dance form," Drissell said. "But, what many people don't know is how technical the muscle isolation is when training. It takes a lot of strength and endurance."
In Drissell's experience with dance, one memory she cherishes, in particular, is a performance she attended—yet did not mean to take part in. When Drissell was about 18 years old, she and her mother went to the Fox Theatre to see the Afro-Cuban Allstars, a spin-off group from the award-winning Buena Vista Social Club.
"Before the show, I happened upon a couple of the band members smoking cigars out back, and I stopped to talk. There's an instant camaraderie with Cuban artists and musicians when you mention some of the places and people you know in common," Drissell said. "Once they started playing, my mom and I pushed our ways to the edge of the stage. At one point, one of them recognized me and pulled my mom and me, along with a few other dancing audience members, onto the stage. It was a complete honor and a total party."
When COVID-19 took hold in the spring of 2020, Drissell, like many others, turned to streaming services while at home. One of the films Drissell watched is "Paris is Burning," a documentary about ballroom culture. From this piece, Drissell learned about a style of dance called voguing and a prominent voguer, Cesar Valentino.
"I became obsessed about vogue and ballroom history when I was stuck at home," Drissell said. "I fangirled over Valentino and jumped at the opportunity to take his classes the very moment he started offering them virtually. He's fantastic and always insists that we own our power and positivity. There's a beauty in owning your fierceness, especially at a time when life has beat us down."
Valentino is offering virtual vogue classes through the Alvin Ailey studio, a renowned school for dance in New York City. Drissell was shocked when she realized that Valentino would be an instructor at the studio.
"Dancing at Ailey was on my bucket list, so it's kind of strange that this was possible because of the pandemic. It is just an iconic space and school. [So] many incredible dancers have learned there, and it's been featured in films and TV shows, most recently 'Pose.' It's pretty legendary," Drissell said.
"
There's a beauty in owning your fierceness, especially at a time when life has beat us down."
— Ashley Drissell
Despite the various styles in her repertoire, Drissell still considers Latin dance to be at the core of her identity. In particular, she enjoys sharing a love for dance and its culture with others.
"Latin dance is where I started. I like dancing with a partner. That's the biggest thing that sets it apart from other types of dance. You can dance with anybody. That's nice too about the community of Latin dances," Drissell said. "A while back, my dad was playing at an outdoor venue. I didn't know anybody in the audience, but I asked a guy to dance because I noticed that he was a good dancer. It's kind of fun because anyone can be your partner."
Drissell has danced with many partners in the past, though she holds one special partner in her heart: her father.
"My dad's 70th birthday was a couple years ago—he had just gotten his hip replaced. He was like, 'you're going to be my first person to help me try out my new hip,'" Drissell said. "So, I was his first dance partner after his hip replacement. That's probably the most recent dance video I have, my dad and I dancing together. He just had his other hip replaced before Christmas. [So,] he's saving me a dance for his 73rd birthday."
In the future, Drissell looks forward to attending live events in a post-COVID world and doing salsa and swing dance again. She also hopes to learn the samba and make dance a large part of her family's lives.
"Dance has allowed me some amazing travel and performance opportunities in my life, which has fed my soul and helped make me who I am today. I'd love to learn [the] samba so that I can travel to Brazil someday and look like I kind of know what I'm doing. I see myself learning and growing as a dancer in the future. I have a lot of passions, a pottery business and two small children, so it's hard to fit it all in like I wish I could. But dance is something that my family can be involved with," Drissell said. "When my kids are old enough, I plan to take trapeze classes with them. I want to fly, and, luckily, I have zero fear of heights. We'll see where that leads."
View Comments (2)
Your donation will support the student journalists of Parkway West High School. Your contribution will allow us to purchase equipment and cover our annual website hosting costs.
About the Contributor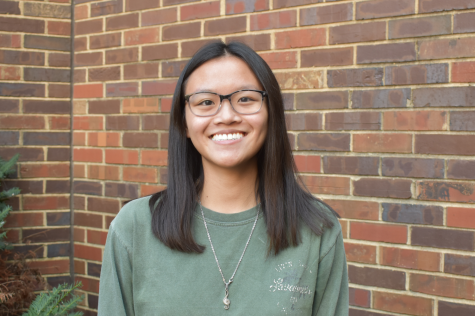 Tiffany Ung, Staff Writer
Pronouns: she/her

I am a senior, and this is my first year on staff. Through the Pathfinder, I hope to gain confidence in my writing ability and better...