From a marching band member to a band parent
1989 alumna Carla Foy reflects on her band experiences
Trumpets blared and flutes sang their high notes. Clarinets whistled and drums rattled a beat. These are the sounds that echoed out from the little gulley where the band still practices 30 years later.
"The whole band experience is what I remember all these years later," Foy said. "I had this tight community of friends. We had a lot of fun together and enjoyed those years."
In marching band, Foy played the clarinet; in jazz band, the saxophone.
"The trombones were always behind the saxophones," Foy said. "I had a lot of friends who played trombone, and I remember they would like to empty their spit valves on my head."
Foy's favorite memory from high school was the band trip to Florida for the Citrus Bowl Competition, where they pulled through with a victory.
"We also performed in the Citrus Bowl parade, which was on New Year's Eve. Right after the parade, we were invited to a New Year's Eve party," Foy said. "We usually did really well, and placed in the top three of every competition we went to during my whole high school career."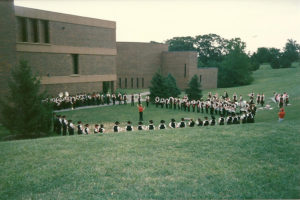 After graduating in 1989, Foy attended the University of Missouri and played in Marching Mizzou during her freshman year.
"It was a big difference from the high school band to the college band. In high school, you were always moving. In college, there were only six different pictures for the whole time. It took a lot of time and didn't have the same camaraderie that it did in high school. I only did it the one year," Foy said.
Foy, however, did stay in the ensemble throughout college and occasionally will play for fun. She also still remains involved in the Parkway West band as a parent of two band players.
"Emily plays clarinet and Charlie plays trombone. I did help Emily since I play clarinet too. Charlie I could help with the musical rhythms, but I have no idea how to play trombone," Carla said.
Foy attends every football game and competition, and volunteers as the band booster secretary.
"I like seeing my kids have the same experiences that I did," Foy said. "It is a bit different because they are a lot smaller, but they still get to go to the competitions and play at the football games. I love to go and watch all that. Now I know how my parents felt when they came to watch me do all that stuff."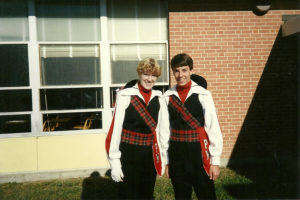 Although the marching band retains many of the traditions from Foy's days in high school, the band has shrunk over the years. The current band of around 65 was once around 150 members.
"When I was there, John Baker was the director and he was there for a while. He really created quite a legacy," Foy said. "When you lose a director, there isn't someone there to encourage kids to do the marching band. It just got smaller. Now that [Brad] Wallace is here, he really is building up the band program, which is exciting to see."
Even as an adult, Foy still retains the skills she learned from band in high school.
"The camaraderie, the discipline I learned, the responsibility—there are so many things you learn that carry through and help you later when you need a job. I knew I needed to be somewhere at a certain time, and I knew people were depending on me," Foy said. "It's something that I carry forward."
About the Contributor
Sydney Kinzy, PHOTO EDITOR
Grade: 12

Years on staff: 4

Life soundtrack: "Borderline" by Tove Styrke.

Most passionate about: "It breaks my heart that so...