Meet the meat scientist
Alumnus Jordy Berger finds his passion.
After graduating from high school in 2009, alumnus Jordy Berger felt lost without much direction for the future.
"I ended up meandering through community college for the next couple years, when I realized I needed a fresh start. I chose to go to Iowa State University to study animal science," Berger said.  
Berger always had a fascination with the management of domestic and captive animals, and, no one, not even himself, knew where this interest came from. Berger knew very little about commercial livestock production at the time of going into Iowa State University, and felt as if he did not fit in.
"Iowa is the mecca for large-scale commercial agriculture and with over 1,100 students, Iowa State has one of the largest undergraduate programs in animal science. The first two years I played a lot of catch up and immersed myself in both my studies and the culture," Berger said. "My research has focused on evaluating the effects dry-aging has on the palatability, microbiological and physicochemical attributes of grass-fed beef."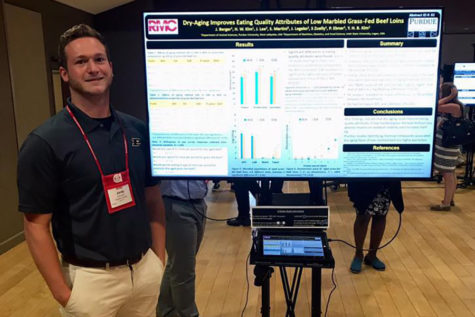 During the second half of his bachelor's, Berger became heavily involved in extracurricular activities related to agriculture, which exposed him to new topics to study, like meat science and agronomy.
"I had never heard of agronomy or meat science, but I started to learn how they related to animal production, and I chose to minor in both," Berger said. "Meat science has drastically affected my education because I first took an animal products class, and then from that I got to work in a meat muscle biology lab and I just kept getting more and more opportunities [clubs and extracurricular activities]."
While at Iowa State University, Berger found many opportunities for learning outside of the classroom.
"I was a member of numerous clubs, served as a peer mentor and teaching assistant, worked in a muscle biology lab, an off campus ultrasound interpretation lab, and held two processed meats related internships," Berger said. "I also participated on several competitive teams including the 2014 Meat Judging team, 2015 Meat Animal Evaluation team and Meat Science Quiz Bowl team for both 2014 and 2015."   
To be a meat judge, a prerequisite course and a two semester commitment is required. Practices were 30 hours a week and traveling out of state is required. At competitions, judges evaluated beef, pork and lamb carcasses and ranked them from best to worst. Evaluations on beef carcass pricing, beef carcass yield grading and quality grading were also conducted. Berger recalls a memory about the 2014 Intercollegiate Southeastern Meat Judging contest in Kentucky.
"On the first day it was hosted in Ohio in a prison. At that prison, they actually slaughter their own beef animals and so we did beef yield and quality grading at a prison, so that was pretty unique and cool. On the second day, it was at the University of Kentucky," Berger said. "What was so great about that contest was that I ended up getting fourth in High Contest Individual, first in Pork Judging, first in Overall Reasons, third in Beef Grading and fifth in Overall Beef Judging. As a team we ranked first in Beef Grading and we all got jackets, certified Angus Beef jackets that I still wear to this day. I did receive plaques for all of those things. It was more just the pride and experience that was most exciting. Our team won the contest that year."
Another significant competition Berger participated in was the 2015 Meat Animal Evaluation Contest.
"Unlike market animals, breeding animals need to have sound structure and some of the basic principles of structure I learned then I still use today in my dog breeding program," Berger said.
In addition to the 2014 Meat Judging Team and the 2015 Meat Animal Evaluation Contest, Berger competed with the Meat Science Quiz Bowl Team for both 2014 and 2015.
"In 2014 and 2015 I was on the team at Iowa State. My most memorable experience was attending the Reciprocal Meat Conference for my first time," Berger said. "That year it was hosted by the University of Wisconsin-Madison and it was there that I was introduced to Dr. Brad Kim, who would later become my graduate advisor at Purdue."
When Berger started studying at Purdue University in 2015, he started the first Meat Science Quiz Bowl Team in 2016, a competitive team that learns facts and trivia about meat science and compete at the Reciprocal Meat Conference to against other schools. Berger also created the first Meat Science Club in 2016 which is a club for undergraduate and graduate students who have an interest in meat science and industry. Berger was the President of the Meat Science Club that year.
"I have been involved in numerous extension activities at the county, state and national level. I will be defending my thesis in October 2017 and will directly enter a PhD program in the same department," Berger said. "My long-term goal is to work in academic research and teaching at a land grant university."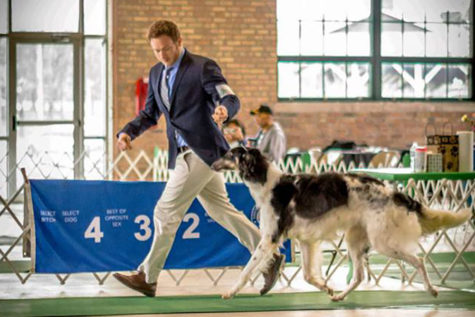 In his personal life, Berger currently owns 18 dogs of four different breeds (poodle, english shepherd, borzoi and porcelaine) and owns and operates Midland Kennels out of his own home.
"I pride myself on using progressive breeding strategies to produce pedigreed dogs for work, conservation and show," Berger said. "I hold board/committee chair positions in three breed specific organizations and I am an active member of my local kennel club."
Berger has many goals for his future during and after graduating college.
"I will be finishing my master's degree. This semester I will be starting my PhD program in the Fall. I will be the 2018 Meats Judging Coach," Berger said. "I will be doing a lot of teaching and extension projects and that will probably carry me until 2020 at least, 2021, and afterwhich my long term goal is to work in academic research and teaching at a Land Grant University somewhere in the field of agriculture or meat science specifically."
Berger hopes to inspire people to think outside of the box and to try everything they can.
"I'm just a regular kid from Chesterfield. I had never heard of meat science or agronomy. I never owned dogs growing up or had been around livestock. Now livestock production and animals, dogs, carcasses, meat, that's all my life," Berger said. "I really stepped out of the box to do what I did."
About the Contributor
Sarah Lashly, COPY COACH
Grade:  11

Years on Staff:  3

If you were a fictional character, who would you be?  Garfield

Does the toilet paper go over or under on the...