Sports Medicine
On a typical day in Spark! Sports Medicine, seniors Tyler Lang and Julia Liguore attend a course at the Chesterfield Mall. The two students learn about different topics under athletic training, physical therapy and strength and conditioning.
"For a day that I have class in-person, we have a topic for the day, whether that be ankle or knee or something. We spend time practicing taping techniques, learning about injuries and anatomy, and using other modalities," Liguore said.
On Fridays, students observe an athletic trainer, a physical therapist, or a strength and conditioning coach. Liguore and Lang shadow athletics trainer Kati Bowen at West, observing her work before and during games and practices. Lang also shadows trainers at Lindenwood and Maryville University.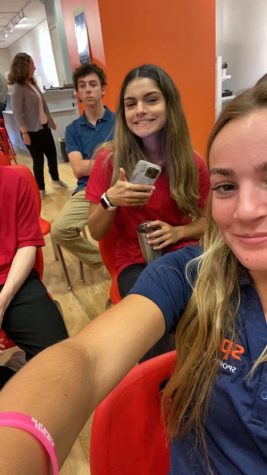 "Through working with the big schools, I got to meet lots of athletes. Some [athletes are] from out of the country, so it was awesome to see their perspective of school and other stuff here in Missouri," Lang said. "This also allowed me to see a lot of different injuries and the rehab process for many student-athletes."
Lang was paired with a student going through the athletic training program at Lindenwood.
"I've gotten great advice [from him] about going into the field of athletic training and going through school. He taught me a lot and helped me narrow down my major/profession for college and after," Lang said.
Liguore attended a field trip to St. Louis University and was given a tour of their athletics training area. She learned about opportunities at SLU and ended the night watching the basketball game.
"Spark! has allowed me to get an insider look into potential career opportunities in sports medicine. I am interested in being a physician's assistant, so Spark! helps me make connections, get a closer look at things and get an idea of what my future might look like," Liguore said. "It's super beneficial to meet important people in the medical and sports-medicine world that can help me succeed in the future."
Please use your own name and keep your comments respectful!