Spin it
Winter Guard catches third place at regional championships
On Saturday, April 1, the Parkway South-West Winter Guard competed at the Mid Continent Color Guard Association (MCCGA) Championships against five other teams at Willard High School. The guard, made up of students from Parkway South and Parkway West, performed a four-minute routine to Melanie Martinez's "Pity Party" and won third place in the Independent Regional A division.
The routine, consisting of both flag and rifle throws, heavily featured performers' ability to play a character and interact with judges and audience members. It was a challenge turned comfort for competitors, such as junior and co-captain of the Parkway South-West Winter Guard Cora Tiemeier.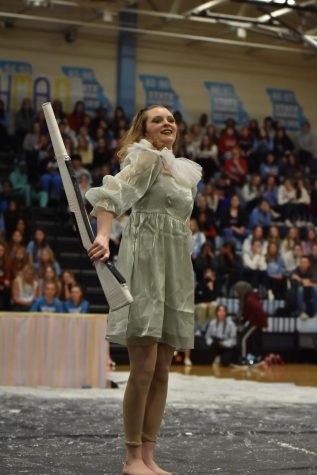 "A lot of the time, you're told to smile and look pretty, but this one, we had to put on an act, and that was something we struggled with for a long time," Tiemeier said. "I was so proud of how we learned to perform because a lot of color guard shows are about a concept rather than a performance, and I've never had a show where we've had to put on a show at such a high level."
Tiemeier played the lead, who, throughout the routine, crashes a party and forces the guests, played by the remainder of the guard, to join her. The song's big finale excited the crowd, as she smashed a cake all over herself — eliciting a reaction from the audience and teammates alike. Sophomore Nora Branch recalled the team including different ingredients in the cake each time, such as mayonnaise, lemon and pumpkin, to surprise Tiemeier.
"My favorite part of the whole routine was Cora's cake smash. I know it's cliche, but it's always fun, and everyone loved it. I think that's what I will remember the most from this season, even 20 years from now," Branch said.
Choreographing the routine began in December and was completed around February. Because of its difficulty, ensuring that all 15 performers had a grasp on the skills proved to be a challenge.
"Catering to everyone's strengths was hard, and we had to make sure that everybody knew the work because we're only as strong as our weakest link. A lot of effort went into checking in with people, making lots of videos and going over a lot of work outside of practice," Tiemeier said. "People don't realize how much time it takes to put together this whole show — it's only four minutes of performing — but it takes so much time to get everything together."
"
It was a lot of work, but all in all, this is the best and most challenging thing I've [ever] done, and I can't wait for next season.
— Ella Bruner
This was the second season that the guard merged into one team with Parkway South so they focused on building team unity.
"It was awkward at first. During practice, we sat on opposite sides of the space, and our coach got mad at us. [He] eventually put his foot down and made us talk and socialize with one another, which changed the feeling of practices and performances," Branch said.
Ultimately, both sides pulled through, forming a stronger bond. For freshman Ella Bruner, the initial issue transformed into a lasting memory.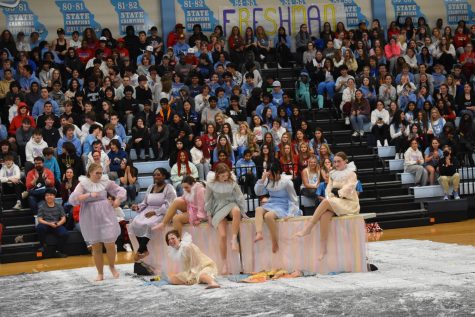 "[My proudest moment was] when I could finally talk to all the South girls," Bruner said. "As someone with social anxiety, I was proud that we could merge from two individual teams to one — Parkway South-West. The best part of the guard was being able to talk with everybody and be in a close relationship with every single person on the team. It's a group that I can feel safe with." 
Coming off of a win at MCCGA last year, their placing received mixed reactions from teammates.
"We let the nervousness and energy [of the] competition get to us, so we had a few drops that didn't usually happen. But we captured the audience's attention; it was the best we've ever performed. I had a few solo tosses that [I caught], which was exciting because I practiced a lot for them. I was a little surprised with [third] because we've been placing higher this season, but everyone judges differently, and I'm proud of how we did," Tiemeier said.
Leave a Comment
Your donation will support the student journalists of Parkway West High School. Your contribution will allow us to purchase equipment and cover our annual website hosting costs.
About the Writer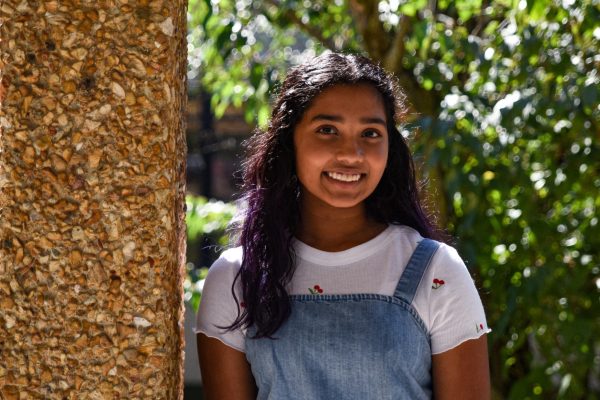 Triya Gudipati, News Editor/Deadline Tracker
Pronouns: she/her

Grade: 11

Years on staff: 3

What is your favorite piece of literature? "The Invisible Life of Addie LaRue"

Who is your...