Spotify Wrapped 2022: Parkway West Edition
Students blast Spotify through their AirPods as they walk through the halls. Some play calm melodies when doing their school work or uplifting music at the gym. For students, like junior Katherine Goodwin, music can be a good way to de-stress and create a more calming environment, and a great deal of high schoolers use Spotify to personalize their music catalogs. In a survey of 1,000 Gen Z (13-23) kids, 55% listened to spotify at least once a week. 20% of those kids said they listen for 5+ hours a day. 
Every year, Spotify — a music app beloved by teens — releases a "Wrapped" for their listeners.  "Spotify Wrapped" is a collection of what users have listened to that year, including their top genres, artists and songs. Spotify assigns a listening personality to everyone based on what they're listening to. "Spotify Wrapped" is a fun way to review how your taste has evolved over the course of 12 months, and students have various top artists, songs and listening personalities.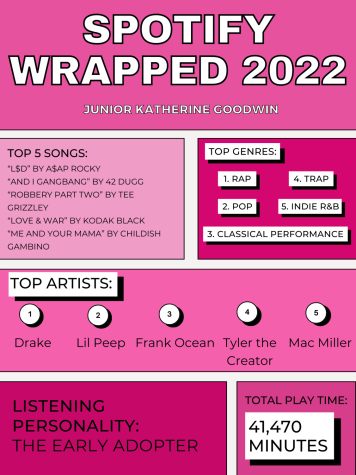 Katherine Goodwin
Upon reading her "Spotify Wrapped," junior Katherine Goodwin discovered some answers that surprised her. 
"I was very surprised that Drake was my number one artist because I listen to a lot of old Drake [songs], but I didn't know it was that much," Goodwin said. 
In contrast to Drake's unanticipated appearance, Goodwin's top genres —  rap, pop, classical performance, trap and indie — were expected. Goodwin correlates different music genres to certain tasks like driving, studying or just hanging out with friends. 
"I listen to a lot of rap and chilled-out music, so [the results] made sense," Goodwin said, "I usually listen to chill music when I do my homework. It makes me feel more calm and focused.  
Goodwin agrees with her listening personality as "The Early Adopter," as someone who is always changing up their taste or exploring new genres. 
"I'm always looking for new music to fit one of my many playlists," Goodwin said, "Whether it's R&B, rap/hype, sad, feminine — I look for songs that have a good beat and interesting lyrics." 
Goodwin was unshocked by her total playtime — which added to 41,470 minutes — since music plays a big role in her life. For Goodwin, music helps her experience emotions or relive memories. 
"Music to me means expressing thoughts and feelings [but] with a beat behind it," Goodwin said. "[The] songs [on my playlist] really hit close to home, and certain ones have memories attached to them. Songs can put [my] feelings into words."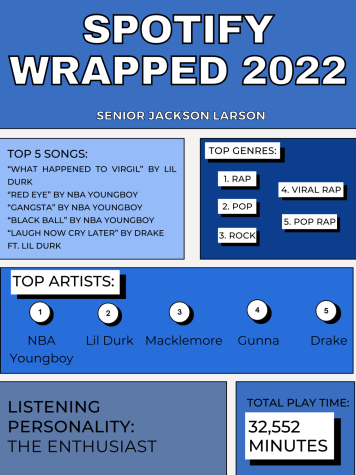 Jackson Larson
Senior Jackson Larson uses music as an outlet in his life. Whether it's at school or work, he always has his music blasting through his bright white headphones. 
"Music helps me to de-stress and stay calm. It creates a space for me to connect with other people and for me to express myself. I listen to music anytime [I] get the chance," Larson said. 
Some of the music on Larson's "Wrapped" came as a surprise to him, including Drake as one of his top artists. 
"I had stopped listening to [Drake] in late July, and the fact that he still made it onto the list is very surprising. My favorite song by Drake was 'Laugh Now Cry Later.' I liked this song because of [its] thematic nature of how people express emotions," Larson said. 
Despite his surprise with Drake, Larson expected his top song: "What Happened to Virgil," by Lil Durk, which peaked at No. 22 on the Billboard Hot 100 in April 2022. The song is named after the late fashion designer Virgil Abloh. 
"I definitely expected 'What Happened to Virgil' to be the number one song [of the year]. The first time I heard it, was on the radio. I recorded some of it and sent the clip to my friends to try and find the song. Nobody knew who it was, so I looked up the lyrics, found it and couldn't stop listening to it," Larson said. "It's my car song, it's my shower song, and it's my homework song."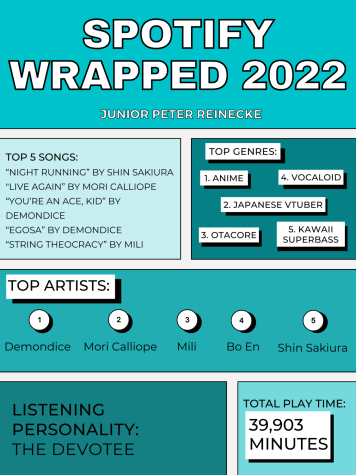 Peter Reinecke
Although he has recorded a playtime of 39,903 minutes — sophomore Peter Reinecke doesn't feel music plays a huge role in his life.
"Music is just a fun pastime to me," Reinecke said, "[I listen] on my way to the bus stop or between classes usually. Honestly, I just like my silly little artists."
When looking at his top songs, Reinecke was unsurprised regarding his No. 1 song, "Night Running" by Shin Sakiura, his favorite artist. Shin Sakiura often produces music that falls into the alternative rock and indie genres.  
"I [received] the same top song I've gotten for three years now," Reinecke said. "Whenever I find an artist, I become obsessed."
His obsession correlates with his listening personality: The Devotee. The Devotee is the type of listener extremely loyal to particular artists and songs. Contrary to some predictable results in his top songs, Reinecke was surprised by his top artists. Because music taste can evolve rapidly, Reinecke found that having a compilation of an entire year of music might not properly summarize his listening habits. 
"I was [surprised] because my taste has just changed a lot over the past year. So my top artists [this year] were regrettable," Reinecke said, "I don't listen to that many big artists, and I went through a lot of different music this year like Bo En or Shin Sakuira, and I think I've found what [music] I like."
Reinecke finds comfort within his top songs, which include "Night Running," "Live Again," "You're an Ace, Kid," "Egosa" and "String Theocracy," which encompass various genres, such as anime, dance and electronic or hip hop/rap.
"Music is really good at helping express some weird emotions. Some things, you can't really put into words," Reinecke said.
View Comments (2)
Your donation will support the student journalists of Parkway West High School. Your contribution will allow us to purchase equipment and cover our annual website hosting costs.
About the Contributor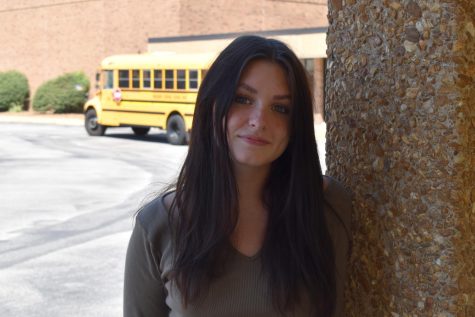 Claire Creely, Staff Writer
Pronouns: she/her

Grade: 11

Years on staff: 1

What was your favorite childhood TV show? Wild Kratts

What is your favorite book? behind closed...