Save the last dance
On Monday, Jan. 9, freshmen parents received an email from the administration notifying them that the King of Hearts (KOH) dance would be canceled. KOH, a biennial winter dance thrown by Longhorn Council (LoCo), last occurred in January 2020 and was set to return this year Jan. 21. The cancelation blindsided parents and students, creating waves of uproar over social media.
When senior and Student Body President Esha Francis first received the news from her mom, she could not believe it. She and the remainder of LoCo were not informed before the announcement was publicly released. But, as time passed, she received several screenshots from the Parkway West High School Parents group on Facebook capturing how parents reacted, and more and more students began contacting her. She then realized, the removal of KOH was indeed a reality.
"The parents were furious it got canceled, and more importantly, none of [LoCo] knew, which was frustrating because we planned the whole thing. For administrators to not even talk to us before canceling [was] very frustrating and sad — we didn't even know why it got canceled," Francis said. "We had no information and could only go off of what was on Facebook, which was parents being mad. I was initially really upset because we worked hard over winter break to get [the dance] going and to get the word out that we were having a winter dance."
However, Principal John McCabe saw the situation differently. He had concerns over the monetary aspect of the dance, combined with what appeared to be a low interest rate. 
"It was 10 days before the dance; we were about to get locked into paying a contract for the use of the photo booth and the DJ, which was $2000. At that time, we sold one ticket. When I was on the hook for so much money, and we sold one ticket, I had to think about that. The funds then could be used for a different student experience where we're gonna have a lot more participation," McCabe said. 
"
I never want to cancel anything that students want to do. If we got the turnout we have now with people really excited about it, my hope would be that in the future, we don't even have to talk about cancelation."
— Principal John McCabe
In an attempt to save KOH, Francis and Sophomore Class President Triya Gudipati met with Athletic and Activities Director Jeff Taggart. From what he knew, there was little to no interest in the dance. For the school to break even, 200 tickets needed to be sold – a number exponentially larger than the tickets that had already been sold. Though he promised to revisit the dance's status with McCabe, Taggart could not guarantee a solution to the dance.
"The tickets went on sale the day before finals, so not many kids knew that tickets went on sale. They were focused on studying. I already had a dress, a reservation at a dinner place and a group to go with. We weren't super on top of buying tickets because we thought we had two weeks to buy them," Francis said. "A lot of our tickets get sold a few days before the event. For admin to cancel [the dance] after the tickets had only been on sale for four days [was] frustrating." 
Realizing that they needed a way to express student interest to administrators, LoCo decided to send a form out on all social media platforms to the student body asking whether they were planning on attending KOH. Receiving over 130 yeses in under 30 minutes, Francis and Gudipati were encouraged to speak with McCabe.
"We showed the data to McCabe. We were like, look, people are planning on buying tickets, they've already bought their dresses, all of this preparation was done — they just didn't buy a ticket. Who buys tickets the day they come out?" Francis said. "We were able to convince McCabe. I appreciate him because he's willing to say yes, and he puts a lot of trust in us as a student council to get things done the right way."
Along with the yes to LoCo, McCabe gave them a deadline. By Jan. 12, 150 tickets needed to be sold to go on with the dance. With just three days to promote KOH, LoCo members handed out fliers to teachers, hung up posters around the school, told all of their friends, decorated a bulletin board and posted on both their personal and official West social media accounts to spread the word.
"We stayed on top of it, and while it was hard with finals, I'm so proud of [LoCo] for working hard and coming through with a lot of great things and for their efforts. I'm really passionate about how much I hate the entire [cancelation], but I'm happy the dance is happening," Francis said.
With the dust settling, KOH will happen as originally planned on Jan. 21 from 7:30-9:30 p.m. The dance sold 218 tickets: not only enough for the school to break even, but also to obtain a profit. However, Francis believes the last-minute success does not distract from the issues of the winter dance.
"The problem with winter dances, what it's always been, is that the date is a week or two after we come back from winter break and finals — which is awful. We suggested a date closer to Valentine's Day, [because] no one is going to buy a ticket over winter break, and people are focused on studying for their finals; [LoCo] should have been focused on studying for their finals. Planning this whole event within two weeks, getting the word out there and all of this stuff without time was a lot of pressure on the student council," Francis said.
McCabe now has insight into larger problems faced by winter dances, both previous mistakes and potential changes in the future.
"We should have promoted more before winter break, with a deadline of how many tickets needed to be sold by then so we could [make decisions] far in advance," McCabe said. "A dance that close to finals when everybody's attention is on studying [instead of] buying tickets causes problems. Next year, if we can look at a date in February, we can spend a lot more time promoting with kids back from break."
Leave a Comment
Your donation will support the student journalists of Parkway West High School. Your contribution will allow us to purchase equipment and cover our annual website hosting costs.
About the Contributor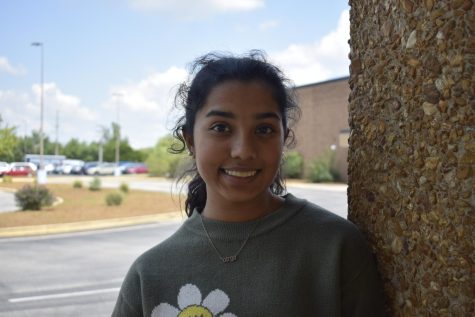 Triya Gudipati, Staff Writer
Pronouns: she/her

Grade: 10

Years on staff: 2

What was your favorite childhood TV show? Growing up, I was a huge Disney fan so either Liv and...