Pathfinder "fan favorites" of the 2021-2022 school year
The school year is coming to an end. Lockers are cleared out, friends are saying goodbye and everyone's cramming to get their missing assignments turned in. Amid yet another atypical school year, students have experienced many highs and lows, but the Pathfinder has been covering the issues we care about. So, in honor of everyone's hard work, the Pathfinder Editorial Board presents the "fan favorites" of the 2021-2022 school year.
"Current Events Award" – Stories that kept West up-to-date on community issues
Transgender and non-binary students petition for gender-neutral bathrooms
Deputy conceptual editor in chief and junior Elle Rotter covered the issues transgender students face daily at school. These issues resulted in freshman Lu Schuetz creating a petition for more school gender-neutral bathrooms. Rotter provided a personal look into the lives of transgender students at West through insightful quotes, ending with information about how to sign the petition.
Troubles with traffic and problematic parking
After noticing an increase in complaints about a dangerous parking lot situation, A&E editor and sophomore Emily Early decided it was time to get to the bottom of the issue. The story investigated various causes of the daily parking lot conundrum, concluding that cell phones, budgeting and bus driver shortages all play a part in this less-than-ideal parking situation. Early also created a presentation of possible solutions, promoting community change.
"Movie Night Award" – Favorite movie review of the year
Why 'Turning Red' is turning heads
With a lighthearted tone and personal anecdotes, news editor and sophomore Serena Liu took a deep dive into Disney's latest coming-of-age movie, "Turning Red." Liu upheld the perfect balance between plot summary and review, analyzing 13-year-old Meilin Lee's journey of self-acceptance and family healing. This heart-warming review will leave you with a sense of happiness and reflection, even without watching the movie.
"Funny Bone Award" – Story that highlights West student humor
West has seen its fair share of weird traditions and funny pranks since it first opened in 1968, but the sudden phenomenon of tiny ducks hidden around school takes the cake. Features editor and sophomore Katie Wallace found the students behind this "quacksterpiece" of an idea to answer the question: who started this wacky event? Wallace didn't have to look far as juniors Gabi Badami and Maria Lung revealed how they formed their plan and their future hopes for the ducks.
"Impactful Editorial Award" – Pathfinder editorial that made the biggest difference
An attack on civilian journalists is an attack on free press
As journalist deaths continued to rise, the Pathfinder Editorial Board set out to spread awareness for those who lost their lives on the job. In addition, West student journalist testimonials added a new perspective to the story. With an examination of various countries' policies and a list of resources to support the cause, the story's message was clear: "We must take action to protect the freedom of the press."
"Inside Look Award" – Story that gave insight about a student of the West community
Diet culture triggered freshman Alexis Briner's eating disorder
Convergence Journalism 1 writer and freshman Cindy Phung helped freshman Alexis Briner share her journey of recovery from anorexia through an informational and emotional story. The story covered Briner's complete journey, following the beginning of the disorder, therapy and a final reflection. By covering an issue that has been considered "taboo," Phung and Briner made strides in destigmatizing eating disorders and raising awareness for the common yet rarely talked-about issue.
"Sweetheart Award" – The cutest love story of the year
Conceptual editor in chief and junior Madi Michajliczenko told the cute story of an alumni couple and how their relationship started. Six years and one very important question later, the two are now engaged to be married. Michajliczenko took a couple's heartwarming story and turned it into an award-winning article.
"Nostalgia Award" – Story most likely to remind you of your childhood
Top 10 cartoons to watch this summer
Accompanied by 10 hand-drawn illustrations, Convergence Journalism 1 writer and sophomore Kaelin Kerpash reviewed the top 10 cartoons to watch this summer in a whirlwind of nostalgia and happy memories. Kerpash's review covered everything from animation style to the important lessons learned in the shows. With the help of this review, readers can find out exactly which cartoon would suit their taste.
"Sensational Series Award" – Most binge-watchable Pathfinder series
High school bachelorette seeks to find homecoming date
This four-part high school romance series, directed by staff writer and senior Drew Boone and newsletter editor sophomore Raj Jaladi, followed senior Mallory Stirrat on her search for the perfect homecoming date. Throughout three episodes, Stirrat and three potential dates talked to each other with a curtain separating them. The season ends with a happy, tear-jerking presentation of flowers to the winner, making this the best Pathfinder series to binge-watch on a lonely Saturday night.
"Rising Stars Award" – Convergence Journalism 1 students who won Best of SNOs on their first articles
The effects of making weight on female wrestlers
In her first article on the Pathfinder, Convergence Journalism 1 writer and freshman Sabrina Urdaneta won a Best of SNO for her coverage of female wrestlers making weight. Urdaneta compared differences in expectations between female and male wrestlers and noted ways to lose weight for sports healthily. Through raw emotional quotes, female wrestlers shared their personal struggles with cutting weight and mental health.
Convergence Journalism 1 writer and freshman Lia Emry completed this same accomplishment in her story about junior Cecilia Olmedilla moving from Spain to the U.S. to study. Olmedilla expressed her initial fears of speaking in class and experiencing new situations. Emry's sincere writing gave readers a captivating look into the cultural differences between Spain and the U.S.
"Fan Favorite of the Year" – Story with the most views from the 2021-2022 school year
Although posted less than one month ago, opinions editor and sophomore Elizabeth Franklin's "Beyond the statistics" story has amassed over 1,600 views and has remained No. 1 on the Pathfinder's "Trending" tab for more than a week. Determined to expose fact versus fiction, Franklin included facts about poverty rates, school district disparities and crime rates. In addition, Franklin's use of personal stories from herself, social studies teacher Kristen Collins and senior Seth Young demonstrated that stereotypes are not always reality and often do more harm than good.
Leave a Comment
Your donation will support the student journalists of Parkway West High School. Your contribution will allow us to purchase equipment and cover our annual website hosting costs.
About the Contributor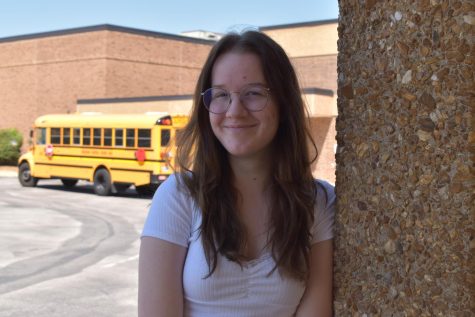 Addie Gleason, Managing Editor-in-Chief
Pronouns: she/her

Grade: 12

Years on staff: 4

What was your favorite childhood TV show? Hannah Montana

What is your favorite book? "They...