An attack on civilian journalists is an attack on free press
Chances are, journalists are not the first people that spring to mind when thinking of professions that put their lives on the line. However, with each passing year, being a journalist is becoming more and more dangerous. In fact, in the past decade, 554 journalists and 49 media workers were killed across the globe.
This issue has come to light amid the current Russia-Ukraine war. Amid the conflict, at least 14 journalists and media workers have been killed. Of these journalists, six were Russian, four were Ukrainian and the last four were American, Italian, Lithuanian and Irish, respectively. 
This number is just an estimate. The reality is, that so few people know the truth about civilian journalist deaths that even the number of those that died is not certain. It is unacceptable that journalists who suffer the consequences of putting their lives on the line are reduced to a number, but the situation becomes more tragic when even this number is not definite. 
The issue of civilian journalists' deaths across the world is representative of a much larger issue; civilian journalist deaths represent an attack on the freedom of the press.
How is the issue presented across the world? 
Reporters Without Borders (RSF) compiles a global ranking called the World Press Freedom Index each year. A quick glance at the map reveals the severity of this issue, as the map is primarily an assortment of reds and dark oranges, and some countries are even in the black, with the darker pigments representing a lack of freedom of the press. 
Out of 180 nations, Russia is ranked 150 and Ukraine is at 97; rankings that are further solidified as we witness on a global scale the devastating reality of what happens when nations seek to obstruct the freedom of the press. 
This obstruction of the free press becomes especially apparent in Russia, as Russian President Vladimir Putin has a long history of making efforts to restrict and control the press. These habits have carried into the current conflict. Putin has continued to struggle to maintain control over the truth since the very beginning of the invasion by restricting Russian national news organizations and shutting down any remains of an independent press in Russia. Furthermore, Putin has established a censorship law that states that any journalist who refers to the current military conflict as a "war" or otherwise violates the Kremlin's propaganda line can be met with upwards of 15 years in jail. 
Not only have civilian journalists been combated with violence in the midst of the conflict, but Russian government officials have also harassed many local journalists. Russia's attacks against the truth equate to attacks against democracy and freedom. 
This issue is not unique to Russia. In Ukraine, too, the freedom of the press is being threatened. The Zelensky administration was once quoted as saying it "doesn't need journalists," and since then, has moved to control the media by pressuring publications, attempting to make demands of political talk shows, and threatening criminal prosecution of journalists. 
Head of RSF's Eastern Europe and Central Asia desk Jeanne Cavelier stated that the work of civilian journalists "is essential in order to understand the war in Ukraine and attacking journalists is a war crime under international law." For this reason, RSF has called on the authorities of Russia and Ukraine to guarantee the safety of reporters covering the conflict. 
The current deaths of civilian journalists during the Russia-Ukraine conflict are, unfortunately, just one example of a bloody history for reporters covering wartime events. The Syrian war, Civil Wars in North Africa and Taliban violence are just a few examples of times when journalists seeking truth have been killed for their valiant efforts. This issue has plagued our society for far too long and must be stopped in the name of truth.
Past, present and future efforts 
Though efforts have been made to address this issue, we still have a long way to go to protect both journalists and freedom of the press
In 2014, we saw the deaths in Syria of journalists James Foley and Steven Sotloff. These deaths were referred to as a turning point, as subsequently, RSF, Associated Press (AP), the Dart Center, the Overseas Press Club, the International Press Institute, the Frontline Freelance Register and Reuters together founded A Culture of Safety Alliance (ACOS) and drafted the Freelance Journalist Safety Principles. According to ACOS, the Freelance Journalist Safety Principles "outlines a set of safety standards that both parties should undertake and expect as a standard work environment, including insurance for reporters in the field as well as careful risk assessments for correspondents covering conflict, whether they are staff members or freelancers working on a contract."
Furthermore, following the recent deaths of civilian journalists in the Russia-Ukraine conflict, many journalism organizations along with journalists around the world have condemned the attack. 
These steps are important. However, they cannot be the only steps that we take. Using words can be the first action, but they should function only as a starting point.
We need to not only support local news organizations and journalists but also create a national environment with safe conditions that can encourage and foster civilian journalism. 
As citizens, we can donate to and support organizations that share this same mission, such as the Ground Truth Project, Report for America and Report for the World. Furthermore, we can lobby our senators and representatives to support creating safe conditions for journalists at an international level. Last, we must demand coverage of journalists that have lost their lives fighting for truth and freedom. 
As civilian journalists die fighting for the truth, so too does the truth. We must take action to protect the freedom of the press.
Civilian Journalist Deaths
Although many sources differ on the number, 14 journalists died trying to cover the Russia-Ukraine war, and the number will likely keep climbing. Here are a few of the journalists who have died in this two-month war, although there is little information about them in the media. These are journalists who died trying to inform the public, we need to do a better job honoring their lives and efforts.
Yevhenii Sakun
Yevhenii Sakun, a 47-year-old cameraman for LIVE, had been covering the war for five days prior to his death. Sakun died March 1 in a shelling in Kyiv, Ukraine, making him the first journalist who was reported as killed on the job in the war. Sakun's former colleague Olga Tokariuk shared the news of his death on Twitter. "It was a pleasure working with him. I'm devastated by this news. Eternal memory," Tokariuk said.
Brent Renaud
Brent Renaud was a 50-year-old, award-winning American filmmaker who was working for TIME magazine on a video project titled "Tipping Point" about the global refugee crisis. He died March 13 when Russian troops opened fire on his vehicle in Irpin, Ukraine—located just outside of Kyiv—making him the first American journalist to die covering the Russia-Ukraine war. Renaud and his brother, Craig Renaud, often collaborated on films regarding poverty, violence, war and homelessness. "What gives me the greatest heart, though, is how specifically and genuinely the people honoring Brent acknowledge the mission that drove him. A person who had devoted his life to telling the stories of overlooked people was slaughtered trying to reach them," Craig said in a recent TIME article. TIME editor in chief Edward Felsenthal and TIME president Ian Orefice also released a statement regarding his death. "We are devastated by the loss of Brent Renaud," Felsentahl and Orefice said. "Our hearts are with all of Brent's loved ones. It is essential that journalists are able to safely cover this ongoing invasion and humanitarian crisis in Ukraine."
Oleksandra Kuvshynova
Oleksandra "Sasha" Kuvshynova was a producer for Fox News helping teams navigate when she died. Additionally, Kuvshynova was a passionate DJ who co-founded a music community named Fusion. As she was traveling with her colleagues on March 14, her vehicle came under gunfire, taking her life. "I was stunned. I actually picked up the phone and tried to text her… the same with Pierre. Obviously, neither of them answered me back," Fox News journalist Yonat Friling said in a Fox News article. "She kept talking about what's going to happen after the war is going to end, how beautiful Kyiv is and how we are going to go and walk around, go and have coffee, go listen to music, the arts, everything that she adored and wanted."
Pierre Zakrzewski
Pierre Zakrzewski, a 55-year-old cameraman for FOX News, was traveling with Kuvshynova when they both died from gunfire in Horenka, Ukraine. "His passion and talent as a journalist were unmatched," Fox News CEO Suzanne Scott said. "He was profoundly committed to telling the story and his bravery, professionalism and work ethic were renowned among journalists at every media outlet." One of Zakrzewski's colleagues shared the last message Zakrzewski sent him before he died: "I will effort to get as much of this on TV to help Ukrainians in every way possible. Keep Smiling. Pierre."
Oksana Baulina
Russian journalist Oksana Baulina was killed while filming shelling destruction for the Insider in Kyiv's Podil district March 23. She previously worked for the Anti-Corruption Foundation, founded by Alexei Navalny, but was forced to leave the country and switch jobs once the group was deemed "extremist" by a Moscow court. "I first met Oksana Baulina five years ago, when she was editor of Alexei Navalny's YouTube channel. We last talked last spring. Today we learn she was killed during a Russian rocket attack while on assignment in Kyiv. Another victim of Putin's senseless war. What a horrible loss," NPR international correspondent Lucian Kim said in a Twitter post.
Maksym Levin
Ukrainian photojournalist Maksym Levin was 40 years old when he went missing on March 13 and was found dead on April 1. Levin had been near the village of Huta Mezhirska documenting war damage with his colleague Oleksiy Chernyshov, who has yet to be found. "In the battle at Ilovaisk, when I became trapped with a group of soldiers, I had no choice. I put down my camera and helped carry the wounded and the dead. Of course, I never held a weapon—but there were moments when I couldn't take a picture because of my sensitivity and involvement," Levin said in a past interview with LensCulture writer Anna Akage. "Even if I abstractly understood that these photos might be the only evidence left for history, there was something too personal about it to 'make work.'"
Leave a Comment
Your donation will support the student journalists of Parkway West High School. Your contribution will allow us to purchase equipment and cover our annual website hosting costs.
About the Contributor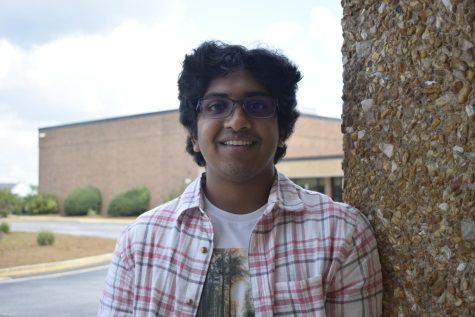 Achyuta Ambal, Staff Writer
Pronouns: he/him

Grade: 11

Years on staff: 3

What was your favorite childhood TV show? Phineas and Ferb

What is your favorite book? Sea...