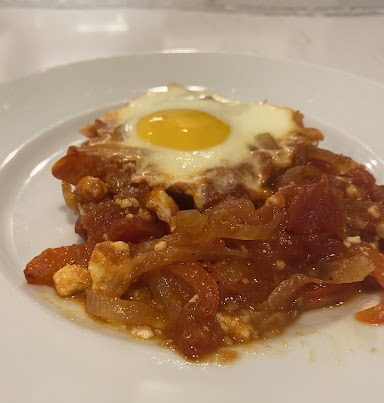 Shakshuka
Shakshuka:
Shakshuka, literally meaning 'all mixed up' is a versatile dish traditionally made up of eggs cooked in a tomato sauce and bell pepper mixture. It is simple to make and serve in the large pan it is cooked in. The accompanying sides vary depending on the meal it is served with (all are accepted, but breakfast is the most common time of day this dish is served). The dish's history is hazy, with some saying it originated in the Ottoman Empire and others saying it originated in Yemen, but it is an indisputable fact that it is now a significant part of the Israeli diet. 
As mentioned previously, Shakshuka is extremely easy to make. Practically any egg dish cooked in tomato sauce qualifies as Shakshuka, so it is pretty difficult to mess up. Additionally, this recipe only requires one pan, which means one important thing to me … easy cleanup!
I am not going to lie, Shakshuka is already a regular dish in the Wallace family recipe rotation, but this was Emily's first time trying the dish and she thoroughly enjoyed it. After all, what's not to like?
Rating:
Taste: 8.5/10 With the dish being made up of ingredients we have both tried (and enjoyed) before, it is safe to say that we both found the taste delightful.
Texture: 7/10 The texture of this dish is pretty soft all around, so there is not much variety, hence why we gave it an average rating. However, pairing this dish with crusty bread takes it to the next level. 
Presentation: 9/10 This dish is what we would categorize as effortlessly beautiful. The vibrant reds of the peppers and tomatoes, contrasting with the bright yellow yolk and white of the egg, come off very nicely, and the messiness of the dish gives it a friendly, organic vibe.
Execution: 8/10 There wasn't much to critique as far as our execution goes, but we left the dish in the oven a bit too long to keep it warm for when we were ready to dig in, causing the eggs to firm up a bit too much.
Ease: 9.5/10 The only actual effort required to make this dish is chopping up the peppers and onions and sauteing them. You can't get any easier unless you are microwaving a frozen meal. 
Overall: 8.4/10