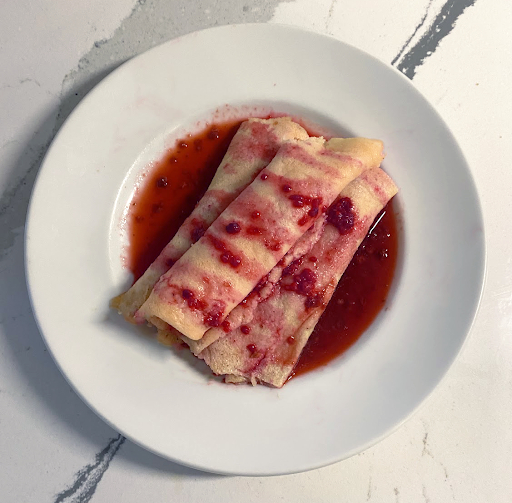 Crêpes
Crêpes:
Crêpes are a thin pancake usually rolled around various fillings, savory or sweet. French folklore tells the tale of a 13th-century housewife who dripped porridge onto a hot surface, dating the origin of the entree. They can be served at any meal depending on the filling, although the French dessert, Crêpes Suzette, is the traditional form of the food. 
Crêpes were challenging to make. We went into the cooking process knowing this, but we underestimated how tiring it would be. There were a lot of factors that could easily ruin the dish, but the meal was fun to attempt. The recipe involves chilling batter and "twirling" a thin amount onto a pan before flipping the crêpe.
Because crêpes are so versatile, we rated only the crêpe portion of the meal, not the fillings. But for those who are curious, we tried four different types of fillings: caramelized bananas, chocolate chips, a variety of fruits and lemon curd. 
Rating:
Taste: 5/10 With both of us having tried crêpes in the past, these were not as good as we expected. To be fair, we think if we were to make them again, they'd come out better. But for our first time, they were (reasonably) just okay.
Texture: 7/10 Each crêpe we made was different, of course, but overall, ours were pretty good in the texture category. If they had been a bit thinner, they might have come together with the fillings more appetizingly.
Presentation: 5/10 They could have had a cleaner presentation. The crepes were much more fragile than we prepared for, so some had fallen apart.
Execution: 8/10 They weren't complicated to make, but they were more complex than we anticipated. We think we pulled it off, but there was a lot we could have done better. For example, it would have been better to practice the spreading of the batter in the pan. There were so many variables at that point that didn't allow for perfect execution.
Ease: 7/10 The twirling of the pan proved to be challenging for sure, but getting the batter together was pretty simple.
Overall: 6/10