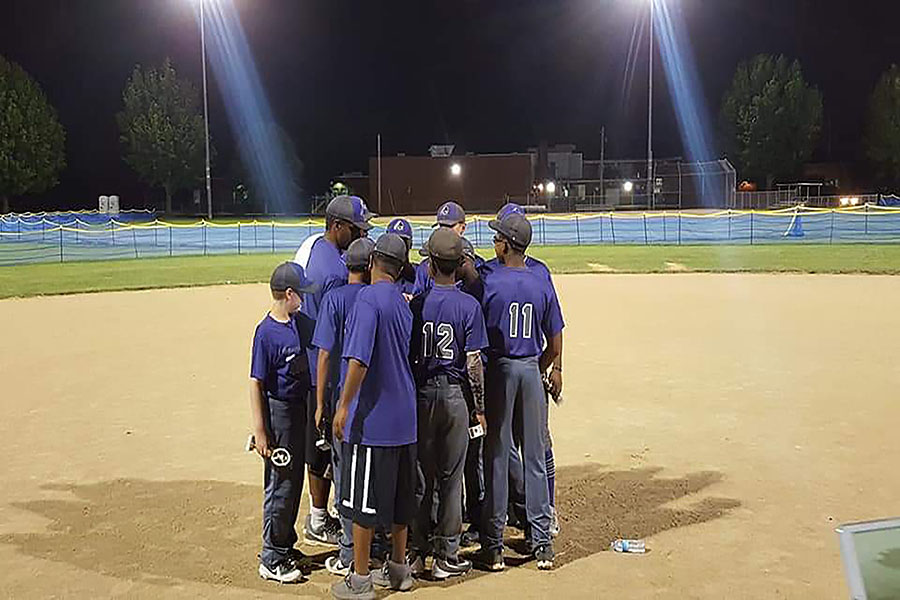 From high school baseball to playing professional, alumni Sherron Rives uses passion for baseball to coach youth teams
Graduating in 1989 and continuing his baseball career into professional game, alumni Sherron Rives is now giving back to his community by teaching the game to youth players in the St. Louis area.
"I was able to play professionally in the minor leagues for the Detroit Tigers organization. I wouldn't change that experience for anything in the world," Rives said. "I had a chance to play with some of the best in my generation."
While playing baseball in high school, Rives had the opportunity to play beside Athletic Director Brian Kessler. It was there that Kessler realized that Rives had a unique feel for the game.
"You never really notice one guy in particular who has more passion than another, but you knew that one person is better than another," Kessler said. "Sherron was that guy who was just better than everyone. He really was one heck of an athlete."
From the start, Rives knew he wanted to coach youth baseball once he finished playing in his own career.
"Hopefully, I can have a little say in if one of my players make it to the big leagues. That would be like me making it, in a way, through one of them," Rives said.
Two years ago, Rives founded 4 the Glove of the Game, a non-profit baseball organization which he now coaches for.
"4 the Glove of the Game was formed to create opportunities for boys and girls to be able to play high level baseball or softball who otherwise could not afford to play with a major club," Rives said.
However, 4 the Glove of the Game is not the only team Rives coaches. This summer, Rives had the opportunity to coach the 12 and under USA baseball team in Japan.
"I was chosen by my former college teammate and St. Louis Cardinal alumni Kerry Robinson," Rives said. "Once he was approached to organize [me] and take a team to Japan to play internationally, I happily accepted. Who could turn down an opportunity like that?"
Not only did Rives coach in Japan, but he was able to embrace the culture of the Japanese people.
"It is something I will cherish forever. The opportunity to take in the Japanese culture, as well as experiencing baseball the way that the Japanese play it was simply amazing," Rives said. "We got to see the game from a totally different perspective. The respect for the game was off the charts."
Former players, like sophomore Nathan Basler, are even taking notice of what Rives has done in the baseball community.
"I'm honestly not surprised he was chosen for the Japan job," Basler said. "He was such a great coach, and what he is doing is great for the game and for the kids playing it."
Rives also has made an impact in the Matthews-Dickey Reviving Baseball in the Inner-city (RBI) program, which gives inner city athletes the opportunity to play baseball in front of scouts and recruiters.
"More people should be involved in RBI for the chance to play at a higher level and be seen," Rives said. "RBI can provide the opportunity to open doors at the next level."
Rives has worked his whole life and devoted it all to the game of baseball; whether he is playing or helping others play, his care for the game is seen by everyone around him.
"I believe the most important part of my job is to install life skills through baseball," Rives said. "The knowledge and confidence needed to not only become a good ball player, but to become an even better person when it is all said and done is what matters most to me."