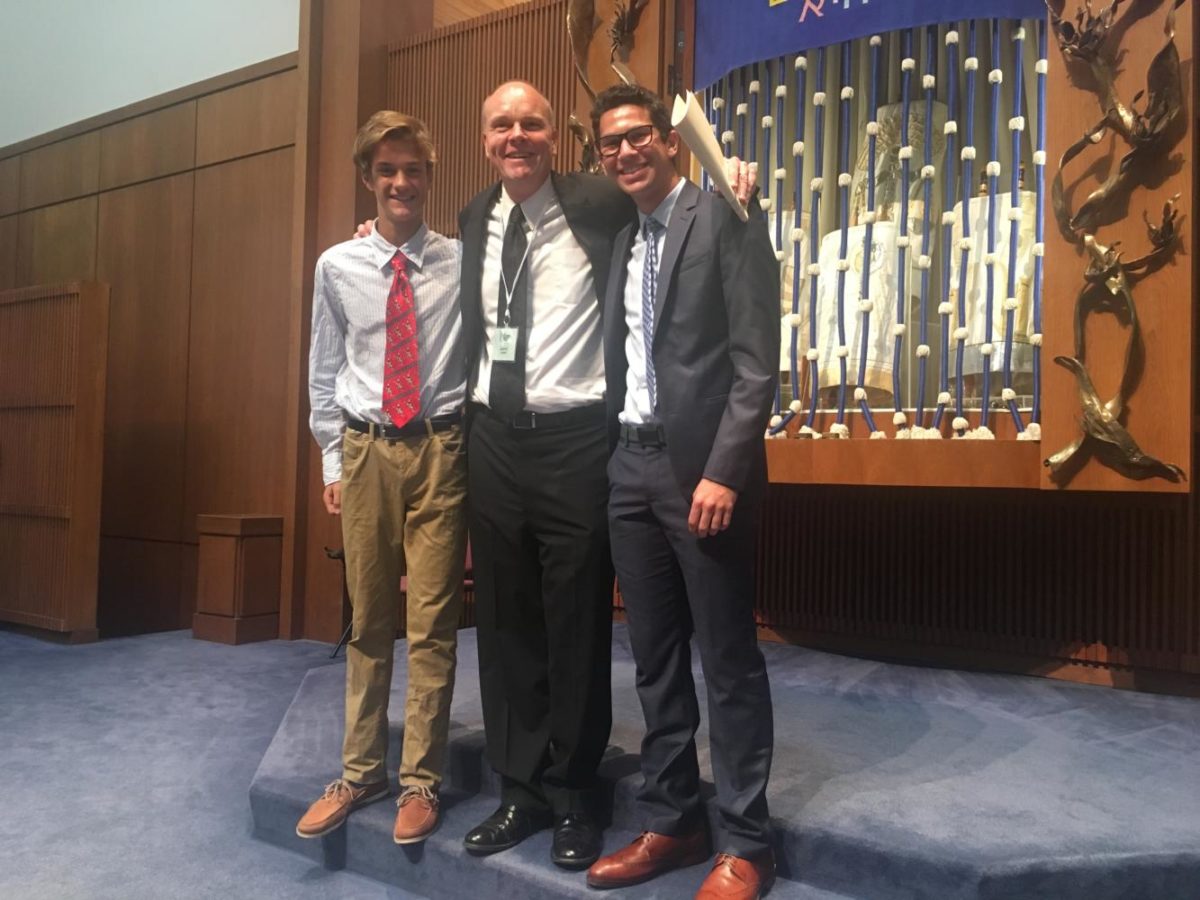 Principal Jeremy Mitchell attends Rosh Hashanah service at a local synagogue
Fifty-two area high school principals were invited to attend Rosh Hashanah services at United Hebrew on Sept. 21 with Jewish students and faculty. Principal Jeremy Mitchell was one of the two principals who accepted the offer.
"The community thought it was really terrific because it gives the opportunity to show students and families that school administration is trying to understand Jewish holidays and traditions. Coming to see what we do and experiencing with the kids in that environment is just special as well," Rabbi and West parent Brigitte Rosenberg said.
The sermon's focus was on discrimination and Rosenberg invited the service attendees to raise their hand if they had experienced different types of anti-Semitism.
"It's kinda funny because we were asked 'raise your hand if you've seen a swastika in school,' and I raised my hand and [Dr. Mitchell] was right there," junior Zach Poscover said.
When posed with the same question, freshmen Joe Rosenberg also raised his hand.
"I know that the reason that that question was asked was actually because of an experience I had at West Middle, so I think that it showed that anti-Semitism is still a thing in today's world. It's something that should not just go unspoken," J. Rosenberg said.
This invitation to the service was extended to district administrators by B. Rosenberg herself.
"I knew that [my mom] was trying to get more principals to see what the Jewish community was doing and why those students were missing school. This is one of the first years that she'd been doing it, but it was pretty cool to see all the principals there," J. Rosenberg said.
Poscover also found it important to share his family's traditions and beliefs with Mitchell.
"My mom and dad and aunt and great-aunt and grandma and grandpa were all there [at the service]," Poscover said. "I explained the traditions [to Mitchell] and what we were doing and who was on the bimah, which is the stage, and what was happening."
For the two attending principals, the service provided new insight into the yearly practices and holidays of their Jewish students.
"I thought it was cool. They could get a perspective on what the service was like," Poscover said. "I hope they see what it's like to be Jewish, and what we do during school for days like Rosh Hashanah or, say, Yom Kippur."
Mitchell plans to visit a mosque during this school year as well.
"I think Dr. Mitchell attending services at least helps students feel supported. Just being aware of [Jewish holidays] when it comes to scheduling things that go on at West so that all students can participate," B. Rosenberg said. "And I think that would be the same for the full range of diversity that is at West, so we are also paying attention to what goes on during…other religious calendars so that students can fully participate [in] life at West."