Caroline Briscoe
Community gathers in support for sophomore Brynn Haun
After being cleared a year ago of Ewing Sarcoma, sophomore Brynn Haun relapsed on June 16. While undergoing chemotherapy, she was diagnosed with Hemophagocytic Lymphohistiocytosis, an autoimmune disease that landed her in Barnes Jewish hospital for the entire first week of July.
Since then, the community has bound together in support of Brynn and her family. The "#FightLikeAHaun" cup signs on the middle school and high school fences and the "blessings for Brynn" bracelets are a few of the ways the community has shown their support.
"There are a lot of little ways people have helped that have made a big difference and let her know that people love her, and that we are not forgetting about her," friend and sophomore Natalie Hitchcock said.
"
There are a lot of little ways people have helped that have made a big difference and let her know that people love her, and we are not forgetting about her."
— Natalie Hitchcock
Along with Hitchcock, 100 other members of the community gathered at the Chesterfield Mall on July 30 where they stood in the parking lot in a heart formation, and took an aerial picture from the roof of the mall to send to Brynn.
"When she sees the pictures people are sending, she likes that people are thinking about her, and it makes her really happy to know that people would do that for her," brother and junior Kohl Haun said.
The "Fight like a Haun" t-shirts are another way that the community has honored Brynn in her fight.
"It is kinda weird seeing your last name on other people's shirts, but it is really cool, and it feels like a sense of community. People are just doing what they can," K. Haun said.
At the sophomore and junior school business assembly, students filmed a video to send to Brynn in which everyone said, "We love you Brynn."
"It is so incredibly powerful to see the reaction of kids, families, teachers and the whole community rallying around Brynn and her family and what they are going through," sophomore principal Mario Pupillo said. "To me it has just really stood out how caring of a community we have, and it makes me feel lucky to be working and living in a community like that."
The tennis team also played a part in supporting Brynn as their teammate. To raise awareness for Ewing Sarcoma, they created banners, wrote cards and tied yellow ribbons on their rackets.
"Brynn is always upbeat and positive. Even if she was in a tough game she would still smile and just try to do her best in everything," sophomore and junior varsity captain Emily Lofgren said. "The ribbons on our rackets symbolize her and how she is fighting through it."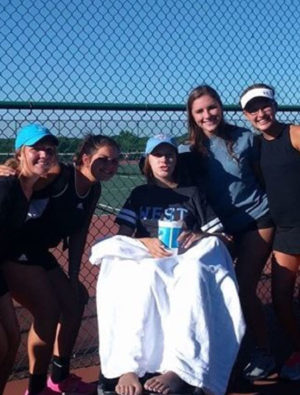 The greater tennis community has also reached out in support of Brynn. Westminster's varsity girls tennis team decided to have her initials embroidered on their uniforms after their coach and Brynn's private coach, Madeline Jolly, told them about her battle with cancer.
"Brynn has even gotten letters from players at Westminster that took the time to write her and tell her how strong she was. I think Brynn is amazed at how much support she has and how the whole community has gotten involved," friend and doubles partner sophomore Kelly Wehrmeister said. "Like what Westminster has done, I thought that was insane! I didn't really think people besides her family and her close friends would care that much."
As of Aug. 22, Brynn has returned home and is doing better, although she will likely return to doing chemotherapy soon. She attended the girls' home tennis match on Aug. 23 to cheer on her team.
"Since Brynn was my doubles partner last year, it was nice to have her up on the courts again, and, not to sound cheesy, but for it to kind of be like old times," Wehrmeister said.
Students can continue to follow Brynn's story on her CaringBridge page.
"The most important thing is that Brynn is getting the message that we are all with her, and that we are supporting her," Pupillo said.