Life of a jean jacket
It was the spring of 1981 when my mom, 19 years old at the time, bought her first Levi's jean jacket from the chain store Famous Barr, now Macy's. The oversized boxy silhouette was all the rage, completing her goal to look the part of the "in crowd" with that jacket. The first year she had the light blue acid wash jacket, she wore it daily, incorporating it into every single one of her outfits; if she couldn't replace her tight curls with long straight hair, she could at least look the part of the 'cool kid' with her jacket. The next year, 1982, she wore it less frequently as the trend began to fade and left the fashion spotlight until its resurrection in the late 1990s. Aging into its third year with my mom, the jacket did not see much light, but knowing the likelihood of the trend coming back, she kept the jacket tucked away in the closet, hoping that one day she'd get to wear it again.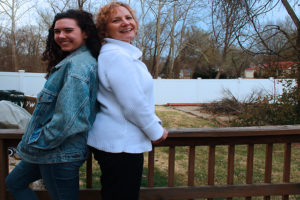 The style once again came back with a vengeance in 2013 with the help of public figures such as Rihanna and Miley Cyrus bring the denim to a new generation.
It was the spring of 2015, I'm 16 years old and rifling through one of the stuffed spare closets in our house. I was hoping to find another cute piece of clothing my mom had kept, as two weeks earlier I had found a black crew neck sweater that I loved hiding between itchy jackets with shoulder pads. I wore my mom's old jean jacket that day, out doing errands with my mom the woman who tucked it away in 1984. When I walked down the stairs, she wrinkled her nose at my choice of outerwear. While we were out, I received a compliment on the vintage jacket, and that caused me to decide that I wanted to wear it to school that coming week. When Monday rolled around, I wore it for my first time to school, then the next and the next. It had become a staple piece of my wardrobe and part of my signature style.
It's nearing the end of winter now, the year is 2017 and jean jackets are still in style, and although the fits have changed over the years, the iconic jean jacket has withstood the test of time and will remain a fashion staple for years to come.