Haley Tiepelman
Shoe trends straight from the hallway
Walking through the halls I see three main trends: the classic Chuck Taylor Converse in white, white adidas sneakers, Chacos and ankle boots.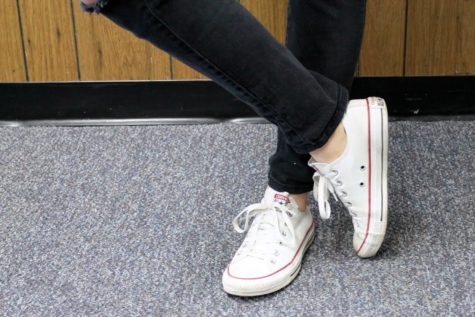 Converse Chuck Taylors have a retro look, especially when they're a little beat up; the imperfections they get after being worn for such a long time create a character difficult to come by in a society that puts a higher value on 'new' things. They do go with everything—blue jeans (or shorts), leggings and casual dresses. Converse also makes two different types of this white style, high top and low top.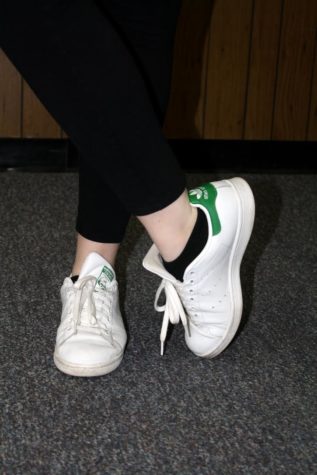 adidas sneakers have been in since the rise of athleisure. With stars like Gigi Hadid and Kendall Jenner promoting this style of tennis shoe and their love for the brand, the shoe's popularity has grown. Unique seems to be a word that Adidas loves to promote, because they have so diffrent styles of this shoe with only slight tweaks made to them. The Stan Smith, for example, comes in at least three different colors, black, green and red, on the heel tab and the tongue of the shoe. Note that if you plan on buying the shoe, the red and black are not sold in Women's size so you'll have to buy a men's size which is 1.5 size smaller.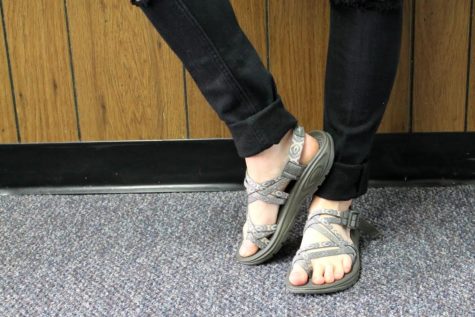 Another popular style is the Chaco sandal. Heading to the lake or just to school, these shoes have a comfy fun style about them. Now that the temperature is starting to drop, it's become harder to wear them, though some the girls have found a way to wear the shoes during the winter months and keep their toes warm: socks. Fun, colorful or patterned socks worn with the sandals are a quirky trend, but don't worry if you're still not a fan of the 'socks and sandals' look; spring break is on it's way.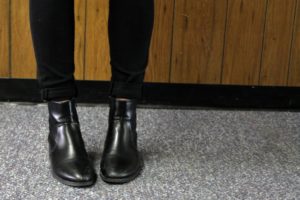 The last of my favorite styles I see girls wearing are the ever-faithful ankle boots. The best thing about ankle boots are their amazing versatility. Wearing a dress, skirt or pants, you have a perfect shoe that is usually very comfortable. Some places to look for ankle boots are DSW, Forever 21 and Steve Madden.
Shoes are a huge part of an outfit, so when you find that perfect everyday shoe that shows off your personal style, remember to walk just a little bit taller.