Around the world with Global Quesadilla
Kyla's Kitchen
Located in the Lamp and Lantern Shopping Plaza, right behind Waterway,  is Global Quesadilla, a delicious restaurant that offers a variety of quesadillas, wraps, salads and nachos at reasonable prices. They are always friendly and even offer a delivery service if you do not feel like leaving the house.
Unlike most restaurants, I do not have a "usual" at Global Q. There are so many flavor combinations that I can never bring myself to get the same thing every time. The O.Q., or Original quesadilla, and the Buffalo quesadilla are two of my favorites, and I will even go for the wrap on occasion. However, this time around I went for the Texas quesadilla; the BBQ sauce, sweet and tangy, was calling my name. The Texas offers the amazing mixture of Monterey Jack, cheddar and perfectly sliced bacon to accompany the grilled chicken and onions. The Southwest flavor profile is perfect for lunch or dinner, and the options for double meat or cheese and extra sauces make the meal extraordinary.
The extras and sides are what takes Global Q to the next level as opposed to other quesadilla restaurants. Queso is added at just $2.49 and the variety of sauces are enough to cover anybody's tastes. Once I looked at the sides, I just could not justify not getting one. They supply a wide array of dips for their chips, such as the four cheese queso, the spin art dip and, of course, the classic guacamole. The assorted potato chips provide their own adventure with flavors like Jalapeño and Voodoo, which are hot and spicy as opposed to just plain chips.
Although I almost always opt for takeout or delivery, the restaurant is nice for a quick sit down with friends, although it can get pretty loud very easily. Since production is always quick, it is almost never crowded and it is open until 10 p.m. all throughout the week, it is the ideal spot for a quick and tasty meal.
Emma's Eats
Almost everyone at West has been to or heard of Global Quesadilla.  Every so often there's a student walking through the hallways with a box.  It's a local favorite and being a local, I've been there my fair share of times.  I've tried quesadilla after quesadilla and the best by far is the Far East.  One of the best parts, though, is you can get any of the quesadillas as a wrap or salad instead.
The Far East has an option to add chicken or steak a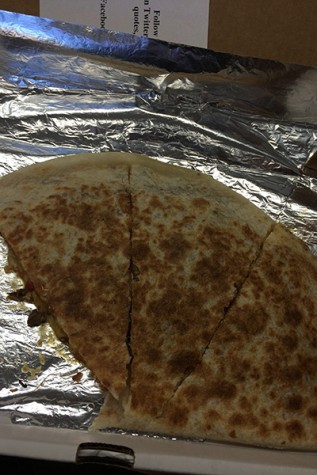 nd I have found that it is best paired with the steak bits. Besides the tender steak, it contains a variety of vegetables, such as peppers, onions and carrots, combined with a layer of melty mozzarella and teriyaki sauce. Teriyaki is one of my favorite sauces because of its sweet taste and that it complements the savoriness of the steak so well. This combination with the smooth texture of the stir-fried vegetables make for an marvelous quesadilla. I think this quesadilla would also work well as a wrap with the added rice, despite I have yet to try it.
However, the friendly service is what makes Global Q really worth the trip. I went once and they misheard my order and I was given the wrong quesadilla. Once they figured this out they felt so bad and made me a new one right away. The way they handled it was professional and courteous.  Also, as a bonus, they let me keep the messed up quesadilla so I got two quesadillas for the price of one.  
My only complaint about Global Q is that I am not a fan of eating there because the music is so loud it's hard to hold a conversation and it is often really cold. This is not too bad though because I often choose to get take-out and, after just a short wait, get to enjoy my quesadilla from the comfort of my home.  If this is still too much work for you, they take it a step further and will even deliver it to you.
Overall, I would highly recommend eating Global Quesadilla because the food is amazing, but be warned, if you're going to eat there, bring a jacket and some ear plugs!

About the Contributors
Kyla Hatton, Sports Editor
Grade: 12

College / Future Plans? UCLA/UBC

Swag Level (1-10): Jacob Cupps

Fun Fact I can't touch my tongue to my nose.