Three Ways to Style a Cardigan
too haute to handle chp. one
I have an unhealthy obsession with cardigans. It's safe to say that I probably wear one at least one day a week, but if I'm being honest, it's more like three. But there's reason to the obsession! Tried and true, the cardigan is a staple to any wardrobe. My closet has one of these sweaters in just about every color of the rainbow, and switching your palette choice up can make them applicable to any season. You can dress them up or down to the occasion depending on how you wear them, making them one of the most versatile pieces in your closet. In short, a cardigan is like a best friend: fun, reliable and you probably have at least one already. If that's the case for you, and it's just sitting in your closet collecting dust, read on. After you read some of my favorite ways to style the classic cardigan, you'll be rocking one any day of the week!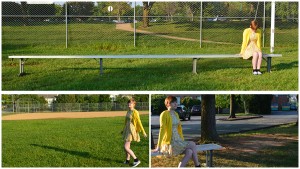 For a fun, girly look: with a dress
This outfit is one of my favorites, even if I stand out like a sore thumb in a crowd while I'm wearing it. Fun colors in a cardigan and dress are good for a sunny day, and a pair of tennis shoes keeps the look casual. Still, I know that the brightness of this outfit might scare some people away. I am a firm believer that everyone should have something yellow in their closet, but I understand that looking like a banana isn't everyone's thing. Even if you aren't feeling yellow, choose another bright cardigan to bring some color to the autumn season!
For a dressier look: buttoned all the way with statement accessories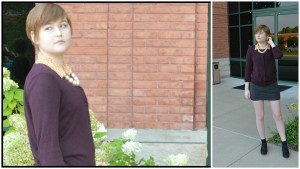 Featuring a darker cardigan with a basic bottom – like the mini pencil skirt shown here – gives you the opportunity to let your accessories steal the show. Here, I layer the cardigan over a floral patterned button up, letting the collar peek out for a pop of color. And since no outfit of mine is complete without some kind of statement necklace, the (faux – I'm not rich) pearls around my neck pull it all together. On my feet are my go-to pair of oxfords and trouser socks. This is a prime example of using a cardigan to dress up your outfit. Here, wearing the cardigan as more of a button-up, along with the accessories and skirt makes a completely different look. A cardigan can work for just about any occasion, as long as you pair it with the right pieces!
For a smart, casual look: patterned, with a collared top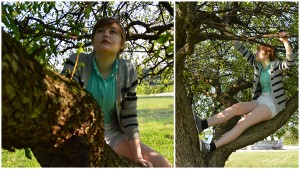 This cardigan – from the men's department – came to me through a happy accident. My brother was the one to buy it, but failed to notice that it was an extra-small. Since my brother is 6'1", and it would probably look like a t-shirt on him, I got a freebie. It's actually become one of my favorites, and it opened my eyes to the best kept secret that is the men's department. Their cardigans actually keep you warm! Style wise, I like to pair it with a button-up shirt for a smart but casual look. Mixing up patterns, my polka dot Keds play off of the stripes in the cardigan. This look is good for school or any day of the week.
---
Now that I've shown you how I like to wear a cardigan, it's your turn – and you have no excuse not to now! I hope to see some more cardigans walking the halls this year!
Cardigans still aren't your thing? Don't worry – I have more style tips to come!
Tell me what you want to see!