Eight things students find surprising on the November 2022 Ballot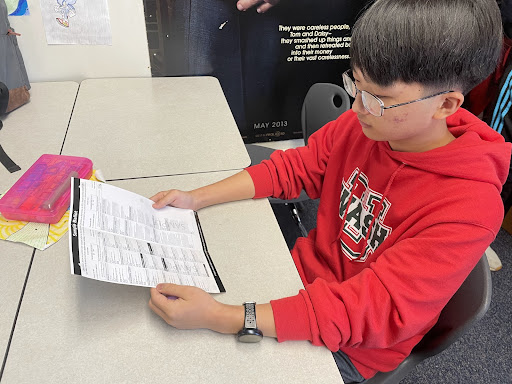 As the midterm election countdown begins and candidates make their final pitches, election officials prepare the document that every voter needs: the ballot. Juniors and seniors who have never seen the ballot before were shown the 2022 ballot and interviewed. Here are eight things that surprised them.
Too long
"I am surprised at how long the ballot is, much longer than my average class quiz," junior Michael Emerson said. "[The length of the ballot] is almost overwhelming for me."
The ballot for St. Louis county residents has 31 items to vote on. Reading the ballot for the first time at the polls can be time-consuming. In the 2018 midterm elections, Jackson County, Mo., had one of the longest ballots. People waited 10-45 minutes to votes, resulting in long lines at the poll.  
Prior research is needed
"There are so many different questions with details that it seems impossible to thoroughly research and make a decision on the spot," Emerson said. "I wouldn't be able to answer many of these properly unless I research beforehand. Being prepared would help me be a better voter."
Reading the issues on the ballot and deciding before going to the polls saves time and helps voters make more informed decisions. Although voters may leave ballot items unanswered if unsure, experts recommend reading and voting on every item because local officials and ballot measures are likely to affect people daily.
Not just political candidates
"I thought there would be only political candidates on the ballot. I am surprised there are many other officials and non-candidate items that we vote on," junior Christopher Gray said.  
The Nov. 8 ballot includes not only members of the United States Congress and state legislators but also state auditor, county officials, judges, four amendments to the state's constitution, one constitutional convention and one proposition. Voting items range from the federal level to the city level. Even though presidential and congressional elections get a lot of attention, local elections can be equally critical as local policies affect the everyday life of citizens. Neighborhood safety, police departments, libraries, schools, roads, bike paths and parks all fall under local government jurisdiction.
Judges on the ballot 
"Why are there judges on the ballot? Aren't they appointed?" Gray said. "And why are there so many of them?" 
Judges of the U.S. Supreme Court and federal courts are nominated by the president and approved by the Senate. The process, however, is different for state judges and varies from state to state. Since 1940, the Missouri court system has selected judges on a nonpartisan merit basis called the Nonpartisan Court Plan or The Missouri Plan. Judges are nominated by a judicial commission and then selected by the governor. All Missouri judges are subject to voter approval by election each new term, irrespective of their initial selection method. Voters are asked whether judges should be retained. However, approximately 25% of voters who go to the polls do not cast any vote in judicial contests.
"We need to do a better job as lawyers and judges in getting the word out to the community [to help them in the process of voting for judges]," Missouri Supreme Court Judge Robin Ransom said. "Unfortunately, I have been in [polling] lines and heard people say, 'I am just going to vote for all men or all women,' or 'I will vote for them based on whether I like their last name or not.' That is not how we pick leaders. You want to decide based on their knowledge and their judging record."
Ransom was appointed to the Supreme Court of Missouri in 2021 and is one of the Supreme Court judges on the Nov. 8 ballot for retention election. She urges voters to visit the Missouri Bar website, where a Judicial Performance Review Committee evaluates judges on the ballot based on their background, surveys from lawyers and jurors, and written opinions. The website also provides a final one-line recommendation as to whether the particular judge meets judicial performance standards.
Write-in contestant option
"The option to write in a candidate name on the ballot is surprising to me," junior Insang Lee said. "It's interesting they give you the option to write anyone who isn't on the ballot."
In almost every election, officials find names such as Madonna, Kanye West and Mickey Mouse written on the ballot. It may feel like a joke, but officials warn that it is a throwaway vote. Additionally, write-in ballots must be counted manually and cost taxpayers extra dollars. The purpose of a write-in option is to support candidates who decide to run after the ballot registration deadline but launch a sincere write-in campaign.
 Using lottery to grant licenses [Third Amendment],
"It's funny that the Third Amendment licenses marijuana dispensaries by lottery," senior Alan Song said. "It feels weird to license by lottery instead of evaluating dispensaries based on criteria. I don't know if this is due to an oversight or the government trying to ensure only a certain dispensary population is licensed; still, it is an interesting clause on the ballot."
Citizens can bring essential issues directly to public voting through various ballot initiatives or amendments. There are two ways for initiatives to end up on the ballot: citizens can knock on neighbors' doors to collect the required number of petition signatures to qualify for a public vote, or measures can be referred to the ballot by legislators. There are four amendments on the current ballot.
The First Amendment gives the state treasurer power to invest in high-rated municipal securities and bonds.

The Third Amendment legalizes marijuana.

The Fourth Amendment increases minimal funding for a police force established by a state board of police commissioners.

The Fifth Amendment creates a separate department for the National Guard known as the Missouri Department of the National Guard.
My school district is on the ballot
"I am surprised to see Parkway on the ballot," Gray said. "The ability to vote on our school funding and its impact on our taxes [in situations when it does] feels empowering."
My ballot matters
"Every vote matters. You never know when a race will be close. Besides, it's the act that is important," AP Government teacher and Social Studies Department Chair Jeffrey Chazen said. "It is your civic duty. People in many countries would die to have the right to vote. Never take it for granted."
A study done by Columbia University looked at the probability that a voter's vote will make a difference in popular presidential voting. Mathematically, the states near the national median, such as New Mexico, Ohio, New Hampshire and Colorado, are those where a vote is most likely to make a difference. However, for local elections and ballot initiatives where the number of voters is small, every vote matters even more.  
"My vote matters, and what I have to say on the ballot matters," Emerson said. "I knew voting was important, but it is also the quality of the vote, reading up beforehand and making sure to vote on all the items on the ballot. That is the key."
View Comments (2)
Your donation will support the student journalists of Parkway West High School. Your contribution will allow us to purchase equipment and cover our annual website hosting costs.
About the Contributor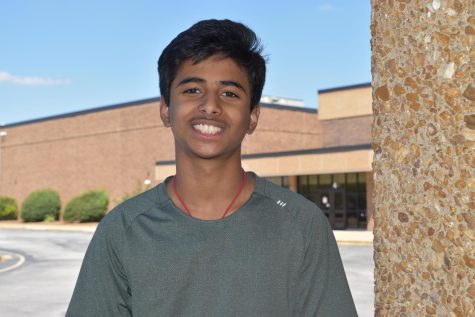 Raj Jaladi, Newsletter Editor
Pronouns: he/him

Grade: 11

Years on staff: 3

What was your favorite childhood TV show? Phineas and Ferb

What is your favorite book? The...