New Missouri law bans schools from providing "explicit sexual content"
On account of a new Missouri law, school librarians and teachers have removed certain content from the bookshelves that was previously available to students. Passed Aug. 28, Senate Bill 775 modifies state law 573.550, which allows school officials to face criminal charges if they provide materials containing "explicit sexual content" to students. 
The law applies to public and private schools and only affects visual content such as graphic novels, books with accompanying illustrations or videos. The exceptions are sexual health lessons, select science classes and works of  "serious artistic significance." Since the law did not provide a list of content to remove, Parkway Assistant Superintendent Kevin Beckner helped staff review the content the school provides over the past weeks.
"While we do not have materials in wide circulation that may be subject to this law, we are aware of a small number of items that may need to be excluded from our libraries and classrooms," Beckner said. "[The district] works to make sure students can access materials of high interest that have meaning for them. At the same time, we will comply with this law to ensure none of our staff members find themselves facing legal issues for violating this statute." 
Violating the law is a Class A misdemeanor, a criminal offense that warrants one year in jail and a fine of $2,000. As a result of the law's serious nature, English teacher Erin Fluchel preemptively removed books like "Fun Home," "Gender Queer" and the graphic adaption of "The Handmaid's Tale." 
"The books the school board makes available are not meant to be sexual in nature. We aren't keeping '50 Shades of Grey' on our shelves. Maybe [the books] contain one or two moments, but the main idea often revolves around more important, school-appropriate topics that help build empathy and character that now some students may not be able to access," Fluchel said.
In her public statement, Republican State Senator Holly Thompson Rehder said the bill was introduced to update the state's Sexual Assault Survivors' Bill of Rights and help "make the difficult process that follows a sexual assault just a bit more bearable." While this is the official reason for the bill, some critics are skeptical.
"In America, there is definitely a national movement to ban books and content that doesn't agree with certain people's personal values and beliefs. All it takes is political clout to enact something like this," librarian Brian Welch said. "I don't see this ending with the visual representation of sex. The bill might be affecting only a few books for Parkway but the ideas behind it are far-reaching. It's a dangerous precedent to set and that can open the door to more controlling laws."
"
It's a dangerous precedent to set that can open the door to more controlling laws"
— Librarian Brian Welch
The law impacts over 2,400 schools in Missouri, and while school officials and students are the ones directly impacted, some alumni parents also share opinions regarding the bill. Parkway alumni parent Carol Fuller keeps up with the community and votes on Parkway issues.
"There are appropriate local authorities with qualifications to determine what belongs in Parkway, I trust the librarians to determine what is age appropriate. Appropriately illustrated sex education materials should be included, and I believe that parents should monitor their children's reading material. But, I never had time to monitor anyone else's children and would have resented interference with mine," Fuller said. "Censorship of sex education materials is being used to manipulate the public, using opportunities to create fear and aggravate bias. Everyone who is any form of a minority will be marginalized, this is exactly where fascism began in Germany."
While the law does have its critics, others believe it will be beneficial to Missouri education. Senior Andrew Martin is in support of the law. 
"It is good to shelter young people from this extreme content. It's good for students to learn things within their own bubble, with families and their cultures. If you give people the ability to learn everything, then it can be too much, it can corrupt kids' minds," Martin said.
"
Take control of [your] child's education content, from invasive school surveys to curriculum with topics of sexuality, gender theory, racist theory and more"
— The St. Louis County Family Association
Organizations such as The St. Louis County Family Association and Moms for Liberty are also in support of this bill. The St. Louis County Family Association has conducted "opt-out" meetings to help parents "take control of [their] child's education content, from invasive school surveys to curriculum with topics of sexuality, gender theory, racist theory and more. Moms for Liberty has a similar goal, stating "parental rights do not have to stop at the classroom door." A teacher from another district, choosing to be kept anonymous, has two children currently in Parkway. The teacher holds mixed feelings about the law.
"I can understand [people's] frustration about banning books in general, but the books that are targeted by this law aren't specific to any race, the Holocaust, CRT or LGBTQ. You don't have to have graphic depictions of sex acts in order to teach acceptance of peoples' sexual orientation, or learn to be more accepting," they said. "While I do believe there is a need for greater supervision of library materials, I am not a diehard proponent of the law and its vague wording. And that isn't even addressing the issues of how difficult it would be to fairly determine culpability in an actual school setting where so many shareholders have a hand in procuring library and curriculum materials. Which staff member is going to be thrown under the legal bus?"
The law does not just affect schools. County libraries are also susceptible to legal troubles under the law's guidelines. 
"Our entire political climate is supercharged right now and I think, as a teacher, my intentions can be misconstrued. There may be some that don't think teachers are here to help their kids and academic growth; my concern is that I could become a target of that very small group in our community," Fluchel said. "At the end of the day, I want this to be a supportive and safe place for students to express their opinions and learn important skills."
View Comments (1)
Your donation will support the student journalists of Parkway West High School. Your contribution will allow us to purchase equipment and cover our annual website hosting costs.
About the Contributor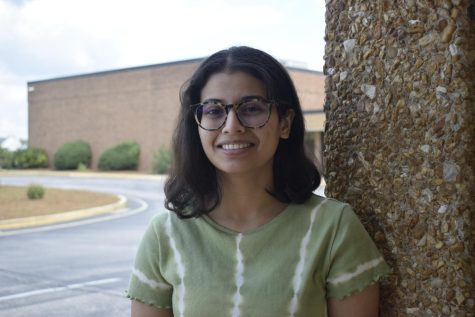 Audrey Ghosh, Awards Coordinator
Pronouns: she/her

Grade: 11

Years on staff: 2

What was your favorite childhood TV show? Liv and Maddie

What is your favorite book? Alias...